4 Must-See Angkor Temples!
The Angkor Archaeological Park at Siem Reap in Cambodia is an astonishing place full of ancient temples. The 400 square kilometre archaeological park became a UNESCO World Heritage Site in 1992. The park is home to literally dozens of ancient temples in varied condition from complete ruin to well conserved. We visited many of them during our stay in Siem Reap. Four of the temples stood out, each in their own unique way. Angkor Wat is immense, Bayon is known for it's carved faces, Ta Prohm is only semi cleared of the jungle that encroached it, and Banteay Srei is small, intricate and beautiful. If you only visit four temples in Angkor, these are them!
1. Angkor Wat
The grandeur of this ancient temple is simply breathtaking. It is magnificent and awe-inspiring!! As we wandered around the immense temple and manicured grounds, we were constantly reminded of the tremendous feat of engineering that took place in the 12th century. Angkor Wat is the largest religious monument in the world. It required 20,000 workers, 4000 elephants and around 40 years to complete. It is surrounded by a 3.6km moat. It is, understandably, a source of national pride; you can not visit the Angkor Archeological Park without visiting the Angkor Wat Temple. It really is something to see.
Beautiful bas-relief carvings – bas-relief is a sculpture in which the figures project slightly from the background.
2. Bayon (Angkor Thom)
This temple is well known for it's tremendous stone faces and incredible bas-relief carvings. The massive carved heads each have four carved stone faces oriented to the cardinal points. They are one of the most recognisable images of the Cambodian temples and the classic Khmer art. Don't miss the extraordinary bas-relief carving which depict scenes of the real life historical sea battle between the Khmer and the Cham, as well as everyday events such as market scenes, cockfighting and chess game.
3. Ta Prohm
This temple is where parts of the movie 'Tomb Raider' were filmed. Don't miss visiting this exquisite temple. Ta Prohm is only partially cleared of jungle and only partially restored. Large piles of tumbled building blocks still remain in situ, many covered in lush green moss. The greenness of this temple is part of its allurement. Many trees are still in place growing on, over, or through the temple itself. If you want to get in touch with your inner Lara Croft or Indiana Jones this is the temple to visit!
4. Banteay Srei
Banteay Srei is a small but exceptionally beautiful temple that was built in the late 10th century. Banteay Srei (or Srey as it is sometimes spelt) means Citadel of Women or Beauty. Many believe the name relates to the delicate and intricate beauty of the bas-relief carvings that adorn the builds and the small size of the temple itself. The temple is made from pink sandstone and the entire temple is covered in the most beautiful carvings. It is a remarkable example of classic Khmer art. Banteay Srei is around 30km further out than most of the other temples and it may cost more to get to, but if you like history and extraordinary architecture, don't miss it!
Travel notes (August 2016)
Currency
KHR – Cambodian Riel written here as ៛
Note:  In Cambodia they use Riel and the US dollar. At the time of writing this most places will accept both currencies… but have Riel for use when making small purchases in local shops or when in rural areas. Most places will use an exchange rate of ៛4000 to the dollar. Some shops have up to date exchange rates will give the current exchange rate which, at time of writing is ៛ 4090 to the dollar.
All the above temples can be found at the Angkor Archaeological Park.
Getting there from Siem Reap – Unless you hire a car or motorcycle yourself (which is not always easy to do) you will need to hire a driver or tuk tuk. A driver costs USD $35.00 for a van for the day (or most of it). A tuk tuk should be around USD $15.00. Another option is to join one of the tours which can be organised from your accommodation. They start at around USD $15.00 per person.
Cost – You will need to purchase an Angkor Archaeological Park ticket on the way in. The line-up looks a little daunting when you get there but it moves very fast. There are several options and prices.
One day pass  – USD $20.00
Two day pass or three day pass – USD $40.00
Seven day pass  – USD $60.00
Children under 12 years old are free if they show their passport.
The three day pass can be used on any three days within a week. The seven day pass can be used any seven days within a month.
DON'T LOSE OR DAMAGE YOUR TICKET. If you do you will need to purchase another. Your photo is taken and printed on your ticket so they cannot be swapped etc.
WHAT TO TAKE AND WHAT TO WEAR…
Dress appropriately – Be respectful and make sure you cover your shoulders and knees – this applies to men as well as women. If you are not dressed appropriately you might not get in and you will definitely miss out on some spectacular views at Angkor Wat.
Take with you – water, insect repellant, sun screen, hat and don't forget the camera!
For the best deals on accommodation in Siem Reap visit Booking.com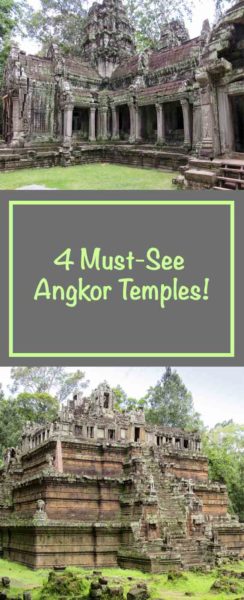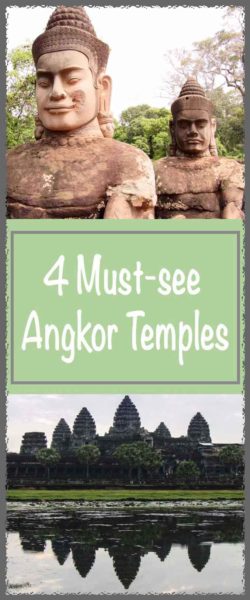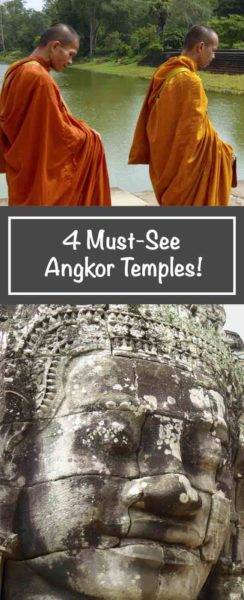 Hey there!
Don't miss a thing! Join the crew and we will send you free email updates. But don't worry, we promise not to bombard your inbox with too much awesome stuff!
Welcome board!
Something went wrong.