4 things to do when you are not just chillin' at the 4000 Islands!
In southern Laos, where the Mekong River flows into Cambodia, you will find a spectacular archipelago of islands, rocks and sandbars. This archipelago is called Si Phan Don, which translates to 4000 Islands. Si Phan Don is definitely the place to go if you want the laid-back bohemian lifestyle of backpackers, hammocks, and beer. Many people visit these islands for the type of relaxation that can only be found when the internet connection is so slow you will forgo the use of it to pursue other activities such as river tubing, kayaking, or watching endless episodes of "Friends" at the Friends Bar, all of which can be found here!
There are, however, a few other worthy reasons to visit the 4000 Islands. Four of them include the fact that Si Phan Don is the home to a pod of rare Irrawaddy dolphins, the largest waterfall in Southeast Asia, the remnants of Laos' first railway and some exceptional scenery to enjoy as you bicycle across a couple of the many islands.
Catch a glimpse of the Irrawaddy dolphins 
In June 2009 the WWF warned that the Irrawaddy dolphin was on the brink of extinction. Now in 2016 there are only five of the rare dolphins left in the Si Phan Don area of the Mekong River. Our journey through Laos was not going to be complete without a least trying to see the rare, and critically endangered, Irrawaddy dolphin so we paid for a boat to take us out on the river.  As you can imagine, with very few dolphins left, a sighting of the rare dolphin is not 100% guaranteed and, unfortunately for us, we missed out on the day. We did meet some people who – for much less than we paid – had a boat trip and saw the dolphins, so it can be done! We enjoyed our hour on the boat and, as we puttered around on the Mekong River, on the look out for dolphins, we passed the watery boarder between Laos and Cambodia.
Khon Phapheng and Li Phi Waterfalls
Khon Phapheng Falls is the largest waterfall in Southeast Asia by volume of water. The waterfall is a succession of rapids that stretch nearly 10km along the Mekong River. At it's highest, the falls reach 21 metres, but it is the shear spectacle, and sound, of the water thundering unconstrained and violently around and over boulders, or anything else in the river's path, that will leave a lasting impression. This waterfall also has the distinction of being the reason why the Mekong isn't navigable all the way into China!
Li Phi Waterfall, locally known as Tat Somphamit, is a set of tempestuous rapids on the island of Don Khon. Located 1.5km downriver from the French bridge on Don Khon, it is an easy walk or bicycle ride to the falls. The grounds are quite beautiful and well kept. The waterfall, similar to Khon Phapheng, is a set of raging rapids that are really quite impressive to watch as the water hammers past with a crashing cacophony.
As we followed the path along the river we found a sign that said beach, free use of day bungalow, wifi etc. Not that much was happening at the beach when we arrived but it was early morning and we were there in low season. From what I hear it has a good restaurant, a free pool table, free volleyball, bungalows and sun-beds… I think it would be a great place for some fun or relaxation at the right time.
Local fishermen still risk life and limb edging out onto rocks in the thundering falls to set bamboo fish traps and we were at Li Phi at the right time to witness this.
Historic Railway – Bridge and Locomotive
In the nineteenth century, the above mentioned waterfalls – a succession of unnavigable rapids, shattered France's hopes of using the Mekong River as a main trade artery into China. To overcome this obstacle the French set about building a narrow gauge railway.  
Built by the Mekong Exploration Commission and opened in 1893, the railway was built to carry passengers and cargo past this barrier, which it successfully did until it closed sometime in the 1940's.
The presence of the French can still be seen on the islands of Don Khon and Don Det in a few remaining colonial buildings and remains of this railway, including an old locomotive.
Grab a bicycle and explore the islands!
We explored the islands of Don Det and Don Khon by bicycle. It is a great way to take a look around the islands if you feel so inclined to put down the beer and get out of the hammock…. and really, only if you want to, it is your holiday after all!
By riding the bicycles we were able to see more and meet more local people, cheeky children, friendly dogs and nosey buffalo! The paths are sometimes narrow and often pot-holed, but the scenery is stunning! Verdant rice paddies, colonial remnants, local villages and of course the mighty Mekong!
All in all, Si Phan Don was exactly what we needed to finish off a wonderful exploration of Laos!
Here are some pics from our accommodation on Don Khon.
Travel notes (July 2016)
Currency
LAK – Laotian Kip written here as ₭
Things to see and do 
Irrawaddy Dolphins (Orcaella brevirostris)
Best time to see – Best dolphin spotting January to May, early evening or early morning.
Boat trip – Tuk tuk from our accommodation on Don Khon to the boat, boat and boat driver, one hour on the water and tuk tuk back to accommodation.
Cost – We paid ₭100,000 approximately AUD $16.50 (which I have since worked out was probably too much).
Li Phi Waterfall
Cost –  ₭35,000 (AUD $5.75)
Hours – Ticket booth open 08:00-17:00
Note: If you are travelling to Don Khon from Don Det via the old bridge you may be charged ₭35,000 per person (crossing either direction – price for return trip). This price includes the entrance fee to Li Phi Waterfalls so you would not pay again at the park entrance. I have been told you should keep your ticket if you plan to make the crossing more than once.
The old Locomotive
Cost –  free
Hours – can be seen at any time during daylight hours.
Bicycle hire 
Cost – ₭10,000 for 24 hours.
Getting there 
We took a bus (minivan) from Pakse.
Cost – ₭70,000 per person each way. Price included a boat to Don Khon.
Accommodation 
Cost – ₭200,000 (AUD $33.00)
Pros – Large room. Seating area, fridge, desk, flat screen TV, cable. A/c, good free wifi in room and communal areas. Balcony with seating. Bar and restaurant on the river. Convenient location.
Cons – Bathroom a bit basic and worn.
Our verdict – We did barter for a bargain and got it… I think this was the most we spent on accommodation while in Laos but it was really nice. The restaurant was also very good. There are many other places to eat nearby. It is not far from the bridge to Don Det. Bike hire available.
For more information – check out Si Phan Don on wikitravel here.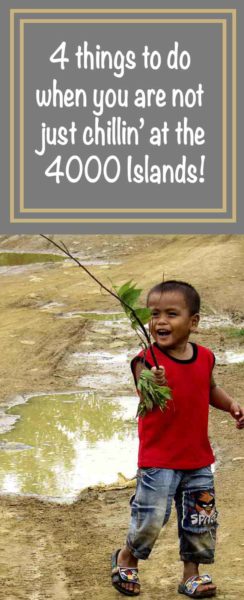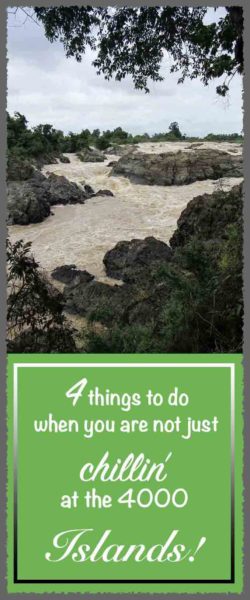 Hey there!
Don't miss a thing! Join the crew and we will send you free email updates. But don't worry, we promise not to bombard your inbox with too much awesome stuff!
Welcome board!
Something went wrong.