5 Crazy Foods we ate in Cambodia!
Travelling around Cambodia on a motorbike for near on three weeks was an adventure in itself… eating some seriously crazy food, added yet another dimension to our adventure! We love to travel, we love to eat, and we love to try different foods! We didn't get to try all the different foods that we wanted to, while in Cambodia, but the following five, I think, are the craziest we did eat. I'll start with my favourite!
Barbecue rat
Towards the end of our ride from Siem Reap to Battambang. Dwayne saw someone cooking barbecue by the side of the road. That was all it took for Dwayne to get the munchies… for something barbecued. "Keep an eye out for someone barbecuing chicken or something", he said. Not long after that we pulled up to a road side barbecue… but it wasn't chicken, it was rat! We bought one to try. It was cheap so we thought it doesn't matter if we don't like it… we will just have a bite to say we have at least tried it. Well, it was delicious and we devoured the entire rat! It was served to us with a little bowl of a pepper and salt mixture, and some lime quarters.
We enjoyed the BBQ rat so much that the vendors, who were obviously impressed with our adventurous appetites, packed us another rat in a 'doggy bag' to take away with us.
The next foods, on the list, are all creepy crawly critters! It is not easy to get a name for the bugs you are eating, but I thought they may have been a cricket, grasshopper, cockroach and a worm or maggot of some kind. This morning, in Vietnam I was able to show a Vietnamese cook (Luke Nguyen's father Lap Nguyen) a photo and ask him if he knew what they were. Lap said he believed the worm was some sort of tree worm, and what I thought was a cockroach was in fact a beetle.
Deep Fried Crickets
What is the etiquette when eating bugs? It was perplexing to know where to start. Do we eat the head? Or just rip it off?  I decided to ripped the head off and discarded it, but Dwayne decided to eat the head first. He then concluded that he didn't much enjoy the head and certainly wouldn't eat it for pleasure again.
Deep Fried Grasshopper
This was bigger than the cricket. The deep fried grasshoppers are crunchy and surprisingly tasty… and yes the crispy little legs do get stuck between the teeth!
Beetles
I thought perhaps these were some sort of local cockroach but Lap Nguyen said that the Cambodian's don't eat cockroaches and he believed that they were some sort of beetle, perhaps a water beetle. Eating beetles sounds a heck of a lot better than eating cockroaches!
Again we had to wonder, do we eat the whole thing? If not what part should we eat? We removed the wings and the head, and then there was only a small part of the body left. We chewed on that and it had an unexpectedly nice flavour. It was mostly just shell, so after chewing it for a while we spat the shell out.
Worms
This one grossed me out the most! I told myself to just think of it as a witchetty grub… but I didn't like witchetty grubs when I tried them, so thinking of it didn't help me swallow the worm. In fact after chewing it for a while I did spit it out! This one did not have a nice flavour… yuk, yuk, yuk! I can't say anything nice about it!
The verdict – although some of the bugs did in fact have a nice flavour, we did not enjoy eating creepy crawly bugs and will not do it again, unless they are a different bug, one we haven't tried yet!  For example we are still looking for the deep fried tarantulas!
Dwayne did eat a water snake on a skewer when he was out in Siem Reap one night but we didn't get a photo. And we also ate a lot of frog in Cambodia (but we don't really think of frog as a crazy weird food) It is one of our favourites and is very tasty. However, I can do without seeing the skinned frogs at the markets!\
Check out the video of us eating the bugs at
Eating Creepy Crawlies in Cambodia!
I already have Vietnamese "weird crazy food" number one lined up for tomorrow morning. Believe me when I say I think it makes the rest of this stuff look tame!
To read more about our experiences with the delicious food of Cambodia have a look at the following links..
Book your accommodation in Cambodia through Booking.com to get the best deals!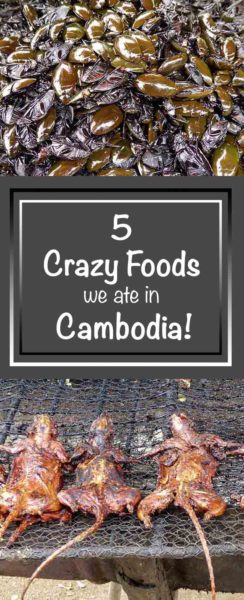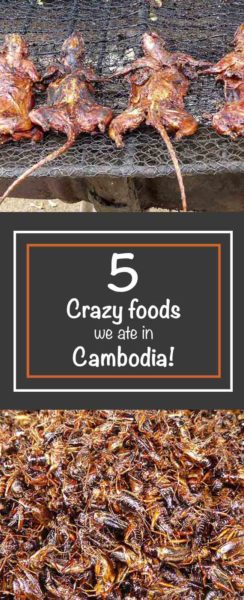 Hey there!
Don't miss a thing! Join the crew and we will send you free email updates. But don't worry, we promise not to bombard your inbox with too much awesome stuff!
Welcome board!
Something went wrong.