Cruising Broken Bay
Broken Bay is a short trip north of Sydney. It is the mouth of the Hawkesbury River; picturesque and made up of so many nooks and crannies! So much to explore we spent three weeks there. Unfortunately we both got sick and the exploring the Ku-ring-Gai National Park was restricted to a minimum.
We spent the first night at the Royal Prince Alfred Yacht Club in Pittwater. They were very welcoming and it was a good opportunity to get all the washing done and fill up with water.
Our next stop was Refuge Bay where we met a couple of live-aboard cruisers via the Ham radio. Dwayne was on the radio and stumbled across a radio sked called 'The Comedy Net'. He joined in the conversation when he heard someone mention they were in Broken Bay. Sue and Mike on Yaraandoo ll came around to Refuge Bay and invited us for a cuppa. They have been living on their boat for about 18 years and had much wisdom to impart. We were soon joined by Jim & Anne on Insatiable ll who have been living on their boat for 28 years.
Dwayne and I climbed the cliffs to check out the view and later that day we joined Sue & Mike, Dee & John and Jim & Ann on Insatiable ll for happy hour.
Jerusalem Bay – This was one of my favourite places and we moored there several times throughout our three week stay.
I managed to get a walk in along part of 'The Great North Walk' before I became too ill to walk much. Dwayne was already ill by this time so he dropped me off ashore and lay in the dingy reading.
Smith's Creek was another of my favourite spots. It was beautiful and we stayed at a couple of different moorings within this creek.
The Basin is a busier anchorage. It's a pretty place were we went ashore and walked amongst the wallabies and also walked to The Basin Aboriginal Engraving Site.
We met a lad called Matt who was spending a month in Broken Bay sailing his trailer sailer 'Moxie'.
We had matt join us for dinner some nights and he told us about a nice spot for fish & chips at Patonga. So off to Patonga we went. We had a walk around Patonga before having a delicious fish & chip lunch. Followed that by a drink at the local pub and we were ready to head back to the boat.
We also visited Bobbin Head and moored at Lords Bay and Waratah Bay in Cowin Creek. We spent a couple of nights moored off Brooklyn and caught the train to Woy Woy to shop. The three weeks flew by and soon we were well enough to continue north, by which time the winds had become favourable again. Next stop Port Stephens!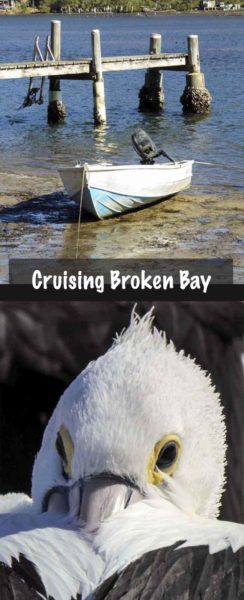 Hey there!
Don't miss a thing! Join the crew and we will send you free email updates. But don't worry, we promise not to bombard your inbox with too much awesome stuff!
Welcome board!
Something went wrong.