Broken Bits, Beautiful Islands & Fellow Cruisers!
When I last wrote a "Kelly's Chronicles" we were back in Phuket and about to explore new places. We made our way up the west coast of Thailand stopping at Nai Harn, Patong beach and other fabulous destinations which are only good anchorages during the north east monsoon.  We stayed no longer than a night at these anchorage as we were eager to get to Koh Phayam and from there, begin our exploration of the Surin and Similan Islands.  We spent nearly a week at Phayam meeting other sailors, making new friends and gathering new information about cruising Thailand.
When it was time to leave Koh Phayam we pulled up the anchor and pushed the accelerator lever into forward. Surprisingly we didn't move forward; the motor just revved in neutral! We had no forward or reverse.  While Dwayne fiddled with the accelerator lever we were, unbeknownst to Brian and Debra, slowly drifting over towards SV Chinook.  We couldn't get Thorfinn into forward or reverse so we dropped the anchor again and took some time out to try and fix the problem.
We have on our accelerator lever a little red button that, when pressed in, puts the motor in neutral so that the engine can be used to charge batteries etc. We do this very occasionally when we want to cool down the glycol tanks in the freezer. A few days earlier we had done just that and failed to notice that the red button did not pop out when we put the lever back into neutral position. We poked and prodded the stubborn little button to no avail. Fixing the problem would entail taking the mirror off the wall in the aft cabin to get to the back of the accelerator assembly (about 50 screws…ok, I exaggerate… only 22) . Dwayne decided that we would move on to the Surin Islands as planned and fix the problem when we got there.
Ok… so we just had to get the engine into forward. We did this manually with the lever on the gear box. First we had to work out which way to push or pull the lever to get forward and not reverse. That done, we pulled up the anchor and Dwayne took the helm while I, in the engine room, manually pushed the lever down and put the boat into gear.
So we were off – problem put aside for the time being – we had a good sail, for part of the way to the Surin Islands, before the wind dropped off almost completely. Moving along at 2 knots didn't suit our agenda so, with 30NM to go, we started the motor and motor-sailed the rest of the way.
We anchored at Koh Chi, a beautiful little island which has some of the most amazing snorkelling. It is a very deep anchorage and we had to anchor close to the rocky shoreline… therefore, before we could relax, or go snorkelling, we had to fix our accelerator cable. We couldn't afford not to have the boat in ship shape condition when anchored this close to shore. So in the aft cabin we removed the mirror to get to the accelerator assembly. After a lot of fiddling, spraying with WD40, and testing, we finally had it all working again. So we replaced the mirror and screwed all 22 screws back in, popping their little covers back on and then we jumped in the water for a snorkel. Amazing! Beautiful! Surreal! Our stay in the Mu Koh Surin National Park was nothing short of sensational. 
Towards the end of our time in Mu Koh Surin, while charging the batteries, our generator started spraying diesel. We rely on our generator to run our water maker and it is the principal way of *charging our batteries. Dwayne inspected the errant piece of machinery and found the offending part to be an o-ring that is fitted to the fuel pump. We didn't have a spare o-ring to fix it. It looked as though we would have to cut our island cruising short and head back to the mainland to get this very small, seemingly–insignificant part that we desperately needed. Our saviours came in the form of Graham and Julie who were anchored nearby on SV New Views. They had popped over to Thorfinn to invite us to join them for lunch at the restaurant on Koh Surin Nua. Dwayne mentioned our problem and Graham came to the rescue with a container of o-rings of all sizes; amongst them Dwayne found the one we needed. Tragedy averted – slight exaggeration – Dwayne fixed the generator and we spent another couple of days enjoying Mu Koh Surin before we moved on to Mu Koh Similan.
We left the Surin Islands at 3am and, as there was very little wind, we motor-sailed to the Similan Islands.
The Similan Islands were busier than the Surin Islands, probably due to the closer proximity to Phuket. We picked up a mooring at Koh Bangu and we were surrounded by tourist and fastboats screaming in and out all day. But is was lovely at the end of the day when, most of the tourists were gone,  you get the place to yourself! 
We moved on the next day, after receiving a message from our friends, fellow sailors Phil and Helen from SV Meridian, that they were at Koh Miang. We met up with them and spent the next few days cruising the Similans in their company.
As I mentioned the Similan Islands are busier than the Surin Islands – at least in our experience – and we soon found out that the public mooring we had picked up that day was also used by the snorkel boats! We had several boats tie up to us and hang off of Thorfinn's stern. Then the tide changed and we had a tour boat raft up with us. We didn't like this much – Thorfinn had just had her hull painted – but since we wanted to stay where we were, there wasn't much we could do about it. A lot of fenders were used and Thorfinn was ok at the end of the ordeal! While we were rafted up we had Phil and Helen over for lunch. I made salt and pepper school prawns. The tourists on the tour boats were a little jealous of the delectable aromas coming from our galley…. we nearly had a few stowaways!
Another highlight of our stay in the Similan Islands was the opportunity  to celebrate Phil and Helen's wedding anniversary. We had a feast for lunch. Crispy duck salad for entree; roast pork belly with savoury cabbage for main and to drink, Phil and Helen whipped out a bottle of champagne! Delicious lunch, great company and a perfect setting… couldn't ask for anything more!
We left the Similan Islands in company with SV Meridian and anchored at Nai Yang. Apart from an unusually large amount of rubbish in the streets, it is a good little touristy stop. Nice beach but don't expect crystal clear water. There are all the usual market stalls, massage, restaurants and bars. We enjoyed a meal ashore and moved on the next day  to Nai Harn.
Nai Harn is a very popular anchorage during the NE monsoon. While anchored there we shared the bay with about 50 other boats. Don't let that put you off as it is a large bay which is able to comfortably accommodate even more boats. The beach is nice with clear water to swim in. There are food carts, markets and several restaurants including Pier 63 which is known as the "yacht club". Pier 63 offers a small floating pier where you can leave your dinghy when you go ashore. However, we had no problems leaving our dinghy on the beach.
Is was at Nai Harn that we had to bid the crew of SV Meridian farewell as Phil and Helen went south to join the Malaysian rally. We enjoyed a last meal together at Pier 63 overlooking the yachts in the bay and wished them well on their journey.
Sharing is caring…. Why not pin this for later!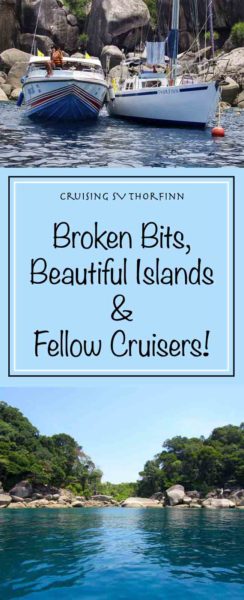 Hey there!
Don't miss a thing! Join the crew and we will send you free email updates. But don't worry, we promise not to bombard your inbox with too much awesome stuff!
Welcome board!
Something went wrong.