Why You Should Visit The Killing Fields
The decision to visit the Choeung Ek Genocidal Centre was difficult. After visiting the Tuol Sleng Genicide Museum I wasn't sure I wanted to subject myself to another day of misery. But here I was in Cambodia, eating, drinking and enjoying myself. So I contemplated, did I owe it to this country that was hosting my visit, feeding me their delicious Khmer food, pouring ice cold beer and cleaning my room?  Should I visit their past and show my respect? Yes, I believed I should and I'm glad I went, even though it was a very dolorous experience.
On arrival at Choeung Ek you are given a map and a personal audio device to listen too. In the introduction, one of the first things the narrator said on the audio divide was that the genocidal centre is "not an easy place to visit" and that their country is "grateful that you have come here today to see this place of memory and healing". I knew then  I had made the right decision to visit.
Choeung Ek Genocidal Center
The Choeung Ek Genocide Centre is known as 'The Killing Fields'. It was here, or at one of the other 300 similar killing grounds, that Pol Pot executed people he did not think fitted into his deranged vision of a perfect communist society. For Pol Pot's vision to become a self-sufficient country, he determined he only needed one or two million people, therefore the horrific loss of hundreds of thousands, up to an estimated three million people, due to starvation, overworking and execution was not of his concern.
Pol Pot's Khmer Rough Regime
In April 1975 Pol Pot's Khmer Rouge evacuated the cities and marched millions of people out to rural farming areas, where families where separated, and everyone had to work to produce food. Many people died of starvation surrounded by fields of food which they were not allowed to eat. Nothing belonged to the people anymore; not the land and not the food they slaved to grow.
Under Pol Pot's regime, religion, education and commerce were forbidden. As Pol Pot attempted to generate a classless peasant society he zeroed in on intellectuals, government workers, religious leaders, city residents as well as people of other ethnicities.
He stripped doctors, teachers and other professionals of their professions and forced them to work in the fields. The state controlled every aspect of a person's life… when and where they ate, what they wore, what language they spoke, where they lived and where they worked.
Under pol pot's orders the Khmer Rouge executed professionals, intellectuals, monks, doctors and foreigners. He arrested and executed almost everyone suspected of connections with the former Lon Nol Government or with foreign governments. Pol Pot believed it was "better to kill an innocent by mistake than to spare an enemy by mistake." He executed entire families so that there could be no recourse for revenge. His slogan for that atrocity was "clearing grasses, it shall dig its entire root off." 
The visit to Choeung EK
As I walked around listening to the narrative I was completely alone with my thoughts and of course the narrative. I could do it at my own pace, I could sit and listen to stories from people who lived through this horrific time and I could cry behind my sunglasses in reasonable privacy. Everyone appeared to be closed off from the world listening to the stories being told on their audio, coping in their own way with the horrific accounts of the atrocities committed not that long ago.
I don't know how to put into words how I felt as I walked around this area where so many people where killed in such a savage way. Listening to the narrator tell of the loud music and the generator that was used to drown out the screams of people being brutally killed, or how the babies were ripped from their mothers arms and bashed against "the killing tree" before being thrown into the holes dug for burial.
Mass graves of women and children, others of headless soldiers and yet many more, some holding more than 450 bodies of people having been tortured into giving false confessions before being killed with a hammer, bamboo stick or a piece of iron because bullets were too expensive.
It is not a nice subject to think about but do visit the Choeung Ek Genocidal Centre and pay your respects to the people who died here… and say a prayer – if religious; if not religious – just make a wish that one day tragedies of this kind will not occur again.
Travel Notes (updated July 2016)
Currency
KHR – Cambodian Riel written here as ៛
Note:  In Cambodia use Riel and the US dollar. At the time of writing this most places will accept both currencies… but have Riel for use when making small purchases in local shops or when in rural areas. Most places will use an exchange rate of ៛4000 to the dollar. Some shops have up to date exchange rates will give the current exchange rate which, at time of writing is ៛ 4090 to the dollar.
Where is it? – Choeung Ek Genocidal Center is located about 15km southwest of Phnom Penh at Roluos Village, Choeung Ek Commune, Dangkor District.
How to get there –  It is about 20 – 40 minutes drive from downtown Phnom Penh. As far as I know there is no public transport to get there (if you know differently drop me a line in comments please). We had a motorbike so we had no problem getting there. I would say that taxi or an organised tour would be the easiest ways to get there. Your accommodation in Phnom Penh should be able to help you organise a tour or taxi.
Website – www.cekillingfield.org
Admission price –  USD $6 for foreigner visitors which include an audio tour in a choice of 15 Languages. It is free for children under 12 years of age and free of charge for locals.
Accommodation
We stayed at Velkommen Guesthouse – Pros – Air-con, cable TV, safe. 5-minute walk from the National Museum, Royal Palace, Central Market and Old Market.
Across the road is Velkommen Backpackers
For the best deals on where to stay in Phnom Penh check out Booking.com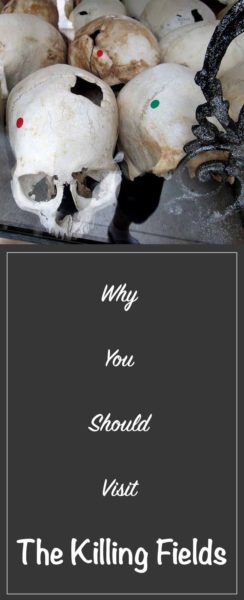 Hey there!
Don't miss a thing! Join the crew and we will send you free email updates. But don't worry, we promise not to bombard your inbox with too much awesome stuff!
Welcome board!
Something went wrong.