One Awesome Mekong River Cruise!
We were really looking forward to our cruise down the Mekong River and it didn't disappoint. We had heard mixed reviews from people on the slow-boats, the majority of which were positive but still mixed, so we had a decision to make. We did choose to pay a little extra to have some of the organising done for us.
With Nagi of Mekong, getting to the border from our hotel in Chiang Khong, crossing the border and getting to the boat was all taken care of. For us that was a bonus. It probably saved us a day or two, which meant more time in Laos!
Note: We have no affiliation with Nagi of Mekong. All opinions given in this article are purely ours.
When we arrived in our hotel at Chiang Khong there was an envelope waiting for us with our Laos visa-on-arrival form and our arrival card, as well as conformation of our pick up time. The following morning we were picked up and whizzed to the border in a minivan along with other passengers for the Mekong cruise.
Crossing the border was made easy by our guide Xay. He was on hand to tell us what we needed at each point, and with his help, we had everything ready including passport photo stapled to our visa application (we had the photo). Before long we had cleared out of Thailand and taken a bus across the Thai-Laos friendship bridge and cleared immigration at the Laos border.
A short minivan ride later and we were on the super-long, traditional Laos style, slow-boat settled into comfortable bus seats with convenient table seating. There was a bar from which we could purchase beer, soft drinks and snack foods and a long table set up with complimentary tea, coffee, Ovaltine and fruit.
BONUS: On Nagi of Mekong river boats there is a bathroom with a modern toilet & paper!
Cruising on the Mekong was relaxing and interesting. The river had a lot more rocks in it than I had imagined and the scenery was beautiful. We saw the fast-boats flying past with many people wearing motorbike helmets, fishermen with long bamboo poles and nets, cattle and we even saw an elephant!
We were on the two day slow-boat, with lodge accommodation for the night, half way along the river. Both days we stopped at a village and had a wander around while our guide, Xay, explained about the sticky rice harvesting and how they store it in small timber/bamboo huts, and how they kept the rats out of the rice.
The children welcomed us to both remote Mekong villages. At the second village we were mobbed by children selling wrist bands. I think everyone bought one or twenty!
It was at this second village that we saw the women weaving textiles and I bought a gorgeous scarf!
We then had a taste of the sticky rice whiskey they make. It wasn't that bad! Quite drinkable really!
A hot buffet lunch was served each day onboard the slow-boat, as we meandered down the Mekong River.  The lunches differed each day but both consisted of a couple of broths, grilled or fried chicken, stir-fried pork and veg, a couple of vegetable dishes, rice and fresh fruit. Cold bottled water was handed out throughout the day, and beer and soft drinks are available to buy.
The overnight stop was at Pak Beng. Included in our price was accommodation at the Mekong Riverside Lodge. The accommodation was very comfortable. Very clean wooden cabins overlooking the river. Inside our cabin was a nice bathroom, large bedroom with sitting area and then a balcony with sitting area and a good view of the river…. with elephants in the morning!
That evening we wandered around the village. There are plenty of places to eat and cheap local scotch!
The following morning, breakfast of scrambled eggs, toasted baguettes, butter, jam, tea and coffee was served at the lodge's restaurant. We reconvened on the boat at 08:00 to continue our journey to Luang Prabang.
On our river cruise, there were only 8 of us passengers on the boat so we had heaps of room to spread out and plenty of opportunity to mingle. Other people travelling with us were Jade and Gleed a young couple from the UK, straight out of uni and enjoying a five week holiday before starting work. Barbara, from Alaska, is a boat surveyor, so we had boats in common! Michelle, from Perth, I learnt does cooking lessons everywhere she travels. For David and Jill, from Queensland, this is their third trip with Nagi of Mekong. Then there was Brian and Brigit an English/Belgium couple who were covered in bites from doing the Gibbon Experience! My heart went out to them, the bites looked so painful! It was a nice group of people and I think we all found the trip relaxing and enjoyable.
As we neared Luang Prabang we stopped at the Pak Ou caves. We had a look at both caves, one of which you need the help of a torch. The caves were interesting.  There are literally hundreds of buddha idols. Our guide Xay made the visit all the more interesting by telling us about the caves, the buddhist prayers and the washing of the buddhas idols.
Once we arrived at Luang Prabang Ban Dan Pier we were transported by Nagi of Mekong to our accommodation.  Sadly the trip was over. It had been a lot of fun, as well as very relaxing. Some of us made plans to meet up the following evening for dinner and then we all went our separate ways ready to explore Luang Prabang and, for me at least, excited at the prospect of seeing the beautiful Kuang Si Waterfall…. up next!
Travel Notes (June 2016)
Click here to visit the website of Nagi Of Mekong 
Price – USD135

Included in two day/one night slow-boat Mekong River Cruise –
Pick up from accommodation in Chiang Khong, Thailand or Huay Xai, Laos
River boat transportation to Luang Prabang
Coffee, tea, bottled water, seasonal fruits
Hot lunch
Overnight accommodation
Breakfast on second day
Village tours
Pak Ou cave tour
Transportation to your accommodation in Luang Prabang
Guide for the two days
*You will need a passport size photo to get your visa.
Accommodation – Included in the price of the cruise was overnight accommodation at the Mekong Riverside Lodge!
If you liked this post, please PIN or share with friends… Thank You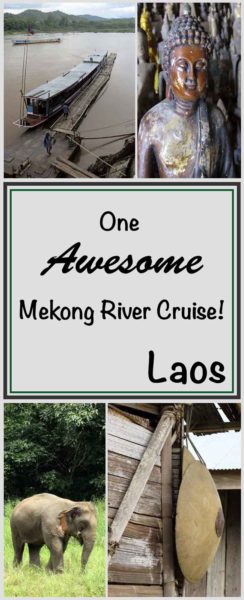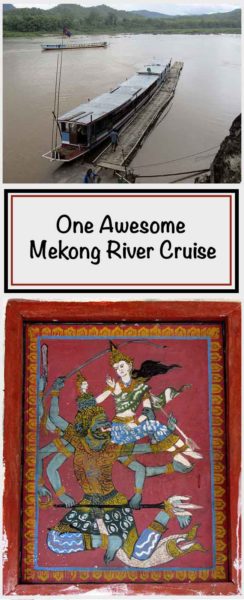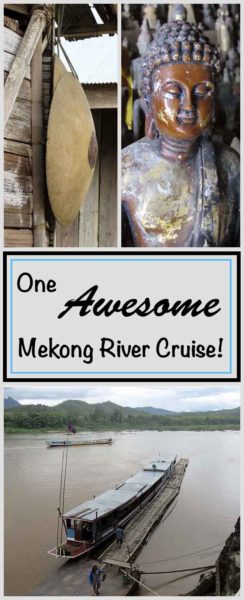 Hey there!
Don't miss a thing! Join the crew and we will send you free email updates. But don't worry, we promise not to bombard your inbox with too much awesome stuff!
Welcome board!
Something went wrong.