Cruising – Eden to Ulladulla
By the time we arrived in Eden we were well and truly ready for a night on shore… well an evening anyway. So we did our chores and had a couple of drinks onboard before heading to the pub for dinner. The pub served great meals at a very reasonable price and we let loose a bit and partied into the night. Headaches in the morning, but more chores needed to be done so, while Dwayne slept, Katrina and I walked to town and did the washing, shopping and treated ourselves to a coffee and yummy smoked salmon bruschetta.
The weather was beautiful and we wandered around in our shorts and t-shirts. After waking Dwayne we had fish and chips on the wharf, bought some seafood for dinner, refuelled the boat and got prepared to leave.
We left Eden at 0130 and sailed to Bermagui. Getting into Bermagui early allowed us to have a wander around the town, buy yummy 'organic oysters' and have a drink at the Bermagui Beach Hotel.
We left Bermagui, the next morning, and while sailing to Batemans Bay we put the trolling line out and caught a bonito (skipjack tuna). We knew we couldn't get over the bar crossing, and into the harbour, so we anchored off of Snapper Island. We rowed to the island for a closer look…. well some of us rowed and someone took selfies!
Dinner was fresh tuna steaks on a bed of garlic mash with lime, dill and caper butter. Yum!
I can't tell you about the sail to Ulladulla, as I slept the whole way! Once we had arrived, however, we moored at the wharf and had dinner at a Thai restaurant nearby. We met Frank, who when dining alone, Dwayne asked to join us. Within minutes he was offering us the use of his washing machine and inviting us for a drive along the coast the next day.
The next morning Frank picked us up at 1000 and the first stop was Mollymook Beach Hut for a delicious coffee complete with lovely view. We put the washing on at Franks and enjoyed a gin and tonic at his bar! Frank is a retired fireman and his bar, and house, is full of fire service memorabilia.
A drive to Batemans Bay allowed us to visit the town we had, a few days before, only been able to see from the boat. Fish and chips for lunch at a nice waterside café (delicious) before driving down the coast to look at the beautiful beaches.
A drink at the Tomakin Sports and Social Club before the drive home and dinner on the boat with Frank. It was a lovely day and we were very appreciative of Franks generosity in showing us around.
Katrina (crew) left us at Ulladulla but before she did she treated us to lunch at Banisters restaurant. She spoiled us rotten! Food was delicious and the view fantastic.
We walked back to the boat, via Mollymook beach, the Mollymook Golf Club and the Milton-Ulladulla Bowling Club and partook more refreshments (in the form of red wine … long day!)
Next stop is Jervis Bay. Check in again soon for some more waffling and photos.
Liked this article? Please pin and share with family and friends… thank you!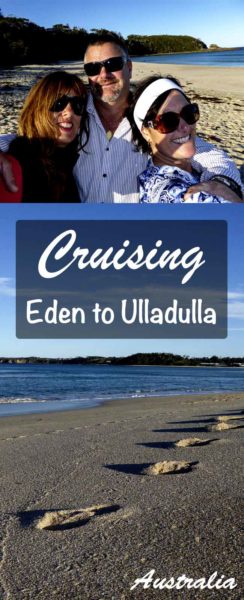 Hey there!
Don't miss a thing! Join the crew and we will send you free email updates. But don't worry, we promise not to bombard your inbox with too much awesome stuff!
Welcome board!
Something went wrong.