Exploring Cambodia on a Motorbike – Part One
Riding a motorbike around Cambodia was an exhilarating and hair-raising experience. It wasn't always smooth sailing…. or in this instance trouble-free touring! Near death experiences were never far away! Such as the time, on a two lane narrow road, we had, coming straight for us, a van overtaking a bus that was overtaking a truck. So… two lanes, three vehicles and no room for us. Just managed to slow down enough before leaving the road and hitting the dirt! And then there were the breakdowns… and there were a few of those, but they were all part of the adventure…
Why choose to ride? 
We spent a couple of weeks thinking about how we wanted to explore Cambodia and Vietnam. A motorbike, for us, was the obvious way to go, but getting the information on whether it could be easily done wasn't all too clear. Legal issues, border crossings, buying a bike etc… well all my research still left me with many questions. In the end we decided to just grab our backpacks and bus it everywhere.
The day we arrived in Siem Reap, Cambodia we met a young Kiwi guy, Dallas. We got chatting with him and discovered he had just bought a motorbike. It turned out (so we were told) that we didn't need to register a motorbike, but did need to find one with Vietnamese plates and registration blue card if we wanted to cross the boarder into Vietnam. So we were back to wanting to tour Cambodia on a motorbike; for although the buses from city to city are cheap, getting around from place to place once there, can end up costing a lot. Just that day, as we were being driven to our accommodation, we learned that a car for the day (about 6 hours) was USD $30 per day. So buying a motorbike didn't seem like an outrageous waste of money, considering the money we'd save and the freedom we'd have to explore.
With the help of Dallas we found a motorbike for USD $260. We re-upholstered the seat with some extra paddling, changed the oil, bought some bungy straps for our luggage, helmets, a screw-driver and shifter, and had an extra cushion made up for my butt which became affectionately named the granny seat! And for less than $290 we were ready to go… but first we had time to explore Seam Reap.
Angkor Archaeological Park
While in Siem Reap we visited the Angkor Archaeological Park. Do not miss this place. It is a breathtaking place and it is fascinating. A place where the ingeniousness of ancient civilisations is brought to the forefront of your mind as you wander amongst the majestic temples and contemplate the extraordinary feats of engineering that occurred 10,000 years ago!
Read about the four must-see temples here – They are Angkor Wat, Ta Phnom, Bayon and Bantreay Srei.
We bought a three day pass to visit Angkor Archaeological Park for $40. The first day of visiting cost us an extra $35 for the car and driver.  So the subsequent two days we visited the park, we were happily saving $70, because we had bought the bike and had our own transport.  Ok… so, price of bike $260 – $70 (price of driver for two days) = $190. We were going to have the money spent on this bike accounted for in no time!  We were now ready to hit the road!
The ride from Siem Reap to Battambang is about 160km and  took us five hours! We stopped about 5 times to grab a drink of water, lunch (barbecued rat) and just to rest our aching butts.
Battambang was on my list of destinations ultimately for one thing; the cooking classes.  They were really cheap so we did two in one day, and ended up cooking and eating two four course meals that day…. gluttons!
We stayed an extra day in Battambang to rest our weary, butt-sore bodies (not accustomed to five hours on the bike!) so we went for a ride on the  Bamboo Train. The "trains" are bamboo platforms made to fit on train wheels, and the motor is a little petrol driven engine that turns a fan belt which is controlled by a stick! Ok…. got that?
The rickety ride was interesting, although with the trees and shrubs growing right up to the tracks there was very little to see. This, in my opinion, left me with way too much time to watch the line we traversed  – and therefore noticed the bends and gaps in the tracks, as we raced along, clickity clacking over dilapidated looking bridges! It was a lot of fun! Don't forget a hat and sunscreen though.
At the end of the track you may be called upon to help dismantle and move the train off the tracks; in fact, sometimes along the ride itself you have to stop and take the train off the tracks – like I said it is a very interesting, fun ride. We had a look around the old brick works and had a pack of kids following us around trying to sell us some wristbands… which we, in the end, bought. After a cool coconut drink, Dwayne and the driver reassembled the train and we headed back.
Our next destination was Kampot, but we were going to have to do this ride in two legs. First leg was to Kampong Chnang. It was 201km and took us 5 hours. We had stopped a couple of times for breakfast and lunch.
Ordering food in the rural areas, is an experience in itself – almost no one speaks any english. It was amusing miming to someone that you would like something to eat. We never bother trying to ask what they are selling, we just accepted what we were given, unless we could see what they were selling, as in the case of a BBQ, then we simply point to the food we wanted and showed one or two fingers depending how many/much of the said thing we wanted.
The next leg, from Kampong Chnang to Kampot was 240KM and took 6.5 hours. It was on this leg of our adventure that we first stopped for a mechanical issue. Not a breakdown as such, but we needed some heavy duty springs for the bike as we were bottoming-out occasionally. We were not really surprised that the bike couldn't handle the two of us and the luggage, neither of us are light-weights! We managed to convey that we needed stronger springs and in a matter of minutes we had new (secondhand) heavy duty springs, a nut replaced, and the chain tightened and greased… all for the measly sum of USD $9.
As the rest of that trip was uneventful, I was able to appreciate the beautiful scenery of the green rice paddy fields, pigs on the way to market, and truck loads of baskets and pottery.
In Kampot we stayed at Bohemiaz Bungalows which had a pool and very nice proprietors. Michelle and her father Brian, are wonderful hosts and, as well as hitting town with Michelle one night, we also went out to a delicious dinner and karaoke with Michelle, Brian and other guests including Dallas and Courtney whom we had met in Seam Reap. The food was delicious and the guys got up to sing a song.  They were hopeless… have a look at the video and tell me if you agree!
We  went for a ride with Dallas and Courtney to see the old casino/hotel. It is in remarkably good condition and it is strange to see it sit there, unused, in a place with such a superb view! It was interesting wandering around the old rooms and balconies. The view from the back lawn was pretty cool.
You can't visit Kampot without taking a trip out to Kep. So we jumped on the bike and headed out to visit the Kep crab markets.
The markets are right on the beach and next to them is a strip of restaurants selling Kep's famous Kampot Pepper Crab. So after walking amongst the fresh and cooked seafood at the markets we had a yummy meal at one of the restaurants overlooking the water. The fried crab with green peppercorn sauce was delicious. A drink at the sailing club finished the day off nicely.
Travel notes (Sept 2015)
Currency
KHR – Cambodian Riel written here as ៛
Note:  In Cambodia use Riel and the US dollar. At the time of writing this most places will accept both currencies… but have Riel for use when making small purchases in local shops or when in rural areas. Most places will use an exchange rate of ៛4000 to the dollar. Some shops have up to date exchange rates will give the current exchange rate which, at time of writing is ៛4090 to the dollar.
Angkor Archaeological Park –  click on the link for information on getting to Angkor Archaeological Park, ticket prices, what to wear and take with you – 4 Must-See Temples
Battambang Cooking Classes – USD $10 each. Click on the following link for more information –  Two Awesome Cheap Cooking Classes
Eating in Cambodia – have a look at the following links.
Accommodation
Sihanoukville – (Otres Beach) – Columbus Bungalow
Cost – ៛50000/night (USD $12.50 or AUD $16.00)
Pros – Very nice position on the beach.
Cons– The mattress was so worn out that it felt like I was sleeping on bamboo slats. There was a mozzie net but I was covered in bites from midgies or sandflies. Too far from Sihanoukville if you do not have your own transport.
Our verdict – Not worth the bites.
Kampot – Bohemiaz Bungalows 
Cost – ៛25000/night (USD $6.00 or AUD $8.00)
Pros – Very friendly proprietors, pool, nice large rooms and large bathroom. Bar and restaurant, pool table and board games to play.
Cons – Take mozzie spray.
Our verdict – Great value and such a friendly place.
Battambang – Shang Hai Guesthouse 
Cost -៛25000/night (USD $6.00 or AUD $8.00)
Pros – fridge, cheap.
Cons – wasn't cleaned during our stay.
Our verdict – Ok
Sharing is caring! Please pin or share with friends…. thank you!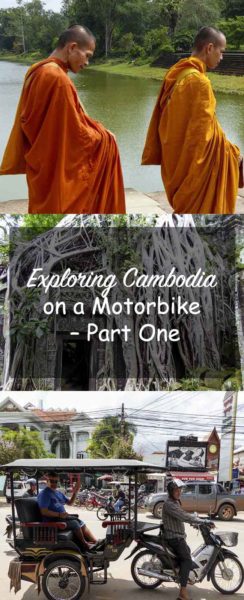 Hey there!
Don't miss a thing! Join the crew and we will send you free email updates. But don't worry, we promise not to bombard your inbox with too much awesome stuff!
Welcome board!
Something went wrong.