More of Kuala Lumpur on a Shoe String!
There is an abundance of things to see and do in Kuala Lumpur. We only brushed the surface with the things we did during our six days and nights.  We stayed in Chinatown before moving to Hotel 99 in the Bukit Bintang area. Both these areas, within walking distance from each other, had good public transport and there was a lot to see and do. Read Kuala Lumpur on a Shoestring here!
The public transport was easy to use… the trains more so than the buses. The many train lines have good, easy to read, timetables and a search on the web will deliver all the details you need beforehand to tell you the closest station to where you are and what train you need to get where you want to go.
We caught a train out to the Batu Caves. The huge golden statue and the giant staircase that you face, upon arrival at the entrance to the caves, is impressive to say the least.
Not surprisingly (for Malaysia), the area around the entrance is scattered with food and souvenir stalls, and of course photo-snapping tourists. The walk up the stairs is well worth doing although I was disappointed in the condition of this 'important' religious and cultural site. I was surprised to see more souvenir stalls inside the caves and they, along with the scaffolding, crowd control railing, rubbish, monkeys and roosters gave it a very shabby appearance.
On the climb to the caves I did enjoy watching the cheeky monkeys get up to mischief. Some would wander too close to a timid visitor and make them yelp! Unfortunately, they all rummage through the rubbish bins spreading the rubbish everywhere. I can't understand why they, the people running the show, haven't put lids on the bin yet!?
Visiting the Kanching Waterfalls turned out to be very easy to get to and a cheap day out. Finding where to catch the bus took a little time, but we had found out beforehand that we needed the 43 bus and that we could catch it somewhere near the Central Markets. After a ride on a very grotty bus, where the view was obscured by windows rendered opaque with grime, we were dropped off not far from the entrance to the park. We had a great walk, a refreshing cool swim, a parcel of nasi lamak for lunch, and we had time to watch the cheeky monkeys before we caught the bus back Pesar Seni.
Unfortunately, they do not have lids on the bins here either so there is rubbish everywhere from monkeys rummaging through the bins. Having said that, the monkeys are not the only ones to blame, it is mind-boggling, for someone such as myself, to see how many people just throw their rubbish on the ground. Adult and children alike!
The Central Markets
At the Central Markets we wandered amongst all the usual souvenir stalls, and antiques, carvings, art and waving Chinese cats! Dwayne had his feet cleaned by fish. They were quite large and it took him ages to get his feet all the way in the water as the fish were tickling him…. so funny to watch!
We found a cinema and decided to relax with a movie. We had noticed on the TV at the hotel that all the swear words were blanked out, including 'shit', but we were not expecting it to be the same in the cinema… it was. It was a bit off-putting when the screen went silent for five seconds during a 'vulgar tirade'!
Just around the corner from our hotel was the 'famed' Jalan Alor. This street is full of hawker stalls selling some of the yummiest food! We had delicious dim sum, chicken feet, vietnamese pho soup, fried frog, skewers of escargot, duck and more. Read here as Dwayne eats his way through Kuala Lumpur!
Muzium Negara (National Museum Malaysia) – this was an interesting museum that provides a good over-view of Malaysian history and culture. A couple of my favourite displays were  A handwritten Al-Quran originating from the Malay Archipelago and Bunga Mas (Golden Flower) – this was a gift sent by the sultans of the North Malay States to the King of Siam as a symbol of friendship.
Nearby is the Muzium Seni Kraf Orang Asli (the craft museum of the original people). This museum is free and interesting. There is a lot of beautiful carvings and interesting displays.
We visited a huge glittery mall- Pavillion Kuala Lumpur. The entrance to the mall was a little over-the-top! The mall was all red, gold and glass, and the shops were all Gucci, Armani and Versace!
Travel Notes (updated August 2016)
Currency 
MYR – Malaysian Ringgit written as RM
Food –  For more on where and what we ate (including cost) click HERE!
Things to see and do
Kanching Waterfalls 
Cost – RM 5.00
Hours – Open daily 07:00 – 19:00
Food – there are eateries at the beginning of the track where you can buy food, drinks and souvenirs.
Amenities – toilets and change rooms are located near the entrance. I think the first toilets might be for muslims only… maybe? Anyway, the guy there told me to use the other toilets further on. At the building with the green roof you'll find toilets for RM 0.50 and if you haven't got your own tissues buy some for RM 1.00 because there is no toilet paper in the cubicles.
Bus to Kanching Falls – 43 bus and tell the ticket person you want to get off at the Templar Park. RM 2.50 each. We were dropped off at a pedestrian bridge that crossed the highway and had a short walk (about 200 metres) to the entrance of the park.
Batu Caves 
Cost – There is no entrance fee. Parking cost RM 2.00 if you go by car.
Hours – Open daily 06:00 – 21:00
Address – Batu Caves, Sri Subramaniam Temple, Kuala Lumpur, Malaysia
Train to Batu Caves – KTM Line – Batu Caves is the last stop. Cost RM 2.00 (less than a dollar). Trains are clean and comfortable. Be aware that they usually have two coaches dedicated to ladies only. In my experience they have been coaches three and four. They are labeled but if you are not looking you will not see, once inside they are also labelled  'ladies only' as we found out!
Muzium Negara (National Museum Malaysia)
Cost – RM 5.00
Hours – Opens daily from 9.00 am – 6.00 pm
(It cost RM 10.00 (AUD $3.30 each) when we visited back in January 2015)
For more information including how to get there and full price list visit –
http://www.jmm.gov.my/en/museum/muzium-negara
Muzium Seni Kraf Orang Asli 
Cost – RM 5.00
Address – Orang Asli Crafts Museum, Jabatan Muzium Malaysia, Jalan Damansara, 50566 Kuala Lumpur
Telephone – 603-2282 6255 samb.171
(It was free when we went in 2015). For some it is still free i.e. children under 6yrs (non Malaysia), high school students in uniform etc.
For more information including a full price list and a map visit –
http://www.jmm.gov.my/en/museum/orang-asli-crafts-museum
For more cheap or free things to do in Kuala Lumpur Read Kuala Lumpur on a Shoestring here! and 17 Free things to do in Kuala Lumpur!
Accommodation
Cost – RM89.90 (AUD $29.00) / night
Pros – A/C, TV, close to Jalan Alor (awesome food street!)
Cons – Tiny room, no window
Our verdict – Probably expected better for the price
If you liked this post please share with friends and/or pin to Pinterest! Thank you…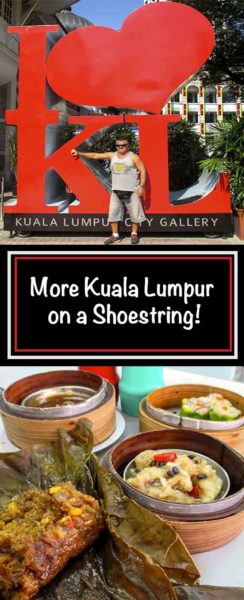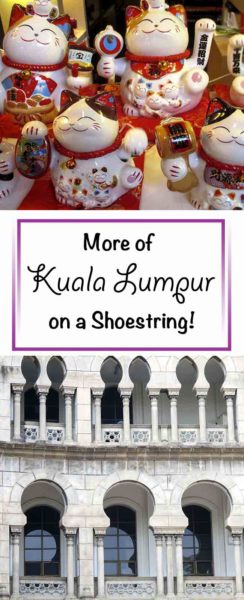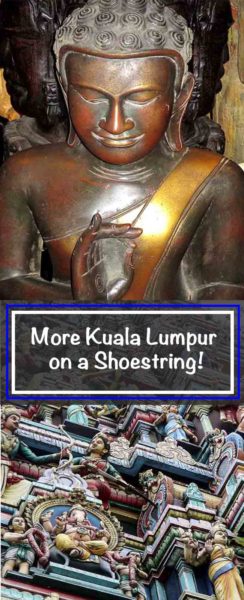 Hey there!
Don't miss a thing! Join the crew and we will send you free email updates. But don't worry, we promise not to bombard your inbox with too much awesome stuff!
Welcome board!
Something went wrong.