Why We Love Kuching!
Kuching was a surprise. Not only did this small city have amazing food, bustling markets and interesting ornate buildings but it was clean, tidy and not in the least chaotic. It was a wonderful break from the vehicular chaos from whence we had come.
The first thing we noticed as we drove to our hotel was the tidy streets and beautiful green gardens. Our taxi driver told us that Kuching has been divided into North and South Kuching and if the mayor in one council are does something (e.g. put in a nice garden) the other mayor, not to be out done, will then follow suit. So gardens, tidy streets and up-kept buildings are everywhere!
Kuching's population is about 600 000 people which, for a city in South East Asia, is not a lot of people. The lack of congestion make getting around Kuching in a car easy and there are clear road rules which are, in part, followed.
We arrived too early to check into our hotel so we hired a taxi and headed towards Kuching's waterfront.  Ah Nam, our driver, was a very friendly and informative guy who told us all about Kuching. Kuching, spelt Kucing in Malay and Indonesian bahasa means cat, therefore Kuching is known as Cat City and there are cat statues everywhere!
Ah Nam pointed out some attractions and told us about the history of Kuching. When asked by Dwayne, Ah Nam showed us where the open air food markets was before dropping us to where we could hire a scooter. We picked up a scooter and headed off to enjoy our four days in Kuching! First stop was the open air markets to feed my man. These food markets have two sections; one is for Malay food and the other is Chinese food. It is cheap and, mostly, delicious food.
Next stop was Kuching's waterfront which is known as the People's Place. It is here you can find great local foods, souvenirs, and entertainment and the best Laksa Sarawak!
Laksa Sarawak (Sarawak being the Malaysian State which Kuching is in) is the area's signature dish. In Kuching, this laksa is usually served for breakfast, but some places sell it for lunch or dinner. On a walk along the waterfront on our first night, we had the most delicious laksa we have ever had. So yummy! Only MYR6.00 which is about AUD2.00… gotta love Asia!
We loved our stay in Kuching and would not hesitate to recommend the place as a holiday destination. Kuching has lots of temples, mosques, museums and national parks, but we didn't do any of them this time. This holiday we chose to mostly relax and take it easy, as we'd had some pretty stressful days leading up to our trip to Kuching. So we lazed around our hotel pool, wandered around the markets and ate ourselves silly!
We went for a ride out to Damai Beach. We were a bit disappointed – due to our own ignorance about the area – it was not what we expected. Damai Beach Resort wanted RM15 ($5) entry fee to be paid before we could go in to buy a drink. The $5 allowed you access to the beach but not their pool. The tide was out and the beach did not seem suitable for swimming. But we did enjoy our ride out there.
The Rhinoceros Hornbill is the state icon for the Malaysia State of Sarawak. Hornbills are threatened by habitat loss and hunting. The hornbills are still hunted for traditional medicine. On a walk along Main Bazaar we saw many people selling hornbill. Shame, shame, shame!
We went for a ride out to Bako National Park with the hope of going for a hike and seeing some animals. You can't travel all the way to Bako National Park via road, instead you have to go to Bako Village where you get on a boat for a 1/2hr boat ride down the river. When we got to Bako Village we discovered the boats, which supposedly run all day, were not. The first boat would be leaving at 1400. We would have to wait for three hours and then we would have had very little time before catching last boat back, so we gave it a miss… Oh well, something to do next time.
Food, Food, Food! It was all about the food! The food in Kuching is delicious, and eating was once again a highlight of our travels. We went to lots of hawkers stalls, small warungs, as well as a bistro and a restaurant called Bla Bla Bla where we had delicious mango duck and ostrich rolls.
Across the river is a large food court I think it is called 'Riverside Hawker Stalls'. To get there you simply get on one of the river boats and they motor you across. Doesn't cost much (around 17 cents!) and the food court had heaps of food to choose from.
On the river front is The Square Tower which was built in 1879 and once guarded the river against marauders. In the years that followed it has housed the prison and a dance hall to name but a small part of its colourful history. It is now an art gallery… I don't remember seeing it open?
We were lucky on our last night to watch a celebration parade. Not sure what it was for but it started in the afternoon, shut down traffic and ending in fireworks late that night!
Our verdict – if you have the chance to visit Kuching, take it. It is a refreshing change from the chaotic, dirty towns and cities, that are synonymous with Asia.
Travel Notes
Currency 
MYR – Malaysian Ringgit written as RM
Taxi/Entourage Driver –  Ah Nam [taxi and day trip]. Very nice guy and cheap. Ph: 016 – 8734449
Food  –  The food in Kuching was amazing! Click on here for more about the culinary delights of Kuching! 
Scooter – cost RM40.00 (AUD $14.00) per day.
Accommodation
Citadines Uplands – apartment style accommodation. Around AUD $50 night. Small unit included kitchen with full size fridge and a good size bathroom. TV, tea, coffee, safe, ironing board. Included breakfast. Had pool, fitness centre.  Small supermarket on ground floor. Sold beer, wine and spirits. Shopping mall across the road.
Liked this post? Please pin or share with friends and family… thank you!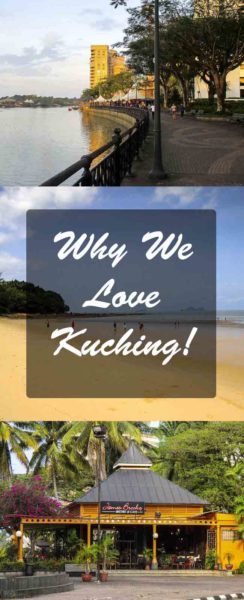 Hey there!
Don't miss a thing! Join the crew and we will send you free email updates. But don't worry, we promise not to bombard your inbox with too much awesome stuff!
Welcome board!
Something went wrong.