Sabang Marine Festival 2016
The Sabang Marine Festival – 2016 – was extremely well organised, a lot of fun, and facilitated the healthy and happy mixing of many different cultures. 18 boats from all around the world participated and the visiting sailors included Australian, Swiss, French, American, Canadian, Malaysian, Thai, English, South African, Zambian, German, Italian, Czech, New Zealand, Swedish and New Caledonian. The participants, of which we were two, enjoyed many organised activities such as cultural performances, a tour of Banda Aceh and the Tsunami museum, as well as interactive games including tug-of-war, greasy pole climbing and canoe races.
This years Sabang Marine Festival (SMF), only the second time this event has been staged, was held on Pulau Weh between 26 – 30 April 2016.  Organised by the BPKS the festival's main objective is to promote the Sabang area as an international destination. The festival is particularly aimed at increasing visitors sailing their own yachts to use Pulau Weh as a check-in or check-out point (Indonesia immigration etc). Indonesia has made some changes to their rigorous visa and sailing permit laws which now enable cruisers to enjoy longer stays in Indonesia with, we hope, minimal fuss and no need to procure an agent.
Sabang is a city in the Aceh Province of Indonesia. Sabang is comprised of five islands, the biggest being Palau Weh. Pulau Weh is home to the local Sabang government and the centre of Sabang. Palau Weh is also an active volcanic area, has some spectacular snorkel and dive sites, waterfalls and historic Japanese world war two bunkers. For a small island it is jam packed with things to do.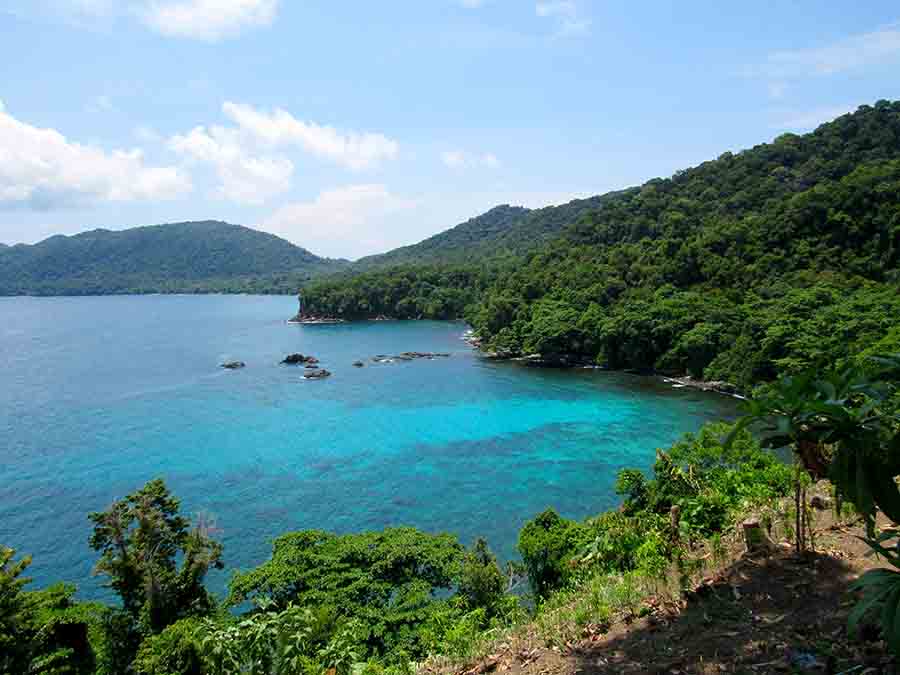 Boats began arriving as early as the 20th of April. For those of us that arrived early, the check-in procedure probably took a little longer as the officials were expecting the boats to check in between the 23-25th April. However, those of us that may have had a longer wait for check in did get in a few extra days of snorkelling. And I gotta say wow… when I jumped in the nearly crystal clear water I was speechless… well not quite, I still managed a bit of snorkel babble! The marine life is quite simply astonishing! We had fish, of so many varieties, swimming every which way around us.
For the rest of the visiting boats the clearance, into Indonesia, was a predominately painless experience with the BPKS accommodating all of the necessary officials in the one room of their office building. Participants were instructed to raise their quarantine flag and await the arrival of officials from the quarantine office, immigration and customs, after which they were directed to the office to complete paperwork. Online visa applications, done before hand, sped up the process.
On the night of the 25th of April the festival officially opened with a welcome dinner, speeches and entertainment. Throughout the next five days all sailors were fed three delicious meals a day by our hosts.
The first day we went to a large gathering at the Sabang Fair. We were greeted with a welcome dance and presented with a little green leaf-wrapped package. It turned out it was betel nut. It was in a little bundle – the betel nut was wrapped inside a leaf and held together with a clove. The way to eat it is by putting the whole thing in your mouth and chewing it. It is ok to swallow it or to spit it out. 'twas not my cuppa tea!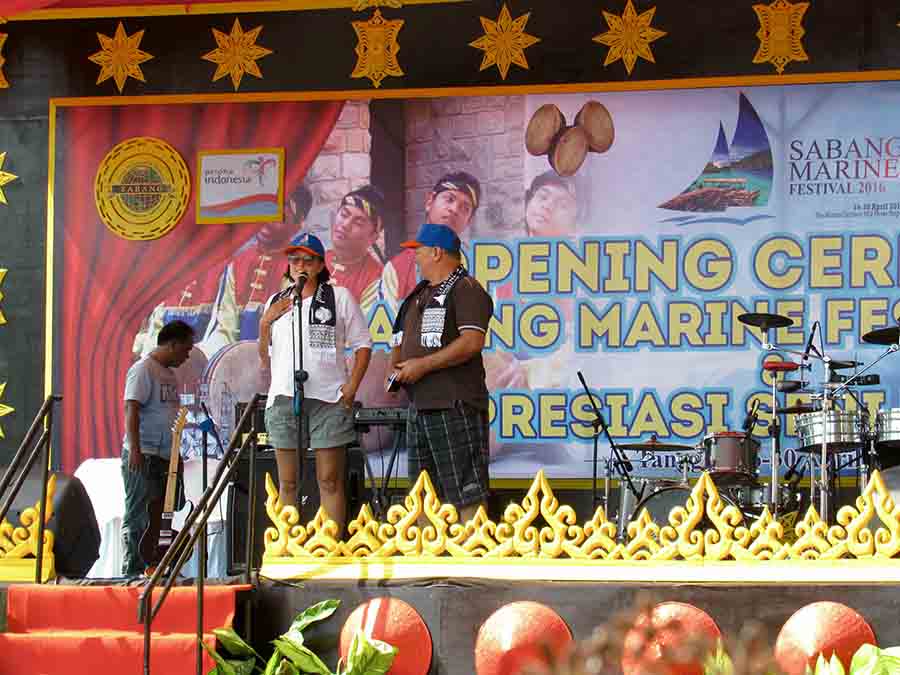 The day progressed with a few speeches, one done by yours truly, and then we were entertained by some very talented artist. The festival was enjoyed as much by the locals as by the tourists! The Sabang Fair was packed with families all just as enthralled in the performances as we were.
We had a few hours to ourselves in the afternoon before dinner.  While relaxing on our boat we were kept amused by a couple of PPC's (powered parachutes). After another scrumptious Indonesian dinner we went back to the Sabang Fair for more entertainment. This time the crowd was huge and there were rock bands and fireworks.
The following day we visited the site of the unfinished marina. More performances were followed by an impromptu dance by all that were attending. It was spontaneous and entertaining. We had a delicious lunch, of grilled fish, salt & pepper squid, vegetables, rice and piquant dipping sauces,  in Iboih Village. It was a feast that was enjoyed by about 200 people!
Day three was the peoples games. These games, for the locals, were a lot of fun to watch and even more so to participate in. The locals were playing for prizes but they didn't begrudge us muscling in for a bit of fun. In fact I'm sure they found it hilarious! 
The next day was our long awaited chance to see more of this beautiful island and it didn't disappoint. We visited a small, but interesting museum, old Japanese bunkers from world war two, and a volcano (geothermal hot spot). We had a lunch stop with a spectacular view, went to kilometre 0 – which is the beginning of Indonesia, and had a swim in a waterfall… and we were ferried around in a police escorted cavalcade!
Day five was a tour of Banda Aceh. We began the day with breakfast at 06:30 then we got the fast ferry to Banda Aceh. VIP class no less! We were transported on to very comfortable air-conditioned buses and whizzed around Banda Aceh. First was a coffee stop. Aceh is famous for their coffee and I don't think it disappointed… I don't drink coffee but my tea was also very nice, as were the colossal array of cakes and snacks to try. Of course there is a special way to make the coffee and it was interesting to watch. Many of the participating sailors had a chance to make their own.
From there we went to the Tsunami Museum and, following more captivating performances, we had a guided tour of the museum.
A mouth watering lunch of fried chicken and goat curry followed the museum visit, before we were taken to see the boat that had landed on a house during the Tsunami. The 25 metre long fishing boat ended up 2 km from the shore and inadvertently saved the occupants of the house and many neighbours. A total of 59 people were saved by taking shelter in the boat.
Read the story here, it's really quite amazing. What a lucky escape!
After a ferry trip back to Sabang we put our feet up for two hours and then we went to shore for the closing ceremony. Another scrumptious feast was followed by closing speeches, awards for the games winners and a first-rate band we danced the night away with.
Watch my short video about the festival here!
Notes (May 2016)
Currency
IDR – Indonesian Rupiah written here as Rp
The Festival cost the yachtie participants nothing! We were fed three times a day, given gifts that included t-shirts (multiple), a cap, a souvenir festival scarf, a Banda Aceh stitched diary/organiser and a lot more. Each boat also got 100 litres of diesel (solar) for free.
Plenty of help and support – Ibu Nani emailed all participants with her contact number etc and told us if we needed any help with getting drinking water, local sim card, laundry place, vegetables, fruits, or anything to let her know. She then organised four gentlemen and she asked them to dress in black pants and white shirts (so we could identify them) who, we were told, would help us in anyway e.g. take you to the market or a phone shop; take you to fill your petrol (bensin) jerry cans or help you with getting potable water. Laundry was as simple as dropping it off to the BPKS office and Janice tells me that it was very cheap – Rp85000 for 29 kilos, so about Rp3000 a kilo and it was ready the next day… (no underwear though).
New visa information –  This is the information I gathered from immigration here in Sabang.
Fill in information on line before arrival. Click here to visit piyoh to fill in application form.
1 month visa on arrival – free
2 month visa on arrival – USD $35.00
6 month visa – visit an embassy before arriving in Indonesia. Apply for 6 months and you will receive two months visa with the option to extend monthly for four months.
NO CAIT NEEDED.
NO NEED FOR AN AGENT
You will need to fill in a vessel declaration form. Basically to say you will not sell the boat in Indonesia etc. This form is done with customs and I think it can last for up to 3 years, but becomes null and void when you leave Indonesia, and you will need to apply again on the next visit.
There are 18 ports to check into and out of Indonesia.
A list of boats and crew who joined the festival.
THORFINN
Owner/crew – Dwayne & Kelly Turpin
ZOA
Owner/crew – Michael & Janice Johnson
C'EST LE VENT
Owner/crew – Pierre & Antonella Morisco
CALYPSO
Owner/crew – Paula & Maureen von Wiese
AKU ANNKA
Owner/crew – Erja and Glen
EN POINTE
Owner/crew – Tom Van Dyke
MANTA
Owner/crew – Isabelle Bovet, Henry, Peter
SWIFT
Owner/crew – Colin Wright, Colin Rothnie
JENAIN
Owner/crew  – Bill Robinson, Barbara
STORM
Owner/crew – John, Sarel
DREAM DANCER
Owner/crew – Stephen & Kim Matthews, Steve
BARNACLE C
Owner/crew – John Hiett
MORNING STAR
Owner/crew – Richard Farman, Sue Inlee
SPAILPIN
Owner/crew – Barry
KATUM
Owner/crew – Pepe, Alain, Reynald
LA LOUPIOTE
Owner/crew – Franc, Delphine, Ondga
RAVENSONG
SHADOWFOX
Hey there!
Don't miss a thing! Join the crew and we will send you free email updates. But don't worry, we promise not to bombard your inbox with too much awesome stuff!
Welcome board!
Something went wrong.