10 Top South Australian Beaches
Your ads will be inserted here by
Easy Plugin for AdSense.
Please go to the plugin admin page to
Paste your ad code OR
Suppress this ad slot.
One of the many great things about Adelaide is its accessibility. Accessibility to exquisite wine regions such as the Barossa Valley, McLaren Vale and the Clare Valley, remarkable wildlife areas such as Kangaroo Island and to glorious golden beaches with crystal clear water. It's a unique place with much to see and do. You are never too far from where you want to go… One minute you are in a vibrant, exciting city; 20 minutes later you are relaxing on a gorgeous beach with a distinctive holiday atmosphere. Yes, I may be a little bias toward the place I grew up, but I do not lie… Adelaide in South Australia is a extraordinary place and I can't wait to tell you all about it… starting with our beaches.
I grew up at Grange, just a few minutes walk from the beach, and this is where we stayed during our recent trip to Adelaide. We visited many of our favourite beaches, the following are only a few of them.
Metropolitan Beaches
Adelaide is situated up the gulf of St Vincent between the coast and the Adelaide hills. Popular metropolitan beaches include Semaphore, Grange, Henley and Glenelg, all of which can be reached in 20-30 minutes drive from the city centre.
Semaphore 
Semaphore Beach is a long stretch of beach with a jetty, a waterslide complex and carnival area, as well as Semaphore Road which is full of gift shops, boutiques, cafes, restaurants, old pubs and a cinema. There is even a mini steam train that runs along the foreshore taking passengers on a 2km seaside journey between Semaphore and Fort Glanville. Play grounds, barbecues, grassed areas and a lovely beach make Semaphore Beach a favourite amongst locals and tourist alike.
Grange
Grange beach has a special place in my heart as this is where I grew up. The Grange Hotel, although very different now is where I could find my dad having a beer and where us kids would play "pole to pole" on top of the old toilet block. Things at Grange have changed a lot since those days, more than 30 years ago, and it has become a popular place for people to gather on the beach, the grassed area, or in one of the restaurants or pub nearby. The beach has a jetty that is popular to fish from, surf lifesaving club, nice sand, clear water and a public cycle and walkway to Henley Beach.
Henley Beach
I remember on hot days (over 36c), when school got out early, we would head to Henley Square to cool down in the fountain ("why not just jump in the sea?" I hear you asking… probably because we were not allowed in the fountain!). The square has been through many changes in the last 30 years… We arrived back in Adelaide in December 2015 to find that Henley Square had once again been upgraded and was now called the promenade. The new promenade area has a new surf lifesaving club, shaded areas, grassed areas, water features and a wave-like seating feature. The jetty, a popular place for fishing, is still there, and the promenade is surrounded by restaurants, bars, the pub and a shopping centre. But once again I believe the main draw card to Adelaide's beaches are the beaches themselves…. this beach is a beautiful sandy beach with clear water most of the time.
Glenelg
Only a 25 minute tram ride from the city centre is one of Adelaide's most popular areas – Glenelg foreshore and beach. Glenelg is a bustling tourism destination absolutely choca-block full of hotels, pubs, restaurants, shops, boutiques and amusements, including a large snooker hall and an entertainment complex right near the beach which boast water slides, bumper boats, dodgem cars, mini golf, arcade games and much more. There is beach volley ball, large grassed areas and a multitude of other tourism related activities including bike hire, fishing trips or you can even swim with the dolphins.
Go further south and the water gets even clearer… if that is possible!
Next there is Brighton, Seacliff, Marino, Hallett Cove and O'sullivan Beach (all of which are beautiful beaches) before you come to more of our favourites. 
Port Noarlunga
Port Noarlunga is only about 30km south of the city and it is not only popular for its beautiful sandy beach and clear water, it is also a favoured snorkelling and dive spot. The beach is protected by a long natural reef that runs parallel to the beach and, at over 1.5km long, it protects the beach from strong swell; so put on your snorkelling or dive gear and check out the temperate reef and sea life, it is really very good. The jetty goes almost all the way out to the reef, and with easy ramp access to the water it makes snorkelling, and diving the reef, very easy. The area is an aquatic reserve and fishing from the jetty is prohibited on the final 25 meters of jetty length. Other redeeming features of Port Noarlunga are the cafes, restaurants, pub, snorkelling hire, diving and a large community playground nearby.
Moana Beach
Moana is another beach I remember fondly from my childhood. Moana is one of the few beaches you can still drive onto. This makes setting up a sun shade, barbecue and sun lounges easy… then sit back and enjoy the day. I remember the days of beach cricket, body surfing and eating fish and chips.
Maslin Beach
Your ads will be inserted here by
Easy Plugin for AdSense.
Please go to the plugin admin page to
Paste your ad code OR
Suppress this ad slot.
In 1975 Maslin Beach became Australia's first official nudist beach… and believe me when I say the nudist's have one of the best beaches in South Australia. The water is crystal clear and often calm. The white sandy beach, lined by colourful cliffs, is just beautiful. The beach is not solely for the nudist however; just the 1.5km southern part of the beach. The northern part of the beach is for the more conservative and the non exhibitionist! The beautiful cliffs also hold significant geological information including fossils, such as turreted snails, which date back to the middle Eocene age.
Now we go even further south… these are rural beaches, but still only 1 – 2 hours drive away.
Second Valley
Second Valley is a coastal town on the Fleurieu Peninsula and although it is a small beach, it has been rated as one of Australia's top ten beaches. Again this beach has a special place in my heart as it is where Dwayne and I were married. It is a gorgeous beach with remarkably colourful rock formations. This beach is a safe spot for swimming, snorkelling and diving. It is a popular fishing spot with a small jetty, and is an interesting place to go fossicking and exploring on the rocky shore at the left side of the jetty. On the right side of the jetty is a small sandy beach (not pictured). The small town of Second Valley has a 150 year old, heritage listed mill.  Leonards Mill (where we had our wedding reception) is now a restaurant and accommodation. There is also a caravan park and fish & chip shop near the beach.
Rapid Bay 
Rapid Bay is a popular place for camping, swimming, fishing, snorkelling and diving. It is considered to be one of Australia's premiere scuba diving sites*.  With large schools of fish and a chance to see a leafy sea dragon or weedy sea dragon it is a very popular dive sight and often used for dive schools. The Camping site is a non-powered, basic camping area with toilets but no showers. There is water available, BBQs and picnic tables, as well as a playground for children… and the camp site is cheap!
Goolwa-Middleton Beach
This popular surf beach attracts large crowds in summer. It is a beautiful long stretch of beach with clear water. At the main entrance to the beach there is a large car park, toilets and a kiosk. It is also a good spot to collect cockles (pipis), which is exactly what we did on our visit there. Check out our recipe here – Seafood chowder with Goowla Cockles. It is delicious!
Well that is just a few of South Australia's stunning beaches. There are many, many more and they are all beautiful in one way or another.
For more information about South Australia's beautiful beaches click on the links below!
Useful Links
Where to stay? Check out the great deals on Booking.com
Sharing is caring! Please share this with your family and friends… thank you!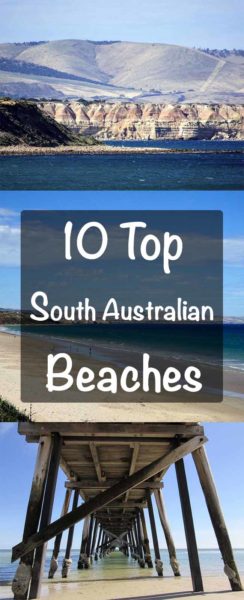 Hey there!
Don't miss a thing! Join the crew and we will send you free email updates. But don't worry, we promise not to bombard your inbox with too much awesome stuff!
Welcome board!
Something went wrong.