3 Awesome Reasons to Visit Vang Vieng!
I had heard mixed reports about Vang Vieng and I thought maybe – because we didn't have time to visit every place in Laos – it wouldn't hurt to give Vang Vieng a miss. After all, I wanted to experience the culture and the natural attractions of the places we visited.  Tubing down a river sounded great but being surrounded by a bunch of obnoxious drunk tourists*, vomiting and/or accidentally killing themselves, didn't sound like my idea of fun. Then I found out the scene had mellowed somewhat. But still it's just tubing… done that… Hubby overrode my decision and I'm glad he did!
So, the

three awesome reasons

to visit Vang Vieng?
Adventure!  Exploration!  Fun! 
Vang Vieng – Adventure!
Vang Vieng is a town tailored for the tourist, and as such it is no surprise that it has so many activities, including hot air ballooning, ATV, dune buggies, off-road bikes, paramotor, kayaking, tubing, zip-line aerial adventure, rock climbing, caving and our favourite – tubing and caving combined!
At Tham Nam Cave, known as the water cave, you can get into a tube and explore a dark cave… a long dark cave… with only a dim torch for light. If you are lucky, as we were, you will have the cave to yourself for the majority of the venture. Dwayne and I hired a scooter and found our own way to the cave. We were not approached about a guide and would have preferred not to have had one, had we been approached.  We were organised, with our belongings in a dry bag. We paid the lady, picked up a couple of tubes and headlamps and, after becoming accustomed to the chilly water, made our way towards the small low entrance of the cave.
Once in the cave we took hold of the rope and began to pull ourselves deeper into the cave. Soon all natural light had disappeared. It was dark, very dark and my torch was pretty much useless… or so I thought. I was sticking to Dwayne like glue. I didn't like the fact I couldn't see anything and, surprising myself, I was a little scared! Yep me, I couldn't believe it. I couldn't relax, I was almost on top of Dwayne now, holding onto his leg, I just couldn't get close enough to feel safe…. Finally Dwayne cracked and said, "what the hell is the matter with you?" "I can't see anything", I replied, shuddered at the whinge in my voice. Dwayne, always the compassionate one, retorted with… "well take your bloody sunglasses off then!"
After I released my eyes from the gloom of my sunglasses I was able to relax and enjoy the journey into the depths of the mountain. It really was a lot of fun. We passed a group of people coming out on our way in, and then a group of people going in on our way out. The rest of the time we had this cave to ourselves. If you like caving, water and tubing you'll like this cave.
Vang Vieng – Exploration!
Vang Vieng is surrounded by stunningly beautiful limestone karsts jutting majestically into the air. In some directions you can see layer upon layer of these jagged mountains. These limestone mountains are riddled with caves. And caves are fun to explore, especially if you have the cave all to yourself and you have no idea where you are!
As we were trying to find our way to Tham Nam Cave, riding on a narrow track along side of a canal, we came upon a hut and a sign that read Pha Thao Cave Big & Nice. We tried asking the gentleman at the hut which direction was the water cave, but he didn't speak English. So we paid our money, received a couple of torches and then we were pointed in that direction.
We followed a path through a couple of rice paddies and then up a rickety ladder, over rocks and another rickety ladder before we found the entrance to a cave. Once inside we had a great time exploring. The sign was not misleading, the cave was big and nice!
We had this cave to ourselves and there were so many nooks and crannies to explore. We even went up another ladder. You could hear a river running below the cave and by peering down some holes you could just about see it. It was a lot of fun and we are glad we got to see it! Afterwards the gentleman at the hut, who in the meantime had practiced his English, was able to tell us to continue on the way we were going and we would reach the water cave.
Vang Vieng – Fun!
When on holiday you have to do something purely for fun or relaxation. For us it was tubing Nam Song (River). This used to be an extreme party scene. And really… you can imagine the FUN! Tubing, water, sun, bars, music and lots of happy people. Oh and then there were the drugs and copious amounts of alcohol consumed by the revellers… ok, so now add rope swings, zip-lines and yes, don't forget water. And what do you have? The recipe for disaster. Things have changed now, but before the crackdown on this almighty debauchery there was, apparently, a large number of tourist deaths caused by drowning, alcohol poisoning and drug overdose. Read about the before and after of tubing Nam Song here and here.  
Things have changed, but from what I have read, there is still plenty of fun to be had. Check this out. We also witnessed the happy drunks returning from their tubing at the end of the day, on the lookout for a hamburger and another beer!
We went tubing with Aussies, Brett and Laura, and had a great time. There were only two bars open, unfortunately both within a 100 meters of where we started. We skipped the first bar and then stopped at the second for a beer or two and to grab a couple of beers to take with us.
The rest of the trip was spent chatting, floating, swimming and enjoying a couple of small rapids. It was just fun! Fun and relaxing, a prefect holiday type of day! At the bridge, where we were to get out and return our tubes, we went to the opposite side of the river for lunch and more beer. We relaxed on one of the individual platforms over the water, until we were ready to return our tubes. All in all we spent five hours on the river and had a great day.
If you like swimming as much as we do then visit the Blue Lagoon. The water is blue, cold and refreshing. There is a tree overhanging the lagoon from which you can jump into the water. However, if taking the plunge from a large tree branch is not for you, there is plenty of "lagoon" to have a quiet swim in.
Travel Notes (June 2016)
Currency

 
LAK – Laotian Kip written here as ₭
Things to do and see
Tham Nam Cave (Water Cave) – Entrance fee including tube hire and torch ₭10,000 (AUD1.60). The direction we went (i.e. getting lost) we didn't get charged to cross a bridge or park our bike. From what I have read it cost 10,000kip to cross the bridge and ₭5,000 (AUD0.80) to park scooter (motorbike).
Pha Thao Cave – Entrance fee, including a torch ₭10,000.
Nam Song River Tubing –  ₭55,000 (AUD $9.00) per person, includes the tube and a tuk tuk lift up river. ( You may end up paying an extra ₭5,000 per person if there is not four of you going in the tuk tuk.) You also need to pay a ₭60,000 bond/per person which you will receive back, in full, if you return the tube by 18:00 (6pm). Dry bags can be rented at ₭15,000 (AUD $2.50) each. It is a good idea to use one. They also sell them everywhere throughout Vang Vieng, including at mini-marts. A 10 litre dry bag cost me ₭50,000 (AUD $8.20) and also came in handy for the water cave and later Konglor Cave.
Blue Lagoon – ₭10,000 for entrance to lagoon (to swim) and Tham Phu Kham (cave). At the cave entrance expect to pay another ₭10,000 if you want a torch. Parking for the scooter (motorbike) was ₭2,000.
Getting to Vang Vieng
Bus – We took the bus from Luang Prabang to Vang Vieng. We booked at an agency near our accommodation paid ₭140,000 each. Others had paid ₭110,000 also through an agent. You could get the tickets for ₭85,000 at the bus station. It was a 25 seat bus (you never know what you are going to get).
Scooter hire  –  ₭70,000 (AUD11.50) if we returned it by 20:00 (8pm) or 100,000 for 24 hours.
Accommodation
Laos Haven Hotel & Spa 
Pros – Fridge, TV, Safe. Our verdict – Ok. For ₭178,000 (AUD $30/night) we thought it was a little over priced.
Domon Guesthouse
Pros – Nice size room. TV and A/C. It had a comfortable bed with throw cushions (I love the extra pillows because I usually sit up in bed on my computer).  Our verdict – Good value for ₭100,000 (AUD $16.50/night).
For Vang Vieng accommodation type, availability and price –  visit Booking.com!
Bus out of town –  we went from Vang Vieng to Phonsavan to see the Plain of Jars. We paid ₭100,000 (AUD $16.50 ) each. 
*I've been the obnoxious drunk before.. many a time. I'm not judging!
**We travelled in June which is low season. Attractions may be busier at other times of the year.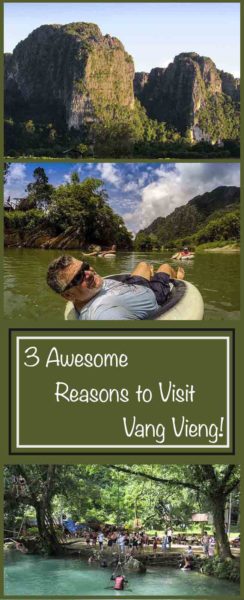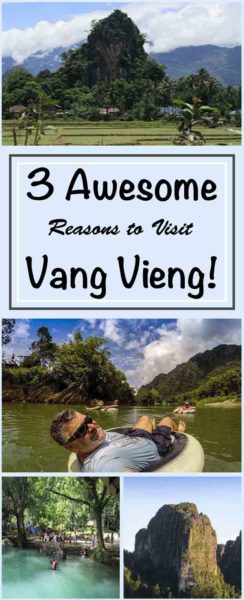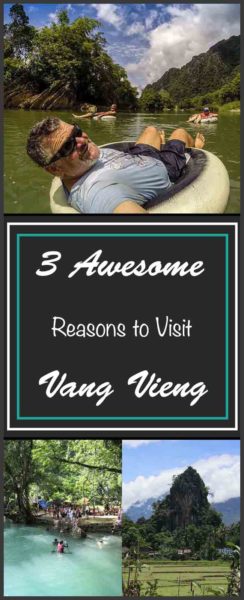 Hey there!
Don't miss a thing! Join the crew and we will send you free email updates. But don't worry, we promise not to bombard your inbox with too much awesome stuff!
Welcome board!
Something went wrong.