7 Incredible Reasons to Visit Laos!
Whatever land-locked Laos lacks in beachside attractions, it more than makes up for with stunning landscapes and dramatic beauty. Whether it's relaxing amid the coffee farms of the Bolaven Plateau, or exploring dark caves in an adrenaline rush of excitement; marvelling at giant prehistoric stone jars or trying to catch a glimpse of the rare Irrawaddy Dolphin, Laos has something for everyone!
1.Take a Mekong River Cruise
A slow boat cruise along the Mekong River is an exciting way to start your journey of Laos. Our adventure of Laos started at Chiang Khong on the Thai/Laos boarder where we organised to take a slow boat to Luang Prabang. Our two day slow boat journey, included transport from our hotel in Chiang Khong to the border, border crossing and transfer to a traditional Laos riverboat. We were given a hot lunch, bottled water, tea & coffee each day, and breakfast on the second morning. Accommodation was included at the Mekong Riverside Lodge, as was two village visits and a visit to the caves. It was a lovely introduction to Laos and very peaceful. Furthermore, we were continually surrounded by beautiful scenery and we saw an elephant on the bank of the Mekong! Read more…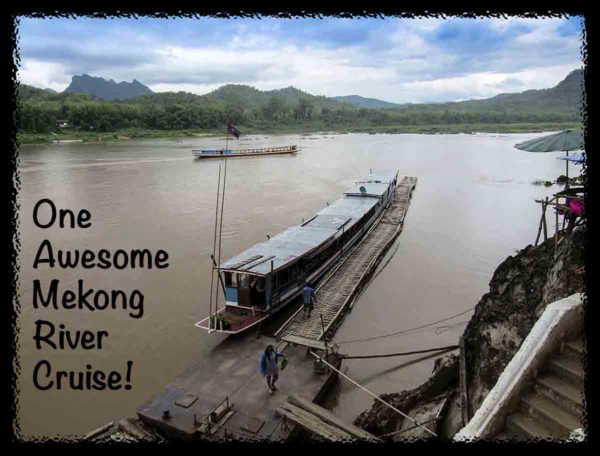 Swim in the refreshing blue water of Kuang Si Waterfall
Kuang Si Waterfall is simply stunning. The gorgeous terraced pools are enwreathed by tropical forest and the cool blue water beckons to all, as it lazily flows past. It is impossible to resist the pull of the cool refreshing water. Don't even try! However, for those with more energy, take a walk to the natural spring which is the source of the waterfall. Be sure to explore the big cave nearby. Furthermore, for no extra cost, there is a Bear Rescue Centre where you can watch the moon-bears and sun-bears play in their enclosures. You can easily spend a day here. Read more…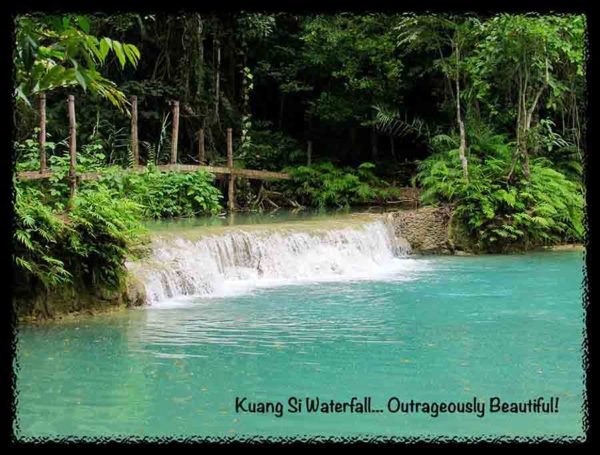 Go tubing and explore caves in Vang Vieng
Vang Vieng could easily be called Laos' adventure capital!  Activities found in Vang Vieng include hot air ballooning, ATV, dune buggies, off-road bikes, paramotor, kayaking, zip-line aerial adventure, rock climbing, caving and tubing. Take a lazy tube ride down the Nam Song River, it is pure bliss! For adventure, go and explore some of the many caves. Why not combine the two? Caving and tubing… Known as the water cave, Tham Nam Cave, is delightful in its ability to stir up the adrenaline. What is it about being in the dark, and in the water, that gives us the creeps?! For adventure, exploration and fun you can't miss Vang Vieng! Read more…

Marvel at the astonishing Plain of Jars
The Plain of Jars is considered one of the most important prehistoric sites in Southeast Asia. Found in northern Laos, across the central plain of the Xiangkhoang Plateau, the Plain of Jars holds literally thousands of stone jars. For what purpose, and by whom the jars were created remains a mystery. Nonetheless, there are many theories surrounding these ancient jars. Some theories are backed up by evidence and others are little more than folklore. My favourite is that they were the cups of giants! To stroll the plains and forests that hold the monolithic jars is really something special. You can't help but think about the people that carved out the jars and ponder their day to day life; your thoughts continually coming back to the same question – what were the jars used for.  Read more…

Adventure deep into the mountain through Konglor Cave
Have you ever wanted to live a little Lord of the Rings… get in touch with your inner Froddo! Well you can! Visit Konglor Cave and take a boat trip through the mountain. That's right, through the mountain. Along a river. In a boat. It sounds a little other-worldly doesn't it? This expedition takes you along 7.5km of the river, in a precariously-balanced wooden boat, in a dark cavernous cave, with only head lamps for light and the sound of dripping water. Journey to the centre of the world? It may seem like it. However, after an hour of jaw-dropping, awe-inspiring, mind shattering cave exploration, you finally see the light at the end of the tunnel. Konglor Cave was the highlight of our trip to Laos, and in my opinion it is an absolute must-do! Read more…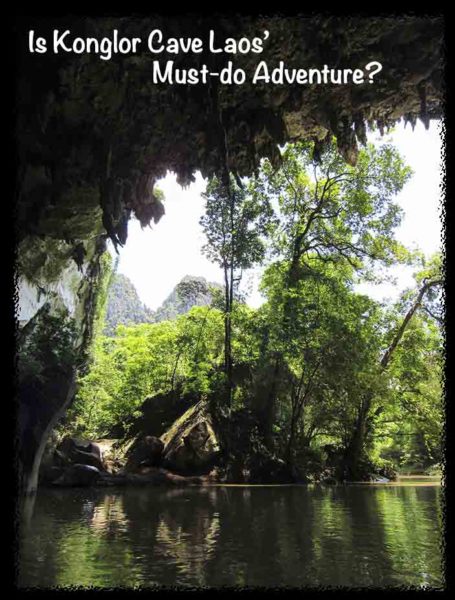 Delight in some of the worlds best coffee on the Bolaven Plateau
The charming Bolaven Plateau, known for its exceptional coffee and dramatic waterfalls, is a place of verdant tranquillity amid the muddy scenery of rustic villages and markets. An eclectic array of sights and sounds, coupled with the pungent aroma of the agrarian lifestyle, and the scent of roasted coffee, make the Bolaven Plateau a beguiling destination for those in search of a rudimentary excursion of Laos. If coffee and waterfalls aren't your thing, there is always tea, trekking or just relaxation. A popular way of exploring the Bolaven Plateau is on a scooter (motorbike). With your own transport, you are able to tailor your exploration of the plateau to your interests and desires. Coffee farms, remote villages, colourful markets and alluring waterfalls are only some of the sights, sounds and aromas you will experience on this sensory journey! Read more…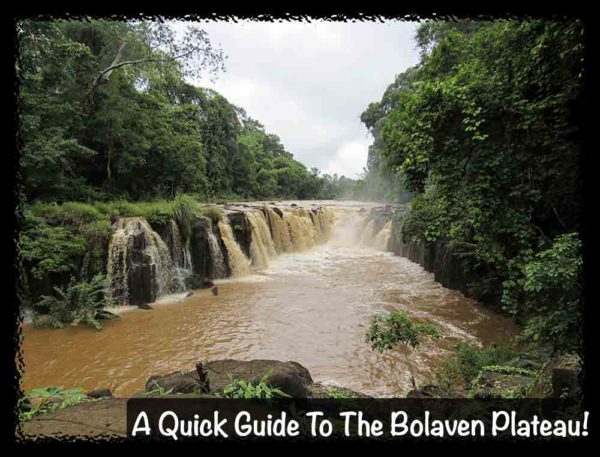 Explore Si Phan Don – the 4000 Islands
Si Phan Don, which translate to 4000 thousand Islands, is an archipelago of islands, rocks and sandbars in the Mekong River, in southern Laos.  It is home to a pod of rare Irrawaddy dolphins, the largest waterfall in Southeast Asia and Laos' first railway. Khon Phapheng Falls is the largest waterfall along the Mekong river and it is the reason why the Mekong isn't navigable by boat all the way to China. Living in the fresh water of the Mekong, is a pod of critically endangered Irrawaddy dolphins. In Si Phan Don you have the chance to see the rare dolphin from the shore or, better yet, during a boat trip along the river. Read more…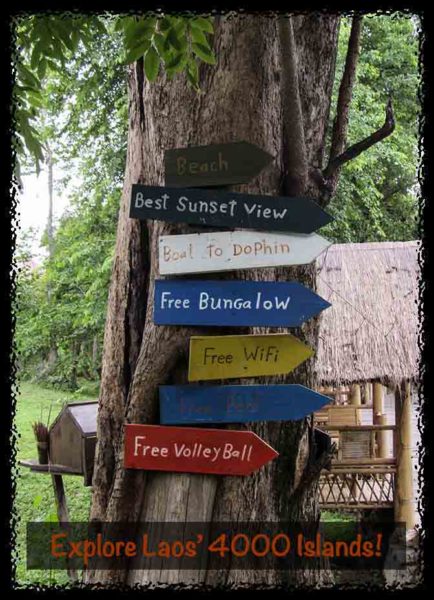 Have you been to Laos? What was your favourite aspect of Laos?
Travel Notes
Currency
LAK – Laotian Kip 
What to see and do
For more information on each of the above destinations please click on the destination photo above. This will take you to the full post on each destination. The travel notes at the end of each post include information such as accommodation and transport (including cost).
Getting around
For tips on getting around Laos have a read of our post "How we Survived Laos' Transport!"
Accommodation
When we travel we book all our accommodation through Booking.com. We do this for several reasons including the fact that the price they show you is usually the total price – inclusive of fees, taxes etc, and you pay when you arrive at your accommodation. Booking.com has a large variety of accommodation styles to suit any budget! Click on the link below to check out their great deals.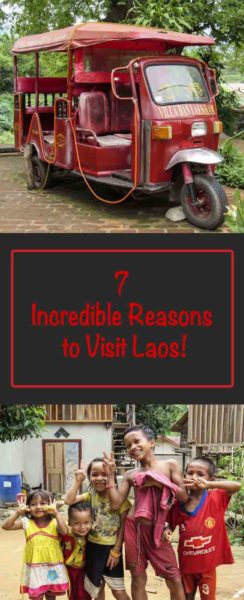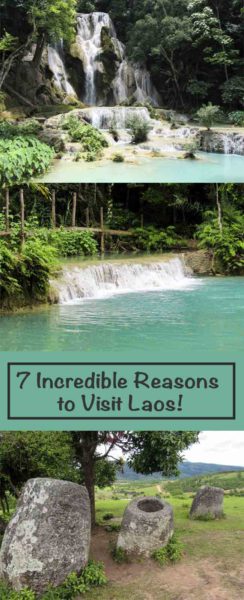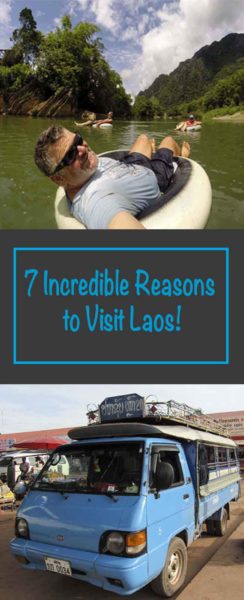 Hey there!
Don't miss a thing! Join the crew and we will send you free email updates. But don't worry, we promise not to bombard your inbox with too much awesome stuff!
Welcome board!
Something went wrong.