How to get around Bangkok on a budget!
Getting around Bangkok, or Thailand for that matter, doesn't need to be expensive. In fact, we think it is super cheap and easy to do on a budget. However, there are some things you need to know first, particularly about taxis and tuk tuks, and the scams involving them.
TAXI
Taxis in Bangkok are cheap.

Price – Taxi fares begin at ฿35 and a taxi fare for few kilometres is around ฿50 (AUD $1.90/USD $1.40). 

The available taxis are indicated with the red vacant sign.

Taxis are usually easy to get but you will experience longer waits during rush-hour and when it rains.

Make sure the driver puts on the meter. If he doesn't get out of the taxi and hail another one. You should not negotiate the fare, but there is a possibility the driver will refuse to take you where you want to go if he doesn't want to put on the metre. Unless you are in a hurry, or desperate, get another taxi.

Taxis standing in front of hotels are renown for not turning on the metre, and for wanting to take you anywhere but where you want to go.

Sometimes taxi drivers will refuse to take you where you want to go, perhaps they have no desire to go in the direction you want or the fare is not far enough… who knows? Sometimes they want to take you to gem shops and tailors where he will get a commission.

Watch out for very friendly taxi drivers who offer to take you to best places, cheapest market etc
TUK TUK
Tuk tuks are not cheaper than taxis.

Price – Fares start at ฿30 for short distance. But this varies a lot depending on whether you have a fair driver, and such things as traffic conditions.

They usually end up costing you a fortune unless you are armed with the following important knowledge….

You must negotiate the price before getting into a tuk tuk, otherwise you will be given a ridiculously expensive price when you get to your destination.
When you negotiate the price do haggle, as the first price you will be given will be heavily inflated.

If a tuk-tuk driver tells you he will take you to a better market, or temple etc, decline his offer. In fact, best just to get out of the tuk tuk and get a taxi or another tuk tuk as this driver is planning on taking you for a ride (excuse the pun!)

Watch out for scams! Even the most savvy travellers can be taken in by these scams. Here is the most common tuk tuk scam…
Being offered a tour of Bangkok for ฿20. This sightseeing tour will simply consist of you being taken to gem, tailor and souvenir shops where the driver will insist, or beg, that you go in and look. He gets a commission if you buy something…. nothing wrong with that, but if you allow this, you will simply NOT be taken anywhere you want to go and you will be seen as an easy mark for the other scams.
MOTORBIKE TAXI
Price – fares start from ฿10 for short trip.
You must negotiate the price before accepting the transport, otherwise you will be given a ridiculously expensive price when you get to your destination.
Only use a registered motorbike taxi driver. You will recognise him/her by the distinctive orange

 

vests he/she wears (photo).

Motorbikes are one of the fastest ways to get around Bangkok, but not the safest.

Always wear a safety helmet. The obvious reason is – you like your brains in the position they currently reside! And secondly, it is compulsory to wear a helmet. If you are pulled over without a helmet on it will cost you a considerable amount of money.
River Ferry
The Chao Phraya River provides access to many popular visitor attractions including – Grand Palace, Wat Phra Kaeo
and the National Museum of Royal Barges.
Price – ฿10 to ฿25
Operating hours – 06:00 – 19:30
Avoid rush hours. During rush hour the ferries are more frequent but busier. Outside of rush hours, ferry boats comes every 20 minutes.
Express boats, river taxis and tail-boats – different types of boats offering different services. For more information on the boats available and how to recognised them click here.

If you simply want to cross the river there are ferries which cost less than ฿5 available at several boat landings. 

The Central Pier is called Tha Sathorn and is located close to the Saphan Taksin skytrain station.

The piers are (usually) clearly signposted in English as well as Thai. Piers to the north of the Central Pier are indicated with an 'N' and the pier number. Piers to the south of Central Pier are indicated with an 'S' and the pier number.
Canal Taxi
Price – ฿10 and ฿20
Operating Hours – 05:30 – 20:30 (7.00 p.m. on weekends)

Busy rush hour; avoid if possible.

Dirty canal and can stink dreadfully.

Interesting way to travel and sightsee.

If you sit by the side of the boat be prepared to lift the tarp as other boats pass to avoid being splashed with canal water (see blue tarp in picture below).
MRT (Mass Rapid Transit)
Known as The Underground

Price – ฿16- ฿42
Operating hours –  06:00 – midnight
Frequency –  5-7 minutes

Fast and efficient

18 stations along 20 km

MRT connects to the BTS Skytrain at Sukhumvit and Silom stations.

All stations have lifts for disabled people
For more information on getting around Bangkok and/or Thailand click on the following links.
Bangkok BTR – Bus Rapid Transit
To and from airport – if you catch a taxi to the Don Muang Airport make sure to ask the driver to take the toll road (tell him/her you will pay for the toll it is cheap and much quicker.) We caught a cab to Don Muang Airport and it was cheap  ฿168 and, because we got on the freeway, it didn't take long from the centre of Bangkok.
Liked this post? Why not pin it or share with friends!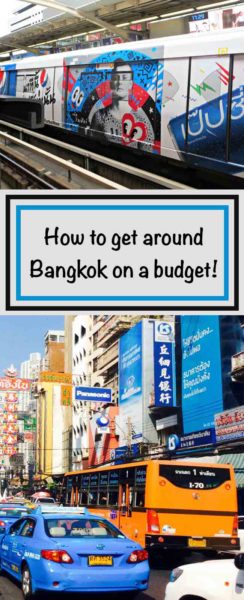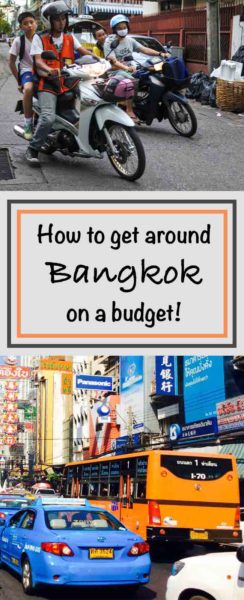 Hey there!
Don't miss a thing! Join the crew and we will send you free email updates. But don't worry, we promise not to bombard your inbox with too much awesome stuff!
Welcome board!
Something went wrong.