Is Konglor Cave Laos' Must-do Adventure?
Have you ever wanted to live a little Lord of the Rings… get in touch with your inner Froddo! Well you can! Visit Konglor Cave and take a boat trip through the mountain. That's right, through the mountain. Along a river. In a boat. It sounds a little other-worldly doesn't it? This expedition takes you along a 7.5km river, in a precariously-balanced wooden boat, in a dark cavernous cave, with only head lamps for light and the sound of dripping water. 
Journey to the centre of the world? It may seem like it, but after an hour of jaw-dropping, awe-inspiring, mind shattering cave exploration, you finally see the light at the end of the tunnel. Konglor Cave was the highlight of our trip to Laos, and in my opinion it is an absolute must-do!
Konglor Cave (aka Tham Kong Lo) is an astonishing 7.5 km-long limestone cave hidden deep in the Phu Hin Bun wilderness of central Laos. This huge cave has been carved out by the Hinboun River and reaches dimensions of up to 90 metres wide and 100 metres high.
An unforgettable trip through Konglor Cave includes a stop which allows you to explore, on foot, a veritable garden of stalagmite, stalactites and limestone columns. This "garden" area is partially lit up by coloured lights and is an excellent way to get an up close look at these interesting cave formations.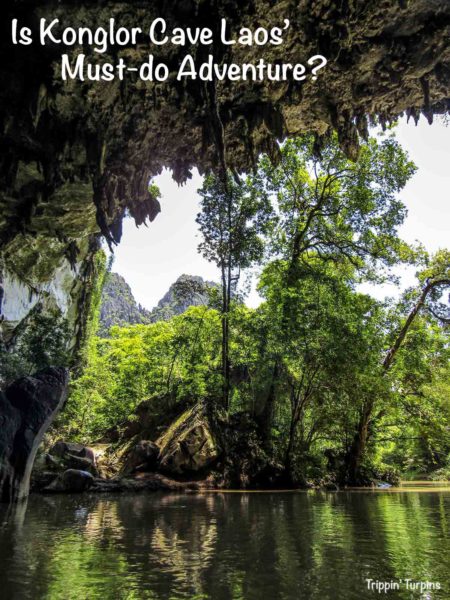 Back in the boat, which is actually more stable than it looks, you continue to plough through the dark cavernous cave. The narrow beams of light from the headlamps do little to reduce the darkness, thereby increasing the mystery and awe which encapsulates you on this fantastical journey.
Eventually, and all too soon in my opinion, you round a corner and see light at the end of the tunnel. The first part of your journey is almost over. As you exit the cave the beauty is almost overwhelming but don't forget to look up and see the bats flying around overhead.
Once out of the cave you meander further along the river until you reach Ban Natane village. At the village you will be given the opportunity to get out of the boat, stretch your legs and purchase a drink or snack.
The boat trip through the cave to Ban Natane takes about 1 hour. The return trip through the cave doesn't take as long, as it is down river and you do not stop to explore on foot.  Many things will impact how long the boat trip takes including faster flow after rainfall and low water level in dry season. For more information read my travel notes and tips below.
Our verdict – excellent value for money. Wonderful experience and, as I mentioned earlier, we think it is an absolute must-do! The sheer size of this natural cave/tunnel is mind boggling.
Travel Notes & Tips (June 2016)
Currency
LAK – Laotian Kip written here as ₭
Cost 
Park entrance – ₭2000 (AUD $0.32) which is paid before entering the gates at the kiosk on the right.
Cost of boat trip through the cave –
Boat and one passenger ₭110000
Boat and two passengers ₭120000 (AUD $19.30)
Boat and three passengers ₭130000
Maximum of three passengers in each boat. (Boat hire ₭100000 and the ₭10000 per person is the cave entrance fee.)
Hire of LED headlamps is included in the cost of the boat trip. However, they are not very good and if you have your own powerful headlamp I would encourage you to bring it.
The boats and river trip 
The boats are quite stable. Dwayne and I used the same type of boat (canoe-like) at our accommodation to paddle the spring river and when we jumped out of the boat for a swim we were able to pull ourselves back into the boat quite easily… hence more stable than it looks. I would suggest that you move around as little as possible so as not to make the job of balancing and steering the boat too difficult for the boatman.
In dry season the water can get quite shallow and you may need to get out of the boat as it is dragged over these areas. Wear something on your feet for wading through the shallow water.
You may get wet by water dripping from the roof of the cave. Be aware of your cameras etc. A dry bag is useful.
Other – Don't forget mosquito repellant.
Getting there 
From Thakek – Konglor Cave is 130 kilometers north of Thakek. Many people choose to hire motorbikes or scooters in Thakek then do the loop and visit Konglor Cave as part of that journey. It is also possible to get from Thakek by bus (usually a sawngthaew) to Na Hin and then another to Konglor Cave.
From Vientiane – There is a daily bus from Vientiane. For further information click here. 
From Phonsavan or Paksan – We made our way from Phonsavan where we had visited the Plain of Jars. We first took a bus to Paksan for ₭55000 (AUD $8.85) each, we stayed there the night and the next morning went back to the bus station and got on a bus (sawngthaew) to Na Hin, we paid ₭60000 for the first leg of the journey and then the driver swapped us into another sawngthaew to finish our journey to Na Hin and the second leg cost ₭50000. We hired a scooter for ₭100000 (AUD $16.10) per day and rode the 40km to the cave entrance where we booked accommodation at the Spring View Riverside Resort.
From Na Hin – Sawngthaews go out to Konglor Cave regularly, or alternatively, you can hire a scooter and ride the 40km to the cave. The road is paved but does have pot holes!
Accommodation 
Na Hin has several B&Bs and guesthouses.
Konglor Cave has B&Bs, guesthouses and a resort or two.
Ban Natane village offers homestay accommodation (I'm not sure where you will find the information about this).
We stayed at-
Konglor Cave –  Spring View Riverside Resort
Pros – beautiful setting in a cabin overlooking the river.and very comfortable rooms. Competent, very friendly staff. Speak english. Free use of canoe to explore and swim in the crystal clear water of the spring-fed river. Nice food at restaurant.
Cons –  no wifi in rooms (but comfortable restaurant area to use for wifi). No air-conditioner (but we didn't need one at night).
Our verdict –  we loved our stay at this resort. The spring-fed river is amazingly clear and very cool and refreshing. The staff, especially the manager, are very nice and helpful.
Paksan  – Sang Hung Heuang Hotel
Cost – ₭120000 (AUD $19.30) 
Pros – TV good (had a movie in English), kettle, large bathroom and  the bed was reasonably comfortable.
Cons –  A/c only OK. Wifi didn't work. Only coffee supplied no tea. Couldn't speak english…. until they wanted to! The first thing they did when we got there was to ask for more money. So, because we were tired and just wanted to get into our room, we ended paying more than what they said on booking.com.
Our verdict –  for the price it was disappointing the wifi was not working, and I didn't like the fact they advertise one price and ask for another. But the room was clean and it was one of the better rooms we stayed at in Laos.
For other accommodation deals at Paksan, Na Hin and nearby Konglor Cave check out Booking.com
Hey there!
Don't miss a thing! Join the crew and we will send you free email updates. But don't worry, we promise not to bombard your inbox with too much awesome stuff!
Welcome board!
Something went wrong.