Kuala Lumpur on a Shoestring!
Our trip to Kuala Lumpur was an unexpected and unwanted expense. However, as always, we are thrilled to be able to travel and see new places; so we wanted to make the most of it…. We'd just do Kuala Lumper on a shoestring!
How to do KL on a shoestring?  Firstly I got on the net and found cheap flights to KL and booked a hotel online that was close to public transport. The flights cost AUD $100 each return. These were the cheapest flight out of, and back into, Bali that we could find, hence going to KL. Then I googled what to do in KL and found some inexpensive and free places to visit.
We had to leave Bali because our visas were about to run out and our visa extensions had been rejected. We began the long day of travel with a dinghy ride to shore, a scooter ride into Kuta and then a taxi to the airport. Once at the airport we were fined IDR 600000 for overstaying our visa by one day and then we nearly missed our plane (sorry to the other passengers that had to wait for us)…. Not a good start!
We had an uneventful flight, which gave us time to relax before we arrived in KL, grabbed our luggage, bought a SIM card for our phone and caught a train to KL Sentral. Once at KL Sentral we had a short walk before catching another train to Pasar Seni. From there we walked to Chinatown and eventually found our hotel. It was now about 5pm and what happened next really rubbed me the wrong way!
I had booked and paid for a room online at Wotif, so you can imagine my surprise when the man at the reception desk expected payment in cash. To cut a long story short he was saying he doesn't deal with Wotif and at the same time showing me the paperwork from Wotif that clearly says I have paid for it. He kept asking me to cancel the booking and pay cash to him. Not gonna happen.  We phoned Wotif and it was finally sorted and we got our room. I'm glad I had only paid for two nights because the room had very few of the promised facilities. We did have an air-con but that was set to 'freezing' and could not be changed so I had to sleep with my socks and t-shirt on. Haven't had to do that in a while!
The only benefit of City Hotel Chinatown is its position. It is on Petaling Street in Chinatown very close to the Petaling Markets. The markets are loud and crowded, which is all part of the colourful vibrant experience. Who wants to go to a market where nothing is happening? All the usual thing were for sale… t-shirts, shoes, wallets and squawking toy chickens! The place was alive with street stalls selling all types of fantastic street food including frogs on skewers, chestnuts roasting in coffee beans, splayed ducks and crispy innards porridge.
We had an awesome time eating all this wonderful food! Great soups, dum sum, chicken feet, laksa and Indian curries. For more about where, and what, we ate (including the price) have a look at Kuala Lumpur Eats & Drinks.
The food, culture and heritage of KL have been shaped by the many varied people who have settled in Malaysia. The ethnic groups that represent the majority of the Malaysian people are Malay, Chinese and Indian and this is definitely reflected in the quality of Chinese food, Indian curries and delicious Malaysian delicacies. Many diverse ethnicities have shaped and influenced, not only the gastronomical heritage, but also the architecture and history of Kuala Lumpur.
In the 150 years since Kuala Lumpur became a tin mining town, Malaysia has been under Portuguese, Dutch and English rule, all of which is evident in Kuala Lumpur's architectural history. In Kuala Lumpur, which literally means 'muddy estuary', we wandered amongst skyscrapers, historical temples and mosques, colonial buildings, huge fancy shopping malls and little alley trading stalls. The architecture, bright neon signs, bustling people and the aroma of food make the convoluting streets of this heterogeneous city colourful, noisy and delightful.
We visited the National Mosque. This immense building was built in 1965 and has a capacity of up to 15000 people. Non-Muslims are welcome outside of prayer times and you must remove your shoes and be appropriately dressed. As Dwayne and I were not appropriately dressed we had to wear a robe. Yay!… I think we look kinda cute in purple.
The ladies assisting the visitors were friendly and helpful, and answered our questions, of which we had many.  About 88% of the Indonesian population are Islam, and as we sail through Indonesia, we are often anchored off a village and woken by the 'call to prayer'. Our questions included why the call of prayer at 3 or 4am?… that's the middle of the night!
After the mosque, I wanted to visit the Sri Mahamariamman Temple. I was pushing my luck if I thought I could also drag Dwayne to the Hindu Temple; I had only managed to get him to the Mosque with promises of the yummy chicken treats they sell on the street nearby! Anyway he walked with me to the temple and then proceeded to find a bar nearby to wait for me.
The Sri Mahamariamman Temple is the oldest Hindu temple in KL. It was founded in 1873 but this temple was built in 1968. This large elaborate temple is a kaleidoscope of colour! Even before I walked into the temple I was enchanted by the ornate, colourful 'Raja Gopuram' tower.  This five tiered threshold "between the material and spiritual world'  is made up of 228 Hindu idols depicting scenes from the Ramayana. Inside the temple are shrines, intricate carvings, hand-painted motifs and off course the main prayer hall. The place is alive with the smell of incense and bright colours. Some might call it gaudy, but I loved it.
Sprinkled throughout the ornate building, temples and mosque are many colonial buildings which still stand in prominent places, such as the Royal Selangor Club, which was established as a social and cricket club in 1884 for the then, still growing, expatriate community.
We started our exploration of KL's history with a visit to KL City Gallery. This gallery tells the history of KL and has a huge model of the city. We also jumped on the KL Tram (a hop on hop off), for a small fee of MYR 2.00 each, during which time bus driver pointed out many of the prominent buildings  and we visited such places as the hibiscus garden and the KL orchid garden.
I really enjoyed the National Textile Museum. We started our exploration of Malaysia's textile history with a video which outlined all the different types of textiles and their development. The museum houses a colourful display of textiles, accessories and costumes, as well as, the tools, materials and the techniques in which they have been and/or are still made. Whether it is Batik, Songket or Pua Kumbu, the unique style of design of Malaysian textiles is synonymous with intricacy and beauty.
I couldn't expect to drag Dwayne to a textile museum for a couple of hours without some sulking and when he eventually threw himself on the floor and refused to move another step I needed a new game plan…. The Royal Malaysia Police Museum… What does any boy like more than guns and swords? The history of the police evolution in Malaysia is very interesting and again we began our time at the museum with a short video that depicted and explained the evolution in chronological order.
Dwayne spent hours looking at the vehicles and weapons used by the police and the amazing and grizzly display of weapons confiscated during the "Malayan emergency". Malayan Emergency was the colonial governments name for the conflict ( Malayan Guerrilla War) that arose between the commonwealth and the Malayan Nation Liberation Army (which was the military for the Malay Communist Party).
Travel Notes (Updated August 2016)
Currency 
MYR – Malaysian Ringgit written here as RM
The Royal Malaysia Police Museum
Cost – FREE (RM 1.00 on weekends and public holidays)
Address – 5 Jalan Perdana, 50480 Kuala Lumpur.
Hours – Tuesday – Sunday 10:00 – 18:00 Closed between 12:30 – 14:30 on Fridays.
National Textile Museum
Cost – FREE
Hours – Open daily 09:00 – 18:00
Address – 26, Jalan Sultan Hishamuddin, Kuala Lumpur City Centre
Telephone – 03-2694 3457
Website – http://www.muziumtekstilnegara.gov.my/
National Mosque (Islam) 
Cost – FREE (to hire robe also free)
Opening hours – Unsure. Non-Muslim visitors are not permitted during pray times. For more information about open hours click here and here!
Address – Masjid Negara Jalan Perdana 50480, Kuala Lumpur
Telephone – 03-2693 7784
Sri Mahamariamman Temple (Hindu)
Cost – FREE (you have to take shoes off and leave them at a counter next to the front of the temple which costs RM 0.20)
Hours – Open daily 06:00 – 21:00 (but these hours can change for visitors during festival etc)
Address – Jalan Tun H S Lee, 50000 Kuala Lumpur, Wilayah Persekutuan Kuala Lumpur
Telephone – +60 3-2078 5323
KL City Gallery 
Cost – RM 5 (Entrance fee is fully redeemable at the ARCH Gift Shop and ARCH Café – so the gallery is pretty much free).
Hours – Open daily 09:00 – 18:30
Address – 27, Jalan Raja, Dataran Merdeka,, 50050 Dataran Merdeka, Federal Territory of Kuala Lumpur
Telephone – +60 3-2698 3333
Website – http://www.klcitygallery.com/
KL Tram
Cost – RM2 /Adult RM1 / child
Hours – The tram leaves from KL City Gallery at 09:30, 10:00, 14:30, 15:00.
Where – The tram takes a route from the KL City Gallery through the Tun Abdul Razak Heritage Park / Lake Gardens (Nature Zone) and Dataran Merdeka (heritage Zone). You can get off where you like and then hop on the next one that comes along.
Telephone – 03-26980332
For more information including the route please visit – backpackingmalaysia
Accommodation
After our bad experience with City Hotel Chinatown we moved to Hotel 99. We now use Booking.com to book our accommodation on-line because, in most situation, you pay for your accommodation when you arrive, not before. I also find that with most bookings the taxes, vat or other service fee, is usually included in the price you see – so no nasty surprises! I now have an affiliation with Booking.com and do hope one day to make a small profit from those booking through my link.
Go to Booking.com for great deals on accommodation in Kuala Lumpur!
If you liked this post please share with friends and/or pin to Pinterest! Thank you…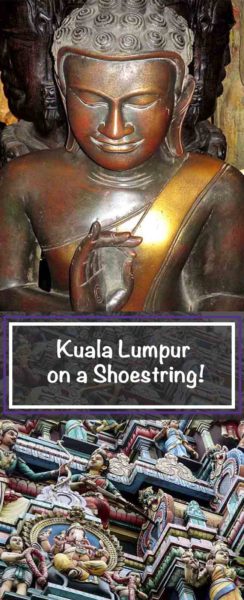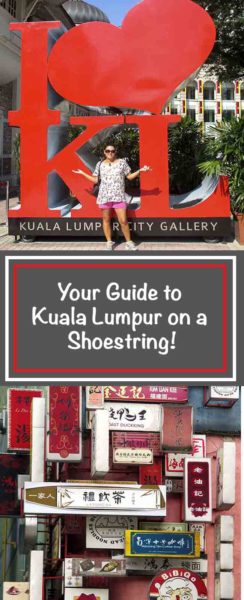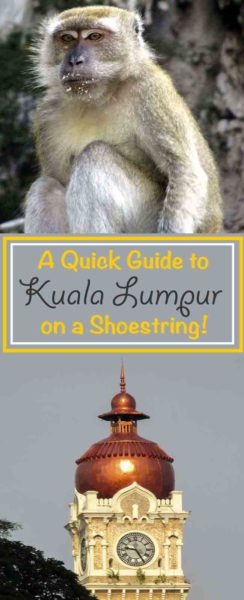 Hey there!
Don't miss a thing! Join the crew and we will send you free email updates. But don't worry, we promise not to bombard your inbox with too much awesome stuff!
Welcome board!
Something went wrong.