Railay! Thailand's Rock Climbing Mecca
Railay Peninsular is the undisputed rock climbing mecca of Thailand! Therefore it is not surprising that people, from all over the world, flock to Railay to climb the majestic limestone karsts. There are over 700 bolted sport climbing routes ranging from beginners to extreme which will keep any climber, novice to experienced, a happy climber for years! We anchored Thorfinn, our trusty sailing steed, at Railay for a couple of days to give our son Kye, and his mate Jack, a chance to check out this beautiful corner of the world, and to test their skills against the daunting cliffs of this world renown rock climbing destination!
When I say "test their skills" I do not mean they are experienced rock climbers, far from it. Our guests Kye and Jack are a couple of footy players from Australia, but like most 20 years old guys, they are willing to give anything a go. With this in mind we took them ashore, got them rigged up with a reputable climbing firm and sat back to watch them scramble up the stunningly beautiful limestone karsts this peninsular is composed of!
We chose Tex Climbing because it was in the right place at the right time! We were walking past the climbing shop as we discussed the upcoming climbing adventure. Upon discovering that Tex was probably the first climber to set up his own climbing business in Railay, and the fact he was still going, we signed the guys up for a climb. There are many good climbing schools and climbing shops on the peninsula and I am pretty sure they all charge around the same.
On the morning of the climb the guys were fitted for their climbing gear and sent along with a rock climbing guide to a beautiful spot on Phranang Beach. Rigged up, and a quick lesson later, they were taking turns scrambling up the cliff. 
Kye and Jack did three climbs which varied in difficulty. As beginners, they began with a climb that was difficult but attainable. Flushed with the success of their first climb, they eagerly began their second accent. This was more of a challenge! A difficult start led upwards to a cave which, once entered, produce a challenge of climbing out, up and over it. They finished off with a last climb which although not as high as the previous two, was a more technical climb that tested their new learnt skills. If you want to combine the adventure sport of rock climbing with a beautiful tropical island-like destination you can't go past Railay.
About Railay
Railay is a small peninsula between the Krabi and Ao Nang in Thailand's south. It is isolated from the mainland by mountains, jungle and the Andaman Sea therefore, it is accessible only by boat; hence, Railay has a distinctively island-like feel about it. Railay has a lot more to offer than rock climbing. Activities to enjoy at Railay include, but are not limited to, sea kayaking, diving, snorkelling, jungle trekking and cooking classes.
Travel Notes (October 2016)
Currency
THB – Thai Baht written here as ฿
Rock Climbing
Tex Climbing
Half day – 3 climbs
Cost –  ฿1000
Included – all climbing gear and a bottle of water. 3 climbs of suitable grade.
Note: Take extra water with you. Don't forget sunscreen and your camera.
Climbing schools and gear hire are also available.
Getting there
It is possible to get to Railay from Krabi and Ao Nang, as well as many of the nearby islands including Phuket, Koh Lanta, Koh Phi Phi Don, Koh Yao Yai and Ko Yao Noi. 
For example as quoted on Travelfish  "A year-round ferry departs Railay at 15:00 and costs  ฿650. In high season, a speedboat departs at 10:30 and costs  ฿1,200. From Phuket, the year-round boat returns to Railay at 08:30". Check out Travelfish for all the details.
For more information on how to get to Railay check out this web site-  http://www.railay.com/railay/intro/getting_there.shtml
Accommodation
Accommodation prices start around  ฿700. We use booking.com to make all our bookings because the price you are quoted is usually the total price (including tax and other charges) and you pay for your accommodation when you get there. booking.com advertise many accommodation styles on Railay, you are sure to find the perfect place.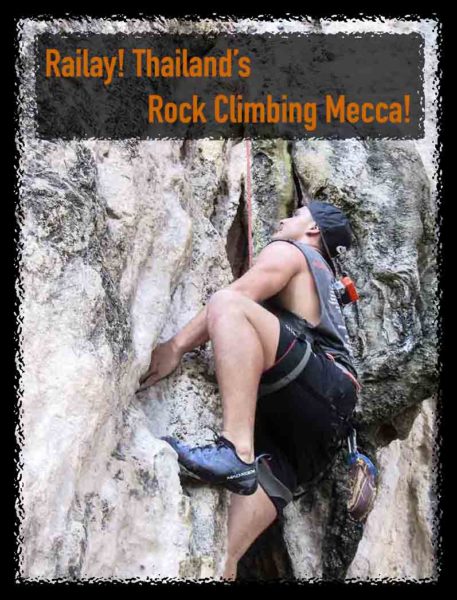 Hey there!
Don't miss a thing! Join the crew and we will send you free email updates. But don't worry, we promise not to bombard your inbox with too much awesome stuff!
Welcome board!
Something went wrong.