2 Delightful Reasons to Visit Vietnam
Vietnam was on my bucket list of places to visit and it didn't disappoint. My favourite part of Vietnam?… Easy, the people. I found the Vietnamese people to be very welcoming and friendly. Second  favourite thing… the food! Delicious noodle soups, meat filled baguettes and fresh wrap-it-yourself spring rolls. During our travels, we spent a lot of time eating where the locals eat, thus we engineered plenty of opportunities in which meeting, and interacting with, the local Vietnamese people was a forgone conclusion. What was not a forgone conclusion however, was how much we enjoyed their company and them ours.
Several times we stopped for lunch on a long ride between cities and left with new Facebook friends after chatting with very little common language for about an hour. The best thing about these chats is the laughter that ensued from the impromptu game of charades we inevitably end up playing as we try to ask questions, answer questions and just talk in general. Google translation internet tool can also help, but doesn't always get things right, which adds to the confused looks and laughter.
Meeting at lunch…
One such time was when we met Bao Thy Tran. We stopped for lunch on our ride from Phan Thiet to Nha Trang. When Dwayne decided to take a photo of the chickens at the front counter, Mama came up and posed for him.
Dwayne then took a selfie of himself and Mama. Before long, as I watched from the table, all the young ladies were crowded around Dwayne, with their phones, wanting to take 'selfies' with him also.
Once lunch was served Mama and her daughter Bao, joined us at the table for a chat. Bao could understand a little english and with the help of google translate and miming we had a good chat, took photos, became Facebook friends and shared the photos with each other before we had to get on our bike and continue our journey.
While staying at Mui Ne Hills we rode to Phan Thiet for breakfast. We wanted a pho (noodle soup) so I was on the look out for a sign that simply said 'pho'. We found one, parked the bike and wandered into a little noodle cafe.
Once we had ordered our soup, the waitress started to speak to us in broken English. Upon hearing we were from Australia she told us her grandfather lives in Australia. Back and forth the conversation went as her father stood nearby, then she mentioned her uncle was a chef and had a restaurant in Sydney and has been on TV. Her father, Luy, whipped out a DVD of Luke Nguyen a Vietnamese/Australian chef who has some food programs on SBS (he is one of my mum's favourites).
One of Luke's programs featured Luke returning to his home country and cooking as he toured Vietnam. His show was certainly instrumental in my desire to travel to Vietnam and now here I was having breakfast in his families cafe! Out came the camera! Another Facebook friend so I could share the photo with them and vice versa. Luy then, through his daughter, asked us if we would stay to meet his father. We agreed and before long we were meeting Papa Nguyen, Lap.
Dwayne took this opportunity (having someone who was fluent with both Vietnamese and English) to ask the many food questions he wanted answered, such as …."what do I ask for to get a beef soup with all the tendons, liver and other gizzards in it?" Lap then spent the time translating the menu for Dwayne. Third soup on the list was beef noodle soup with bull penis… no its not a typo… it was bull penis. So before you know it Dwayne had organised for two bull penis soups for the next day at 9am!
We turned up the next day and sat down to our penis soup. Lap was there and once our soup was served he showed us the penis pieces.
They just looked like pieces of tendon and in fact that was what the texture was like. Dwayne ate his with his usual gusto reserve particularly for food! While I tentatively ate my first piece. My mistake was when I thought about what I was eating and almost gagged! It really had no particular flavour and the texture wasn't horrible… just don't think about what you are eating! It was a real pleasure to meet the Nguyen family, but now it was time to get back on our bike for the next leg of our adventure.
The day we arrived at Quy Nhơn we had been riding for five hours. Once at our accommodation, we would usually have a shower and put our feet up before heading out for a look around… but we were hungry. So we dumped our bags and headed off to find some lunch. We found a line of restaurants, which had their tables and chairs outside on a grass/dirt verge. It was a very busy place, with a good vibe. Large groups of friends ate and drank beer… it was, for us, a new experience from the small cafes etc that we'd been eating in.
Before long one of the guys at a nearby table asked us where we were from. Bann then brought a can of beer over to our table and shared it with us… telling us 'souvenir'. Doing a cheers before every mouthful of beer and thus was the catalyst to a very interesting and fun day.
To cut a long story short, after lunch we were whisked away for a karaoke session. The extremely loud music and singing made it very difficult to talk, considering very little English was spoken. Instead, a lot of smiling, nodding and laughing and photo taking proceeded to take the place of talking… though some of the guys still tried to talk over the music… constantly! Everyone was in such high spirits that it was impossible not to have fun! Almost every mouthful of beer was preceded by everyone doing a "cheers"! We had a ball. It was a fantastic experience and a lot of fun trying to sing in Vietnamese!
Once the karaoke was finished, everyone was hugging us and saying their goodbyes, but a few people still wanted our company. We once again found it impossible to explain that we had been on the road since 7:30am, riding for five hours, hadn't showered, were very tired, and it was now time for us to go to the hotel. We were once again whisked away by Ban, this time for dinner, and then again unable to respectfully express our desire to go back to our hotel, we were encouraged to join him for coffee. So back on the bike and off to a coffee shop. Finally Ban had to go to work and we were able to go back to the hotel, have a shower and hit the bed. We briefly wondered how Ban, a night security guard, could party all day and then go to work for 12 hours… before we remembered all the sleeping workers we have seen on our journey throughout South East Asia!
Laughter is the best medicine!
I shan't forget the little boy we met on our ride from Quảng Ngãi to Da Nang.  While we sat at his parents cafe, enjoying a tea and coffee, he just came up and sat at our table. He was so cute!
Dwayne showed him how to take a photo of himself on our phone. He was laughing and having such fun. There is nothing like a child's laughter to lighten the heart.. and the coffee gave us some energy for the long ride ahead.
In Hội An we met Dinh. We booked accommodation at Hội An Mountain House . Hội An Mountain House had a rating of about 9.5, it looked clean and modern and included breakfast. We thought it would be perfect for the last few days in Vietnam… and it was. Dinh was the perfect host. Friendly, attentive and cooked us a delicious breakfast each morning… Tea/coffee, omelette with a baguette and a banana smoothie or pho soup and a pineapple pancake. Mmmmm. We were treated like visiting royalty!
On the fourth night of our stay Dinh asked us if we'd join her and her family for dinner that night. We met the whole family, as well as a friend or two, and enjoyed a traditional meal of chicken rice. Dinh is a great cook (she also offers cooking classes in her kitchen) and it was wonderful to be invited to join a family dinner. It really was the perfect end to a wonderful time in Vietnam.
When I look back on our time in Vietnam, it is the above mentioned moments that made our trip truly memorable. I feel grateful that we are lucky to have such a lifestyle that not only allows us to meet friendly people, from all walks of life, but actually facilitates the opportunities. I remember Dwayne saying, during our time in Vietnam, that it is hard not to feel happy in these countries because everyone smiles at you… and a smile does really go a long way. So smile today and be happy!
Travel Notes
Currency
VND – Vietnamese Dong written here as ₫
Accommodation
Hoi An – Hoi An Mountain House 
Cost – ₫ 370000/night (AUD $22.00).
Pros –  Good size room, sitting area, clean, TV, A/C, kettle, fridge, good wifi in room, on site restaurant. Delicious breakfast each morning. Free use of bicycles. Cooking classes available. Restaurants, pharmacy, shops and motorcycle rent within walking distance. Taxi into the main Hoi An area is around AUD $2.00. Dinh is a wonderful host and speaks good English.
Cons – nothing that I can think of.
Our verdict – Booking.com rating 9.5. It was well worth the money.
Da Nang – Danang Beach Hotel
Cost – ₫ 285000/night (AUD $17.00).
Pros – Nice staff, reasonably modern place, TV, desk, close to beach.
Cons – We had two twin beds push together… With the phone sitting in the middle on the bed. Small room.
Our verdict – Paid extra for deluxe not sure what we got for that… Probably the view (view not worth the extra money). We were a little disappointed.
Quang Ngai – Ngoc Huong Hotel
Cost – ₫ 300000/night (AUD $18.00).
Pros –  Large room and cheap food nearby.
Cons – Bad location on a main road very noisy.  There were ants in the room. Bathroom tiny. No kettle or hairdryer as the promotion said. Beds uncomfortable.
Our verdict – Trucks honk their horns all night. It makes no difference to be on the fifth floor (where we were) they still woke us all night. People across the hall arrived back at 0300am and proceeded to have a party in there room, with their door open. So got very little sleep.
Quy Nhon – Khang Khang 2 Hotel
Cost – ₫ 385000/night (AUD $23.00).
Pros –  Comfortable enough for the one night stay.
Cons – No bath when told there was.
Our verdict – Disappointing. We were not impressed by this hotel. We thought it cost more than it was worth. The promotion said it had a bath, there was not.
Nha Trang – Queen 2 Hotel 
Cost – ₫ 175000/night (AUD $10.50).
Pros –  Great location. Easy walk the beach. Lots of places to eat. TV, A/C, fridge.
Cons – Had to buy fly spray for the mozzies. Also had ants crawling on the wall.
Our verdict – Great value.
Mũi Né – Mui Ne Hills Budget Hotel 
Cost – ₫ 200000/night (AUD $12.00).
Pros – Pools. Nice clean rooms. Friendly staff. Great bar and restaurant with great views. Good position with a short walk to the main street with shops, restaurants.
Cons –  nothing that I can think of.
Our verdict – we were up graded so didn't end up with the budget room. We had a huge room with bath, A/C, TV, fridge, view.
Ho Chi Minh City – Binh An Hotel
Cost – ₫ 240000/night (AUD $14.50).
Pros – friendly staff.
Cons – Not what we expected. The promotion of the room said it was 35m2 but it was tiny (also was told there'd be a sitting area and hairdryer – there was not). Room wasn't cleaned during our 3 night stay.
Our verdict – Too far away from HCMC centre – if you do not have your own transport. No english spoken.
Like this post? Please pin or share on social media… thank you!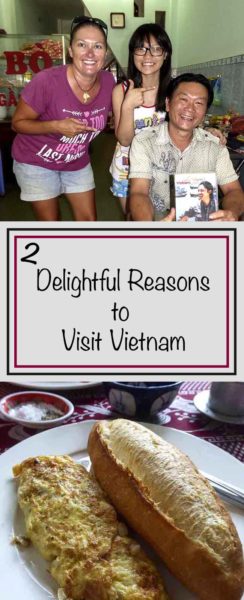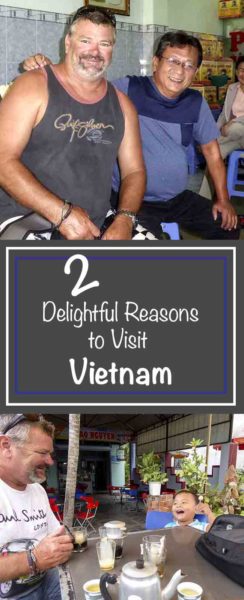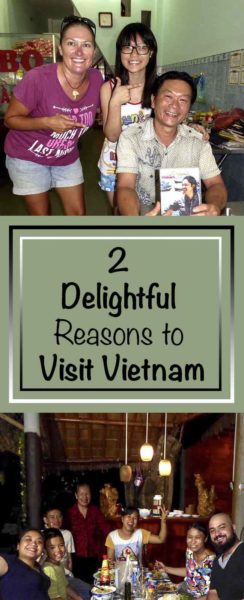 Hey there!
Don't miss a thing! Join the crew and we will send you free email updates. But don't worry, we promise not to bombard your inbox with too much awesome stuff!
Welcome board!
Something went wrong.