Don't Buy Into Barbaric Animal Tourism!
I am not here to preach to you but I do hope you will read what myself and six others have to say about animal tourism and how it is cruel, inhuman and, in some cases, leading to animal extinction. We also put forward some thoughts on what you can do to help these wretched animals. Furthermore, we have included links that will give you more information so that you can make a conscious decision about whether to ride that elephant, pat that tiger or buy the Kopi Luwak.
Not only do we discuss animals who are captive and abused for the tourists' entertainment, but also animals that are killed to make souvenirs and herbal medicine.
During viewing the documentary Racing Extinction I was shocked to hear that "Wildlife trading is second only to the drug market in the world, it is that lucrative."
Most of us have heard about shark fin soup, but are you aware that the rest of the shark is wasted. In fact, once the fin is cut from the shark it is thrown back into the water alive… to die a slow death. So when you are in China think twice before ordering a bowl of shark fin soup.
On a recent trip to Sarawak, a state in Malaysian Borneo, I saw the ground powder of the rhinoceros hornbill for sale. I was shocked considering the rhinoceros hornbill is the state bird of Sarawak and the country's national bird. But obviously the power of the powder far outweighs this birds status as a national bird. According to Chinese folklore the powder ground from the horn, once consumed, greatly enhances a man's sexual prowess. Appalling!
Animals are being poached from the wild to act as props for photos and selfies. On Phi Phi Island in Thailand, gibbon touts earn around 2,000,000 Baht a month by posing the gibbons with tourists. This is illegal! In Phuket white-bellied sea eagles are being exploited at the Kata Viewpoint; being used as photo props for tourists!
There is so much animal abuse happening in the world of tourism it is hard to know where to start and impossible for me to include it all. I hope you take the time to read through this post and do some of your own research before you decide to buy into the animal cruelty that is animal tourism. It really is up to us, the tourist, to stop the abuse!
Photo Opportunities with Captive Animals
Seeing wildlife in its natural habitat is one of the most exciting things about travel. The problem is, it's often elusive, and when it does emerge it may be far away or hidden behind vegetation – making it tricky to see, and even harder to photograph. The appeal of seeing wildlife in captivity, therefore, is understandable, and in the age of social media, it seems all the more important to capture the moment and post it for all the world to see.
However – please stop and think before whipping out your selfie stick, or choosing the perfect Instagram filter. There are many reasons why wildlife ends up in captivity, and many of them are completely valid. Creatures may be victims of illegal trade or habitat loss, or they may be orphaned or injured. But handling these vulnerable animals in order to get your dream profile photo increases their stress – and can even make them sick through the transmission of human diseases.
Worse still are the animals that should never be in captivity in the first place. Southeast Asia's drugged tigers, for example, live a miserable life chained in concrete enclosures, as well as posing significant danger to tourists – and to their children. In Southern Africa's canned hunting reserves, lion cubs have the fear cuddled out of them by unsuspecting travellers. Once they get too big to handle, they are taken to enclosures where they are shot by trophy hunters for a huge fee.
Bear in mind that habituated wildlife can never be released into the wild, and that using them as photographic props causes distress, and encourages unscrupulous facilities to keep more and more animals for tourists' entertainment. Your cute tiger selfie could end up being something of an embarrassment – best not take it in the first place. Better still, ask your friends to do the same.
Responsible Travel social media links…
Luwak Coffee became famous as the most expensive coffee in the world. The price reflected, not only the quality of the coffee (only the best coffee cherries consumed by the Luwak), but also the labour intensive collection of the coffee beans and the limited supply.
For those that are unaware of the what Luwak Coffee is, or where it comes from; the Luwak, also know as the Asian palm civet, is a small to medium sized mammal that is found in many parts of Asia. Kopi Luwak is the product of the coffee bean being ingested and fermented in the gastrointestinal tract of the Luwak. Traditionally the coffee was made from farmers collecting the Luwak scat containing the coffee beans.
However, in a bid to mass produce this revered coffee, the traditional and humane way of providing Kopi Luwak has been replaced by Kopi Luwak farms. At these farms the civets are kept in tiny cages, in appalling conditions and force fed coffee cherries. Not only does this raise ethical arguments about the caging and treatment of these animals, it also raises questions about the coffee as well. The civet is no longer free to pick the best of the coffee cherries to eat, but instead are being force fed any cherries whether good or bad in quality. This begs the question "why is Kopi Luwak still so expensive?"
What you can do? DON'T visit the Kopi Luwak farms and DON'T buy the product. Instead visit tea plantations, tropical fruit farms or non-luwak coffee plantations.
Read more with this interesting article – Civet coffee: why it's time to cut the crap
Trippin' Turpins social media links…
Be Aware of Your Exotic Purchase
By Jenn, half the By Land and Sea duo, exploring the world through affordable luxury and sustainable travels.
While certain items may look tempting and like great mementos from your travels, it's best not to purchase those which may be damaging or even illegal. There are countless items that fall under this but consider things made out of ivory, furs, feathers, shells or rare plants. Remember that many of these items serve their purpose in the natural environment and are often sold on the black market or for tourist consumption. When visiting shops, there are generally multiple items which have been taken from nature and their removal impacts the flora, fauna, and biodiversity of an area.
Another example of this is medicinal products made from the horn of a rhinoceros which can often be found for sale throughout Asia. This is yet another instance where animals are being killed for this highly sought after product (keratin found in the horn) and is causing species extinction. While I'm on the topic, please do not support this behaviour by ordering shark fin soup at restaurants! For more information on the 5,000 protected animal species and 28,000 protected plant species, check out CITES' website.
You can also learn a lot more about the impact of some of the products we purchase and consume, as well as the choices we make, not only as travellers but in all aspects of our daily lives, by watching the powerful documentary film Racing Extinction and checking out the website. This film seriously changed my life and has become something I'm so passionate about. It was actually one of the major factors in my decision to pursue my Master's in Sustainable Tourism degree. You can watch the preview below and, as a caution, this film contains graphic content. But, spend a couple hours and watch it until the end – it will change your outlook on the things you buy and do! Tourism is the largest industry in the world and if we choose to be responsible and change our approach to things we buy and do, we all have the opportunity to help make a positive on animals and the environment in which we all live.
By Land and Sea social media links…
Many people may have heard not to ride elephants, but most don't really understand why. It is my passion and goal to educate people with the voice that was given to me. Let me tell you a bit about why riding elephants or seeing them perform is not advisable.
Elephant babies are taken from their mothers in the wild at an early age. They will then have to go through the traditional asian torture called "phajaan" – also being portrayed as a ritual to "bless" the elephants into being working elephants. They are kept in small cages, often without food and water for several days. The handlers use sticks with sharpened hooks to beat them into submission. The fierce blows pierce their thick skin, leaving them scarred, sometimes blind or with broken bones. This is done to break their spirit and in fear of another attack, elephants are then "trained" to perform for the amusement of unsuspecting tourists. They are often malnourished and kept in chains with minimal space. Elephants backs, despite the popular belief, are not strong enough to withstand the weight of people. Furthermore, elephants are one of the few non-human animals to suffer post traumatic stress disorder.
This is a grim reality that many travellers choose to shut an eye to. Please don't be one of those people. Always do your research about a "sanctuary" or "orphanage" and chose to support organisations that are truly looking after them and if possible, rehabilitating them in the wild. Even better, go and see them in their natural habitat. Travel to help, not harm wildlife.
Adventurous Trails social media links…
The Brown Bears in the Pyrenees
Bears are one of Mother Nature's top level predators so it's no surprise that their relationship with man is something of a chequered one.
There have always been brown bears in the rugged French and Spanish Pyrenees. In the late 19th/early 20th century, over a hundred of them thrived in the heavily wooded and unpopulated mountain environment. However, as in so many other parts of the world, the brown bear in the Pyrenees has been subject to persecution and abuse by local communities as they realised its potential for entertainment.
In the Ariege Pyrenees, the practice of capturing young bears and training them to dance for a paying public became a way for the locals to earn a living. The 'Montreurs d'Ours' as their keepers were known, travelled as far afield as North America to show off their protegés. It was a lucrative occupation!
By the 1990s the native brown bear population in the Pyrenees had dwindled to critical levels not only due to the activities of the montreurs d'ours in the past but also to prolific hunting and the destruction of the bears habitat resulting from mining in the mountains.
In 1996, in an attempt to bolster the waning population, a handful of Slovenian brown bears were reintroduced to the central Pyrenees. The reintroduction was successful and now, over 20 years later, there are over 40 bears in the area.
Local bear experts and specialist guides are working to increase the general public's understanding of this enigmatic animal. Initiatives include accompanied hikes to collect samples of fur left behind on trees for DNA analysis and the inspection of footage captured by motion detection video cameras that have been installed in the bears' territory.
But for a truly immersive experience in the heart of the bears' environment you can join a bear tracking expert on a 5 night mini expedition in the mountains of the Spanish Pyrenees. From your tent at dawn and at dusk you will scan the hillside for a sighting as the bears  graze on wild fruit and fresh shoots of grass. There is no better opportunity to see and photograph the bear in its natural habitat. Such exceptional experiences are what lasting memories are made of.
The Adventure Creators are destination specialists with 10+ yrs experience of living and adventuring in the Pyrenees. They create a whole range of exceptional, immersive custom trips for outdoors lovers seeking authentic adventure experiences. To see further details of the bear tracking trip in the mountains of the Spanish Pyrenees click here…
Adventure Creators social media links…
Tiger Selfies Have to Stop!
By Angie and Simon – scuba diving, wildlife loving, storytelling couple from Feet Do Travel.
A new trend has also popped up on Tinder (dating site) – "Tiger Selfies" – but it's not just people on the dating website that love photos with Tigers, many tourists are sucked into it believing the tigers are looked after. It's actually quite the opposite. Tigers are often caged, drugged with sedatives and are sometimes "conditioned" to behave by being deprived of food or even whipped – a lifetime of suffering for an animal so you can have that one photo. Do you want that on your conscience? Let's not forget the horror expose in May 2016 of Thailand's "Tiger Temple" where 137 tigers were found along with 40 tiger cub carcasses in a freezer, 20 more preserved in formaldehyde, and numerous body parts and charms made from tiger skin.
Thankfully, Tinder wrote a blog "Take Down the Tiger Selfies" asking it's members to stop having photos taken with tigers, and to remove their tiger profile pics after receiving a letter from PETA, the animal rights group.
As reported in Smithsonian Mag on 15 August 2017, "Every time someone poses for a tiger selfie, they're "supporting an industry that causes suffering to tigers and may contribute to the decline of wild tigers, because every time parts go into the illegal black market … it just fuels the demand."
So how can you have a legitimate close-up encounter with a Tiger? In truth, if you honestly and truly are a tiger or animal lover, you can't have your photo taken with any animal that is part of the tourist industry – but you can have tiger encounters on safari!
Ranthamborne National Park in Rajasthan, India, is one of many places you can visit to hopefully spot tigers roaming free in their natural habitat. Believe me when I tell you, there is nothing like it! Nothing can beat viewing an animal in the wild that you know isn't in pain, hasn't been tortured and you are looking at them because they want to be there. To read about our truly incredible tiger encounter, and see the phenomenal photos we were able to take, read our post "Tigers, a walkie-talkie and a gob-smacked audience". Now that is how you have a guilt free tiger encounter.
Feet Do Travel social media links…
By Logan & Kallsy Page of Pages of Travel – encouraging you to travel more! 
Japan is known for their many types of unique cafe experiences including maid cafes, cat cafes, and even owl cafes. We decided to visit the Owl Family Cafe in Osaka and reserved one hour of "play" with the owls. We suspected that it would be somewhat of an owl rescue for those owls who had been injured or hurt and no longer able to live in the wild, however, we immediately noticed that the owls here were not rescues and seemed lethargic and depressed. All of the owls were tied down by a small rope to a faux green grass perch.
During our visit, we also noticed that some of the owls would attempt to fly, but immediately would be pulled back down by the string tied to their foot. When we asked about the condition of the owls, employees said that all were "happy and healthy, and would only be played with a few hours a day to attempt to not wear them out." Regardless, we still believed that it was inhumane to have these owls captive for our pleasure instead of letting them roam freely.
What can you do? Instead of visiting an owl cafe, you can visit Monkey Park in Kyoto where Japanese Macaques roam freely and safely. Visitors are not allowed to touch, pet, or get too close to the monkeys but are allowed to take photos and enjoy them from a safe distance. On a clear day, you can also enjoy the gorgeous views of the Kyoto skyline and the Oi River area below.
Pages of Travel social media links…
The only way to stop the abuse is if we, the tourist, boycott this cruel industry by refusing to buy the product or experience!
Liked this post? Please pin or share with family and friends…. thank you!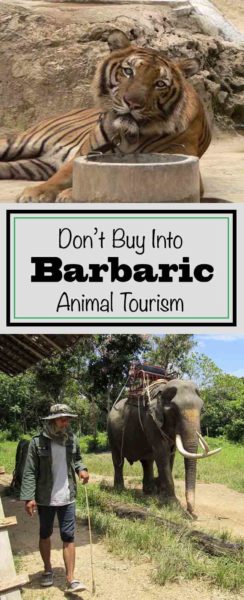 Hey there!
Don't miss a thing! Join the crew and we will send you free email updates. But don't worry, we promise not to bombard your inbox with too much awesome stuff!
Welcome board!
Something went wrong.