Mega Adventure Sky Challenge – Have you got what it takes?!
The situation I now found myself in was beginning to hit me hard. I was shaking like a leaf and hating myself for thinking this was something I could do… I had even imagined I'd enjoy it. My heart was thumping hard in my chest, my breath came in short gasps, and I gripped my hooks with a ridiculous strength, which I would regret the next day. I took my first steps out onto the narrow wire and, unable to control the shake in my legs, staggered across the wire to the safety of the platform. I let go of the breath I had been holding, and tried to appear nonchalant as I marvelled at my accomplishment. This was just the beginning, I had 69 more challenges to attempt… or did I?
Mega Adventures Sky Challenge – Have you got what it takes?
Dwayne and I were invited to try out Mega Adventure's Sky Challenge. As we are always up for a challenge we jumped at the chance to give this exciting obstacle course a go!
So what is the Sky Challenge?
The Sky Challenge is a multi level aerial obstacle course. There are over 70 obstacles, suspended in the air, for you to attempt. The best thing about the sky challenge is that you do it at your own speed and only tackle the challenges you want to… it is literally "challenge by choice" as they say at Mega Adventure… "you will never have to do anything you don't want to do!"
The obstacles include picnic tables, boats, flying fox, giant pencils, riding a BMX and even a kayak. Fancy playing tennis in the air?… or knocking your partner off in a battle of gladiator?… this is for you!
We turned up on a beautiful sunny Sunday morning to battle this beast! And as we waited for our turn to don our harnesses, get our safety brief, and begin our challenge, my apprehension began to grow. "What was I thinking?"…. "I'm scared of heights" ….. "oh the lengths I go to, to bring all the best stuff to my readers!"
Then it was our turn, and as we were fitted into our harnesses I began to relax a little. It was obvious that Mega Adventure take the safety of their customers seriously. I could not fault their professionalism and I always felt I was in safe hands.
We were expertly fitted into a harness before we were moved on to where our safety hooks were attached to the harness. Many checks were conducted on the hooks before they were attached to our harness. The staff make sure the hooks open when they are suppose to, and not open when they shouldn't.
The next step was to watch a short video about moving about the obstacle course, afterwhich we moved on to a practice station where we made our way along a stretch of wire, attaching and un-attaching our safety hooks as we moved along.
One safety hook stays attached at all times – hence you can't fall. A safety guard against someone making a mistake is that you are unable to open and remove the second hook until you have reattached the first one you removed. This made me feel very safe.
Then we were ready to take the challenge…
There are over 70 obstacles. Once we were on level one, at the start of the aerial obstacle course, we could choose which way we wanted to go. The only direction I wanted to go was back down the stairs. The full significance of what I was about to attempt hit me. Was I MAD? I looked around slightly panicky, trying to decide the less scary way to go. After scaring myself silly on a tightrope walk, I felt more relaxed as I made my way across a horizontal ladder-like structure. My safety equipment was working exactly as it should, and I was becoming more confident as I tackled each obstacle. 
As Dwayne was riding a BMX bike and navigating across row boats, I crossed giant colourful pencils, made my way around some boat fenders, zipped across on a flying fox, before climbing across to a picnic table for a rest and to appreciate the amazing view. I ended my time on the obstacle course by zipping across on a kayak before making my way to the MegaJump.
After a fun-filled hour and a half, we conquered the MegaJump and, as my feet touched down on terra firma, I felt exhilarated, alive, a little giddy and full of accomplishment! It was so much fun. It was challenging, the views were breathtaking, and it certainly got the adrenaline pumping!
As you are able to do the course at your own speed and choose what obstacles you want to attempt, this activity really is suitable for a large range of people with varying capabilities. There is no age restriction, however there are height and weight restrictions. Minimum height 120cm and maximum weight 128kg.
I, being scared of heights, only attempted the obstacles I felt able to do. While Dwayne, obviously not having the fear, and being stronger than me, attempted many of the obstacles I shied away from. We both spent about an hour and a half on the course and both felt there were many more obstacles we could have attempted for our level. There are many obstacles of varying levels, so if you are super fit and want a great workout, you'll also get it with this! 
What if I only want to watch?
It is free to go into and watch the participants… in fact it is encouraged. There are shaded picnic tables to sit at, a cafe which serves a range of food and beverage including hot pies, tea, coffee, beer and wine, as well as ice-cream and cool drinks. There are also other activities to enjoy within the complex for free, including totem tennis, swings and a large chess game.
I would not hesitate to recommend this as a fun activity, for groups, couples, individuals, children's birthday parties and definitely for tourists wanting to have fun and see some sights (great views from the upper level). I also think it is a safe way to conquer your fear and an awesome way to test your strength, agility and ability for those wanting to challenge themselves.
So get on down to Mega Adventure, and see if you have what it takes!
Other information…

Cost – AUD $52.00 – $59.00 (there are savings for group bookings)
Open hours – Open daily at the moment – click here for more information.
Location – 4 Hamra Ave, West Beach SA 5024
Getting there – The J1 bus stops at bus stop 9 on Military Road directly outside the park.
Email – [email protected]
Website – https://megaadventure.com.au/
The friendly, helpful staff are always on hand to help. They are patient, supportive, and communicated the safety issues well.

Sessions are about 2 hours long. Most people spend about an average of 1.5 – 2 hours on the obstacle course. I would allow 3 hours in total as I think it is better to have plenty of time, rather than to rush an experience like this; and you need to remember that it takes a little time to get set up and ready to play. Afterwards, it is nice to be able to sit, relax and unwind with a drink as you reflect on your accomplishment!

Cameras can be attached to your harness if you want to take one up. The best and easiest way to take photos is to use your phone. You can purchase  water proof phone protection pouches from Mega Adventure to put your phone in. Taking a large bulky camera up on the challenge is not a good idea as it can get in the way and distract you from all the fun.

The number of obstacles on the Sky Challenge will soon be increased with the upper-most level opening soon, and level two is also a work in progress.

Lockers are available for $2 – or you can leave your gear in the car and the staff will attach your car keys to your harness.

Café sells – hot & cold food, tea & coffee, beer & wine.

Digital sign-in makes getting organised super easy.

GoPro rental is available.

Phone pouches and sunglasses straps are available to purchase.

Digital photos are available to purchase – no pressure to buy.
For more information click on the links below…
Team Building  /  Groups  /  Operating Hours  /  Plan Your Visit  /  Contact
Mega Adventure Social Media Links…
Instagram  /  Facebook  /  Twitter  /  Trip Advisor  /  LinkedIn
Like this post? Please pin or share with family and friends… thank you!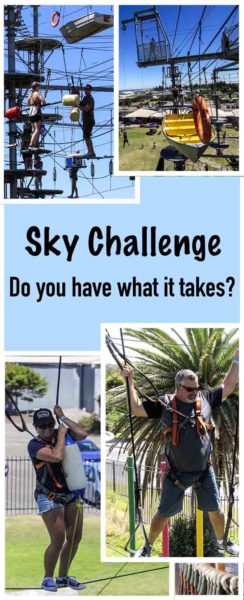 Disclaimer: No compensation was received for this review, however our visit to Mega Adventure Sky Challenge was complimentary.  Nonetheless, all opinions expressed in this review are entirely mine and Dwayne's uninfluenced view of this activity.
Hey there!
Don't miss a thing! Join the crew and we will send you free email updates. But don't worry, we promise not to bombard your inbox with too much awesome stuff!
Welcome board!
Something went wrong.