Peace Haven Langkawi – A Review
We were invited to stay at Peace Haven Langkawi as guests of the hosts Jeanne and Don Pickers. Peace Haven offers boutique accommodation in the form of two B&B's and a large villa. We stayed in the Hibiscus Villa B&B which was delightful in every way. The stand out elements of our stay, for me, would have to be the gorgeous setting, wonderful hosts, clean, comfortable rooms and being able to immerse myself in nature. Worthy of a special mention are the soft comfortable beds which are a blissful treat in South East Asia.
Our hosts, Don and Jeanne, were extremely accommodating and helpful. They go above and beyond to ensure guests have a pleasant stay. From meeting guests at the airport, to organising tours and cooking up delicious meals. Don and Jeanne, and in fact all the staff, were very friendly and an absolute pleasure to stay with.
Peace Haven is set on the mountainside in Kampung Padang Masirat in the Kedah Region of Langkawi. Set amid natural forest with jungle and rubber plantations nearby, Peace Haven is secluded from the rush of local traffic and the busy tourist scene.
Hibiscus Villa has two rooms – B&B 1 and B&B 2 – with a shared kitchenette. Breakfast is included.
B&B 1 is a double room with queen sized bed, ensuite bathroom and a garden view patio, complete with sitting area.
B&B 2 is a twin room with two single beds, ensuite bathroom and a mountain view.
Features – Both villas have bedside tables with lamps / wardrobe / desk / in room safe / air-conditioning / ceiling fan / flatscreen TV with Astro / and my favourite, lots of extra pillows and cushions.
The shared kitchenette is complete with tea and coffee making facilities, hot plate, microwave, sink, fridge/freezer and ice. There is plenty of crockery, cutlery and cookware if you are wanting to cook your own meals.
Jasmine Villa is a beautifully appointed double storey villa that can sleep six people. The lower storey includes an office and double bedroom with large ensuite bathroom. There is direct access to the infinity pool from this level.
The upper level includes a large living area with a stunning view over the bay, a fully equipped kitchen with dishwasher and oven, a bathroom, a twin room with two large beds, and a large double room with queen size bed and a gorgeous ensuite bathroom with outdoor shower.
Features – Large 302m² / washing machine and dryer / private entrance / air-conditioning / ceiling fans / seating area / dining table / Astro TV / desk / iron / in room safe and so much more.
Breakfast is not included, however a menu is available and meals and wine etc can be ordered the day before.
A salt water infinity pool set in the garden over looking the bay and Rebak Island. Pool towels and sun lounges are available.
Not only are the views from the villas in my opinion, magical, but there is a viewing tower that will give you a 360º vista including the bay, Rebak Island and the mountains. The tower is complete with a table and chairs, so take along a drink and enjoy sundowners from this peaceful oasis.
Breakfast is included in the price of Villa 1 and Villa 2. Served in a delightful portico setting amongst a garden teeming with birds and butterflies, you can choose from a continental breakfast or English breakfast.
Continental breakfast includes freshly baked health bread, muesli, croissants, cold meats, cheese, jam, honey, fruit juice, tea and freshly brewed coffee.
English breakfast includes muesli, fruit, yoghurt, freshly baked health bread, eggs, hash browns, fried tomato, lamb sausages, tea and freshly brewed coffee.
A Ploughman's platter can be ordered for lunch. The platter includes health bread/rolls, butter, lettuce, cucumber, olives, gherkins, feta, apples, boiled egg, cold meats, cheese and a selection of chutneys.
There is a dinner and dessert menu available. Sample menu includes – Beef Rendang and rice or pepper steak pie, mash potatoes and salad. Desserts menu includes caramel creme and apple pie with cream.
* Please note vegans can be catered for.
Beer is available, as is a selection of red and white wines by the bottle. A small selection of cocktails are available between 5pm – 7pm each evening.
The tap water is treated and deliciously drinkable – so do your part for the planet Earth and choose not to purchase bottled water.
You can get to Langkawi via plane or boat.
Arriving at the airport you will be met by Don or Jeanne who will transfer you to the villa, or help you organise a rental car if you prefer (this is highly advisable).
Ferries leave mainland Thailand and Malaysia daily en route to Langkawi. If you arrive via a ferry you will need to catch a taxi from the ferry terminal. Don will meet the taxi at a nearby crossroad so there is no confusion in finding Peace Haven.
Peace Haven Langkawi is set in a secluded area which makes it necessary to have your own transport if you want to zip all over the island. However, that said you really are not that far from all the action. There are many tour options, taxis and very cheap Uber transport available. Don and Jeanne are happy to help you organise your transport.
Within 5km of Peace Haven Villas you will find a supermarkets, restaurants and local market.
This is indeed a haven for nature lovers. From the gate of Peace Haven you will find many roads and tracks that will take you through forest, jungle and rubber plantations. Keep your eyes open and you will see many birds, monkeys, squirrels and lizards. During our stay at Peace Haven we saw a dusky leaf monkey, macaque monkeys, little squirrels and a giant black squirrel, monitor lizards, golden oriole, crimson sunbirds, hornbill birds, white-bellied sea eagles and brahminy kites… just to name a few.
Other activities nearby on the island of Langkawi include:
Skycab cable car and the Sky Bridge

Jet Ski Island Hopping

Kilim Karst Geo-forest Park

Underwater World

Telaga Tujun Waterfall

Zipline and Aerial Adventures

Cenang Beach

Guided nature tours can be organised through Don and Jeanne with very knowledgable guides.
Peace Haven Langkawi Villas rate a 10 out of 10 for cleanliness, facilities, service, comfort and value for money! I do not hesitate to recommend this accommodation as I am absolutely sure you will love it too.
Free secure on site parking
Not suitable for children
No pets allowed
No smoking
No credit card facilities – deposit is by bank transfer or Paypal.
Disclaimer: No compensation was received for this review, however our stay at Peace Haven Hibiscus Villa was complimentary.  Nonetheless, all opinions expressed in my review are entirely mine and Dwayne's uninfluenced view of this accommodation.
Liked this review? Please pin or share with family and friends…. thank you!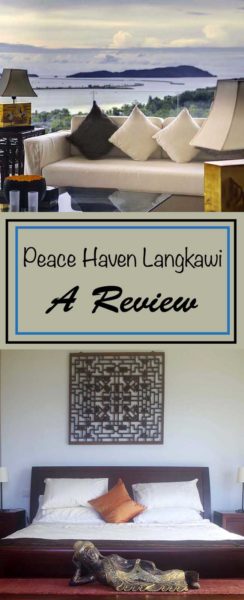 Hey there!
Don't miss a thing! Join the crew and we will send you free email updates. But don't worry, we promise not to bombard your inbox with too much awesome stuff!
Welcome board!
Something went wrong.