10 Things to do in the Picturesque Seaside Town of Ahuriri
The seaside town of Ahuriri is only 5 minutes drive from the Napier CBD. It was Napier's former main port before the 1931 earthquake forced its relocation to its current position below Bluff Hill. Rich in history, culture and Art Deco architecture, many of Ahuriri's buildings including the old port wool sheds, have been redeveloped into a variety of residential living and commercial outlets.
Boutique shopping, vibrant nightlife, waterfront dinning, beach boardwalk and safe swimming areas make Ahuriri a popular destination for tourists. Here are my top 10 things to do in Ahuriri…
One of the first areas to be settled in Napier, Ahuriri is steeped in history. In fact Napier was once know as Ahuriri.
Self Guided Walks – pick up a Heritage Trail booklet from the Information Centre on Marine Parade in Napier. The booklet is in two stages. The first stage has 20 sites including the Hardinge Road Cottages, the old boiler and the old tram shelter. Stage two has 17 sites, including the Iron Pot, Coronation Street and West Quay Buildings woodsheds.
Guided Ahuriri Heritage Walks – run during the high season 20 October – 31 March. They depart from 9 Nelson Quay, Ahuriri at 11am.  –  –   

Heritage Walk – 1.5 hours | $19 | Person
This safe swimming area is a popular place for kayaking, sailing, SUPing and, from mid-October, vast inflatable toys (such as waterslides!) are installed in the Pond. This is also where the Ahuriri Estuary walk begins.
This estuary walk is picturesque and includes interpretive signs along the route sharing information about the flora, fauna and history of the area.
A stalking heron, small mud crabs, beautiful views and a gorgeous wall mural, under a picturesque bridge, are only a few of the sights I really enjoyed on my stroll around the estuary.
The majority of the incredible street art found in Ahuriri was painted in 2016 and 2017 as part of the Sea Walls – Murals for Oceans a festival organised by PangeaSeed. It is worth visiting Ahuriri for this art alone! But there are other wall murals to see as well as sculptures.
5. Galleries, Arts and Antiques
Whale's Tail Antiques houses an array of antiques from all eras. Art galleries such as Quay Gallery and Red Peach Gallery exhibit and sell New Zealand artwork, and then there is the Port O Call which sells a collection of chic homeware, furniture and clothing from past eras (it is also a tea room!).
6. Waterfront Cafes, Bars and Restaurants
Along the main wharf you will find an array of bars, restaurants, cafes and nightclubs, sporting such names as the Thirsty Whale, Gin Trap and Shed 2. 
A short walk from there will take you to the Napier Sailing Club, or in the opposite direction a short walk will take you to The Jandal – a chilled out bar near the boat ramp. On Harding Road, which runs along the beach, you will find more food outlets such as the Napier Icon – The Hot Chick – chicken cooked over volcanic rock.
Napier is renown for its Art Deco architecture, but it is in Ahuriri that you will find Napier's most photographed building – the National Tobacco Company building. Other Art Deco buildings found in Ahuriri include The Crown Hotel and Allison & Duncan building.  Click here for more about Napier's Art Deco Festival!
This is an exclusive modern 47 seat boutique movie theatre with plush leather armchairs and couches! Equipped with the latest in surround sound and digital cinema, a lounge bar, food and beverage. It does sound decadent! For more information check out The Globe Theatrette!
A safe swimming beach is on harding Road next to Spriggs Park. Spriggs Park Reserve Playground – has toilets, parenting room, changing rooms, outdoor showers, drinking fountain and two play areas.
10. Ahuriri Coastal Boardwalk
This boardwalk takes in the beautiful views across the harbour and Westshore. The board walk begins at Spriggs Playground, takes in Perfume Point Recreational Reserve and ends at the Hawke's Bay Sport Fishing Club's boat ramp.
If you liked this post please share with friends or pin for later reference…. Thank you!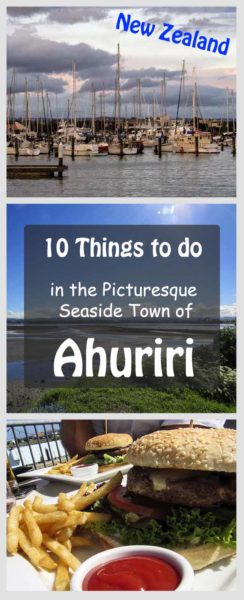 Hey there!
Don't miss a thing! Join the crew and we will send you free email updates. But don't worry, we promise not to bombard your inbox with too much awesome stuff!
Welcome board!
Something went wrong.