11 Free Things to do In Penang!
How do you see beautiful Penang on a tight budget? You see and do all the free things. You eat at the markets, and you jump on the free bus. Getting a good look at Penang – on the cheap – is simple because most of Penang's temptations are free! Yes free! For instance, the street art, a major drawcard for Georgetown, is free. The stunning national park and turtle sanctuary, is free. Furthermore, those that are not free are cheap. The food in Penang, also a leading attraction, doesn't have to be expensive. In fact, it is the hawker food which attracts all the foodies that flock to Penang to taste her delights! Check out our list of 11 things to see and do in Penang – including free transport!
1. Penang Street Art Trail
The street art, a relatively new addition to Penang, has become a major tourist drawcard. Many of the paintings are beautiful and, in my opinion, quintessentially Penang! There are many street art trails to follow including the wall murals by Ernest Zacharevic and "Marking Georgetown" a series of metal sculptures which narrate Penang's colourful history with humorous illustration and historical facts. To read more, and for links to street art maps, visit – Penang's Must-See Street Art.
2. Ghee Hup Nutmeg Factory
A visit to the nutmeg factory is completely free – apart from your purchases – and you get to learn all about nutmeg. It is really quite fascinating if, like us, you know very little about nutmeg. At the time of our visit our knowledge about this fruit began, and ended, at nutmeg being a spice. However, Emily, a 4th generation Nutmeg farmer, divulged all kinds of interesting facts including the many uses of the fruit, nut, leaves and stem of the nutmeg. 
The range of products the nutmeg fruit can produce is considerable and includes pickled fruit, fruit juice, spice (nutmeg and mace) nutmeg tea, oil and balm. There is free tasting of the juice, tea, pickle fruit and dried fruit, and we were able to purchase the products we liked at very reasonable prices.
Cost – Visit & tastings Free
Hours – Open daily from 09:00 to 18:00
Location – 202-A Jalan Teluk Bahang, Balik Pulau, Penang
Shop – Example of produce prices
Nutmeg Balm (for mozzie bites) RM 5.00 (Approximately AUD $1.50/USD $1.10)
Natural Nutmeg Juice (you mix with water) RM8.00 (AUD $2.40/USD $1.80)
100% Sugar Free Nutmeg Tea RM 22.00 (AUD $6.70/USD $4.95)
3. Penang National Park (Taman Negara Pulau Pinang)
 Taman Negara Pulau Pinang is known as the world's smallest national park… but believe me, size doesn't matter! This park has a turtle sanctuary, the Meromictic Lake (where fresh and salt water don't mix), a nice swimming beach, two main hiking tracks through rainforest to Penang's most pristine beaches, plenty of free camping grounds and lots, lots more.
Cost – Admission Free
Hours – Open daily 08:00 – 17:00
Food – No food available inside the reserve.
Don't forget – good walking shoes, a picnic lunch, plenty of water, sunscreen, hat and swimsuit
Penang Turtle Sanctuary
Cost – Admission Free
Hours – Open daily from 10:00 to 16:30 (closed for lunch between 13:00 & 14:00)
Website – For further information about Penang's National Park have a look at Travel Penang and Department of Wildlife and National Parks
4. Walk to the top of Penang Hill
There are many paths which will take to the top of Penang Hill. Once at the top of the hill there are more free attractions to enjoy including, panoramic views over Penang, Love Lock, Sri Aruloli Thirumurugan and Masjid Bukit Bendera.
Love Lock – the lover's promenade at which couples declare eternal love with decorated padlocks.
Sri Aruloli Thirumurugan (Penang Hill Hindu Temple) is one of the oldest Hindu temples in Penang.
Getting to the top of the Penang Hill for free
The shortest track is the jeep track, a 5km road which starts just outside the entrance to the Penang Botanical Gardens. Being the shortest route, it is also the steepest. Note: jeeps, motorcycles, bicycles and pedestrians shared this road.
There is also a trail that follows the course of the funicular train from Air Itam. Called The Heritage Trail, it consists predominately of concrete steps.
Also from the Penang Botanical Gardens, there is a walk that leads up to Penang Hill from the Moon Gate. It is a steep but pleasurable trek with ample wildlife to see, Macaques, dusky leaf monkeys, giant black squirrels and a multitude of insects and butterflies. DO NOT FEED the animals – a RM500 fine is applicable. The following link has an in-depth description on how to get to Penang Hill from the Moon Gate – Penang Monthly: Penang Hill Via the Moon Gate.
For those not wanting to walk (and willing to forkout some of their travel kitty) to experience the top of Penang Hill, there is always the funicular train. It leaves from Air Itam.
Funicular Train
Cost – For foreign visitors RM30/Adult and RM5/Child (one way RM15/adult)
Hours – Open daily from 06.30 to 23:00 (last train from top station). Ticketing counter closes at 22:00
For more information check out these links – Bukit Bendera & Travel Penang Malaysia
5. Explore Georgetown
Experience the diversity of Penang's history as you explore the streets that still clearly illustrate the origins of this culturally diverse place.
Little India
Little India is full of 'Bollywood' music, colourful saris and the aroma of sandalwood incense and pungent curries.
Armenian Street
Armenian Street is a delight to explore. This street has street art, Chinese lanterns, trishaws, arts, crafts, and souvenir shops and cafes. If you don't have a long time in Penang this is the place to go to see the art and experience old Georgetown.
Cannon Street
I have heard this street described as quirky, off-beat, quaint and artsy. It has many good cafes, small restaurants, art shops and antique shops.
Chulia Street
An eclectic array of Colonial, Indian and Chinese style buildings; this street could be considered the main hub for tourist. Chula Street has lots of accommodation, cheap street food as well as typical western establishments, local boutiques, car and motorcycle rental.
6. Penang Botanical Gardens
The botanical gardens provides a lovely place for a walk, a picnic or an early morning jog. You can easily spend a couple of hours at the gardens wandering through the varied flora collections or watching the antics of the cheeky monkeys. The gardens include (not limited to) the Palm Collection, Pine Collection, Herb Garden, Fern Rockery, Cactus House and the Formal Garden. Furthermore, it is home to long-tailed macaques, the dusky leaf monkeys, and black giant squirrels, as well as many birds, butterflies and insects. 
Cost – Admission free
Hours – Open daily from 05:00 to 20:00
Food & Beverage – Available from the Botanical Shop
Facilities –  Picnic area, access for disabled person, jogging track, gazebo
Amenities – Public toilets
Getting there – Take bus # 7 at the Komtar building bus station.
Address – 673A, Jalan Kebun Bunga, Pulau Tikus, 10350 George Town
Telephone – +60 4-226 4401
Webpage – http://botanicalgardens.penang.gov.my/index.php/en/
7. Clan Jetties
These settlements, or water villages, are over 100 years old. There are six jetties to explore, each named and dominated by a certain clan. Go for a wander along the wooden boardwalks and explore this living heritage of Penang. Chew Jetty is the most touristy and it is there you are able to purchase all types of paraphernalia including souvenirs, postcards and ice cream.
Cost – Free to walk along the Jetties.
Location – Weld Quay, Georgetown
Please remember – These are peoples homes – be respectful when taking photos.
8. Clan House
Kongsi, otherwise known as clan houses, are a resting place for ancestral spirits. They are built, or founded, by the members of a particular clan or family. Home to some of the best preserved clan houses in the world, Penang's traditional Chinese style Kongsi showcase breathtaking craftsmanship, ornate wooden and stone carvings, as well as elaborate gilding and frescoes.
For a free self-guided tour of Penang's clan houses follow the guide at travelfish.org – Penang's Clan Houses: A walking tour. 
Khoo Kongsi is one of Penang's most important Chinese clan houses. Amazingly the Khoo family can be traced back 650 years! This is considered one of Penang's most impressive clan houses. However it is not free to visit (but it is cheap).
Cost – RM10 (Approximately AUD $3.00 / USD $2.30)
Hours – Open daily from 09:00 to 17:00
9. Kek Lok Si Temple
Kek Lok Si Temple is said to be the largest buddhist temple in Southeast Asia. Built in 1890, it is a national icon and an important pilgrimage centre for Buddhists. The main attraction is the Pagoda of Ten Thousand Buddhas (Pagoda of Rama VI) and the 30.2 metre tall bronze statue of Kuan Yin, the Goddess of Mercy. The temple which is located on 10 acres, has a warren of temples, monasteries, prayer halls, and beautifully-landscaped gardens including, fish pond and many statues.
Cost – Admission free / Pagoda – RM2 / Sky lift – RM2 (Approximately AUD $0.61 / USD $0.46)
Hours – Open daily from 07:00 to 21:00
Location – Air Itam
Telephone – +604 828 3317
10. Gurney St Markets (New Gurney Drive Food Court)
Ok, so it is not really free if you buy something to eat, but seriously some of this food is so cheap it may as well be free…. and a person gotta eat right? The Gurney Street Market is worth a visit just to experience a typical Malay night market! It is the place for hawker fare with many stalls selling a huge variety of hawker delights at very reasonable prices… For more about cheap eats in Penang click here!
Hours – Open daily from 18:00 to 24:00
Location – Persiaran Gurney, George Town (right beside Gurney Plaza Mall)
11. Getting Around
CAT Free Shuttle Bus
CAT Free Shuttle Bus (City Hop On Penang) plies the roads within the zones of the Georgetown Unesco World Heritage Site. It covers a route from the Jetty to Penang Road and back. Along the way, it makes 19 stops at strategic points of interest. Look for "Hop on Free" sign on the side of the bus.
Cost – Free
Hours – 06:00 to 00:00
Website – For more information including the route click here.
THE FOLLOWING TRANSPORT – NOT FREE
---
Penang's Hop on Hop Off Bus
These double decker buses charge per 24hours. There are two routes taken around the island. The beach route, and the city route, which cover 50 attractions with 22 stops. Click here for more information on the routes and timetable. 
Cost – 24 hour ticket RM45/Adult and RM24/Child – 48 hour ticket RM79/Adult and RM43/Child
Location – There are customer service booths at Gurney Drive (stop 1) and Chowrasta Market (stop 7)
Phone – 1-800-88-5546.
Online ticket purchase /website – http://www.myhoponhopoff.com/pg/index.php?pageid=1
Rapid Bus Service
The Rapid Penang website has all the information you need to travel cheaply around Penang. Fares start as low as RM1 and a Rapid Passport (prepaid ticket for 7 days unlimited bus travel) is RM30. 
Cost – http://www.rapidpg.com.my/journey-planner/fares/
Routes – http://www.rapidpg.com.my/rapid-services/routes-information/
Motorcycle Hire
Scooters – RM30/day
Larger scooters – RM45/day
If you like this post, please save, pin or share with friends… Thank You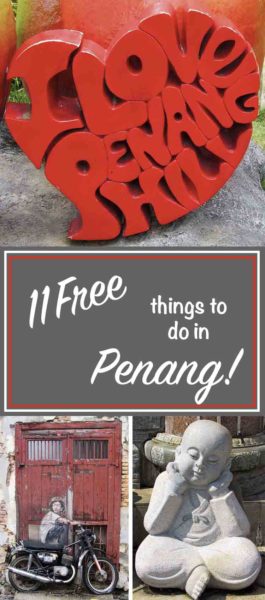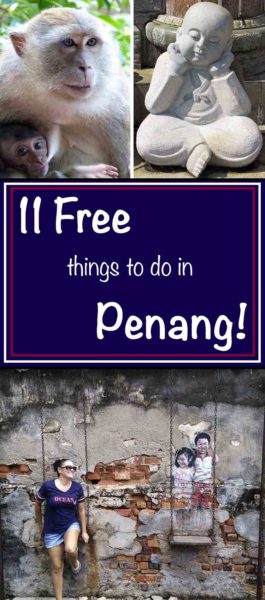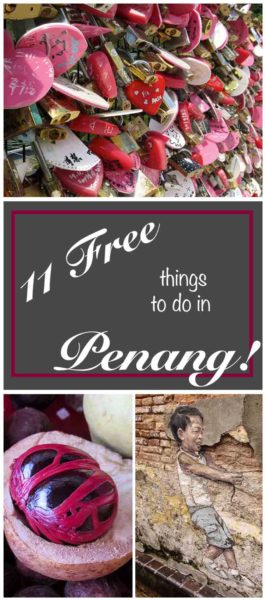 Hey there!
Don't miss a thing! Join the crew and we will send you free email updates. But don't worry, we promise not to bombard your inbox with too much awesome stuff!
Welcome board!
Something went wrong.