17 Free Things To Do In Kuala Lumpur
There are so many free things to do in Kuala Lumpur I'm sure I have only just scratched the surface. The following list includes religious temples/mosques, museums and galleries, parks and gardens, colonial history and markets! For more very cheap activities – so cheap they might as well be free check out Kuala Lumpur on a Shoestring! and More of Kuala Lumpur on a Shoestring!
Religious Temples and Mosques
1. Batu Caves
The Batu Caves are a series of caves, and cave temples, located just north of Kuala Lumpur.  It is a popular tourist icon and an important Hindu shrine. The massive statue of Murugan, a Hindi god, is probably the most outstanding feature of this attraction. Standing at 42.7 m (140 ft) high, it is the world's tallest statue of Murugan. Nearby is a colossal staircase of 272 steps, which leads to a large cave. On the climb up the staircase you will no doubt be entertained by the antics of the cheeky monkeys.
Cost – Free
Hours – Open daily 06:00 – 21:00
Location – Sri Subramaniam Temple, Kuala Lumpur, Malaysia
Getting there – Batu Caves are easily reached by train.  KTM Line – Batu Caves are the last stop. Cost RM 2.00 (less than a dollar). Trains are clean and comfortable. Be aware that they usually have two coaches dedicated to ladies only. In my experience they have been coaches three and four. They are labeled but if you are not looking you will not see, once inside they are also labelled  'ladies only' as we found out!
Batu Caves are also easily reached by travelling in car – parking cost RM 2.00 at Batu Caves.
2. Sri Mahamariamman Temple
The Sri Mahamariamman Temple is the oldest Hindu temple in KL.  This large elaborate temple is a kaleidoscope of colour! Even before I walked into the temple I was enchanted by the ornate, colourful 'Raja Gopuram' tower.  This five tiered threshold "between the material and spiritual world'  is made up of 228 Hindu idols depicting scenes from the Ramayana. Inside the temple are shrines, intricate carvings, hand-painted motifs and the main prayer hall. The place is alive with the smell of incense and bright colours. 
Cost – Free (you must remove shoes and leave them at a counter at the front of the temple – costs RM 0.20)
Hours – Open daily 06:00 – 21:00 (but these hours can vary during festival etc)
Location – Jalan Tun H S Lee, 50000 Kuala Lumpur, Wilayah Persekutuan Kuala Lumpur
Telephone – +603 2078 5323
3. National Mosque
This immense building was built in 1965 and has a capacity of up to 15000 people. Non-Muslims are welcome outside of prayer times and you must remove your shoes and be appropriately dressed. As Dwayne and I were not appropriately dressed we had to wear a robe.
Cost – Free (Robe hire also free)
Opening hours – Unsure. Non-Muslim visitors are not permitted during prayer times.
Location – Masjid Negara Jalan Perdana 50480, Kuala Lumpur
Telephone +603 2693 7784
4. Bank Negara Malaysia Museum
This is a museum about money… and who doesn't love money! How can this be boring. The museum was established by the country's central bank, the Bank Negara Malaysia. This place is full of interesting facts and, at this museum, you can learn all about money through interactive games and computerised activities. The museum consists of several galleries including the Economics Gallery, Islamic Finance Gallery, Numismatics Gallery and Children's Gallery. There is also a collection of notable Malaysian contemporary artists in the Art Gallery. 
Cost – Free
Tour Guide – Free of charge and must be booked two weeks in advance.
Hours – Daily 10:00 to 18:00 (except for Hari Raya Aidilfitri)
Location – 2, Sasana Kijang, Jalan Dato' Onn,
Getting there –
KTM Komuter : 10 minute walk from the Bank Negara Komuter station (KA03)
RapidKL LRT : 15 minute walk from the Bandaraya station (ST6- Ampang Line)
Telephone – +603 9179 2784
Email – [email protected]
Website – http://museum.bnm.gov.my/
5. The Royal Malaysia Police Museum
The evolution of the Malaysian Police Force is actually very interesting. The history of this integral community element begins with a short video which depicts, and explains, the evolution of the Royal Malaysia Police in chronological order. You can spend hours looking at the vehicles and weapons used by the police as well as the amazing, and grizzly, display of weapons confiscated during the "Malayan emergency". This museum will keep the overgrown boys entertain for hours!
Cost – Free (RM 1.00 on weekends and public holidays)
Hours – Tuesday to Sunday 10:00 – 18:00 / Closed between 12:30 – 14:30 on Fridays / Closed on Mondays
Location – 5 Jalan Perdana, 50480 Kuala Lumpur
Telephone – +603 2272 5689
For more information – http://www.malaysia-traveller.com/royal-malaysian-police-museum.html
6. Trade Museum
The Trade Museum provides extensive information about the evolution of trade in Malaysia. From ancient times to now, this museum explores the influences which led to the evolution of Malaysia's trading across the years. Discover how the Malay Peninsula has emerged as one of the most important lands that link the trade of the world. The museum is divided into three zones – On The Trail of Trade, Evolution of trade in Malaysia and the Information Centre.
Cost – Free
Hours – Open Monday -Thursday from 09:00 to 17:00 and on Friday from 09:00 to 12:00 and 14:45 to 17:00
Location – Menara MATRADE, Level 2, Jalan Khidmat Usaha (Off Jalan Duta)
Telephone – +603 6207 7077
Email – [email protected]
Website – http://www.matrade.gov.my/en/about-matrade/corporate-info/trade-museum
7. National Textile Museum
This museum is well worth a visit even for those not wild about textiles! It is a fascinating and colourful display of Malaysia's textile history which includes displays of textiles, accessories and costumes, as well as, the tools, materials and the techniques, in which they have been and/or are still made. There is an interesting video which outlines all the different types of textiles and their development.  Whether it is Batik, Songket or Pua Kumbu, the unique style, and design, of Malaysian textiles is synonymous with intricacy and beauty.
Cost – Free
Hours – Open daily 09:00 – 18:00
Location – 26, Jalan Sultan Hishamuddin, Kuala Lumpur City Centre
Telephone – +603 2694 3457
Website – http://www.muziumtekstilnegara.gov.my/
8. National Art Gallery (Balai Seni Visual Negara)
The National Art gallery houses the artworks of Malaysia's leading artists along with a number of changing exhibitions.
Cost –  Free
Hours – Open daily from 10:00  to  18:00
Location – 2, Jalan Temerloh  (Off Jalan Tun Razak)
Telephone –  +603 4025 4990
Email – [email protected]
Website – http://www.artgallery.gov.my/
9. Kuala Lumpur Deer Park
Housed in an enclosure area of two hectares, the KL Deer Park is complete with lush greenery, paths and viewing platforms. The park is home to several different species of deer including sambar deer, fallow deer, axis deer and the world's smallest deer species, the mousedeer. 
Cost – Free
Hours – Open daily from 09:00 to 18:00
Location – It is with the Perdana Botanical Gardens – Jalan Perdana, 50480 Kuala Lumpur, Malaysia
Telephone – +603 2693 6661
Email – [email protected]
Website – http://www.klbotanicalgarden.gov.my/guide-deer-park.php
10. Heritage Walk
Go for a free guided walk through the streets of Kuala Lumpur and learn about life when it was still under the British rule. This free guided tour is designed to give an understanding of how the colonial part of Kuala Lumpur came into being and includes eleven historical sites within the region of Merdeka Square. If you are interested in history, culture, and/or beautiful colonial architecture this is the tour for you. Most of the buildings/sites on this tour are over 100 years old and beautifully presented.
Cost – Free
Hours – Monday, Wednesday and Saturday from 09:00 to 11:30
Starting point – Kuala Lumpur City Gallery
For registration and booking phone – +603 269 80332
Email – [email protected]
11. KL Forest Eco Park
The KL Forest Eco Park is a natural rainforest situated right in the centre of Kuala Lumpur, making KL the only city in the world that can boast to have a stretch of tropical rainforest within city limits. The forest officially became a protected area in 1906 and is therefore one of the oldest in Malaysia. The 9 hectare eco park has a canopy walk, nature trails, jogging and trekking Routes, Timber Product Gallery and Herbal Garden.
Cost – Free
Hours – Open daily from 07:00am to 18:00
Location – Near the KL Tower
12. Perdana Botanical Gardens
The botanical gardens is the oldest and most popular public recreational park in Kuala Lumpur. It was originally built in the 1880s as a recreation park. The Kuala Lumpur Botanical Gardens has many flora collections including a forest tree collection, herb garden, orchids and a hibiscus park, as well as a few unique plants such as the bottle tree, sausage tree, cannonball tree and the baobab tree.  Guided walks are provided free of charge on work days between 0800 and 1000.  
Cost – Free
Hours – Open daily 07:00 to 20:00
Location – Located within the Tun Abdul Razak Heritage Park
To book a Guide – click here or to book a tour guide e-mail [email protected]
Email – [email protected]
Website – http://www.klbotanicalgarden.gov.my/ (includes map – Garden Guide)
13. KLCC Park
KLCC Park is a 50-acre garden near the KLCC shopping centre.  Within the park there is a large man-made lake called Lake Symphony.The lake boasts a 43m bridge which spans it, and water fountains which shoot water up to a height of 42m. Entertainment includes a Lake Symphony music and light show. The various facilities within the park included a large children's playground, a 1.3km-long jogging track, a children's swimming pool, waterfall, fountains, footpaths, shelters and sculptures. This is a prefect place for a relaxing stroll or to allow the children to run off a little energy.
Cost – Free
Hours –  Open daily from 07:00 t0 22:00
Hours for Lake Symphony Music and light show – 8pm, 9pm and 10pm (times can vary I have heard!)
Location – Kuala Lumpur City Centre
Markets
Ok, technically markets are not free if you buy something, BUT they are free to visit. The three markets I want to mention are my favourites and I think, apart from the fact it is cheap to eat at the markets, you must visit markets for the atmosphere and the free entertainment such as buskers!
14. The Central Markets
The Central Market is a cultural heritage site within a restored art deco building. It is here you can wander amongst all the usual souvenir stalls, antiques, carvings, art and waving lucky cats! These markets feature a fish spa, henna tattooist, 3D art museum and a fortune teller. The Central Markets have school holiday programs which feature batik competitions and carnivals as well as Saturday Night Out with buskers, street food and a car boot sale. Check out this website at http://www.centralmarket.com.my/ for heaps more information! 
15. Petaling Street Market
Petaling Street is the Chinatown of Kuala Lumpur. At the Petaling Market there are hundreds of stalls selling alsorts of things including "genuine fakes" and ridiculously useless stuff such as rubber squawking chickens (which we just had to buy!). Enjoy the hustle and bustle, and have fun bartering the price down. Eat from the many food carts or small market eateries. Take in the sights, sounds and the aroma of this vibrant night market. For more on what to expect visit – http://www.kuala-lumpur.ws/klareas/chinatown_petaling.htm
Hours – Open till late
Location – Petaling Street, Kuala Lumpur
Website – http://www.kuala-lumpur.ws/klareas/chinatown_petaling.htm
17. Jalan Alor
Jalan Alor is a street crammed with hawker stalls and seafood restaurants. There is often entertainment in the form of buskers and and a wide range of food such as frog porridge, skewered frogs, seafood, duck, dum sum, Chinese, Vietnamese, Indian and Malay fare. A must-do if you enjoy trying different food or are a fan of super huge prawns!
Hours – Open every evening (some of them open all night)
Location – Jalan Alor is in the Bukit Bintang area.
Website – http://www.kuala-lumpur.ws/magazine/jalan-alor.htm
If you liked this post please share with friends or pin to Pinterest! Thanks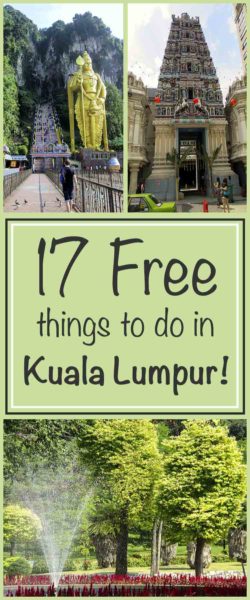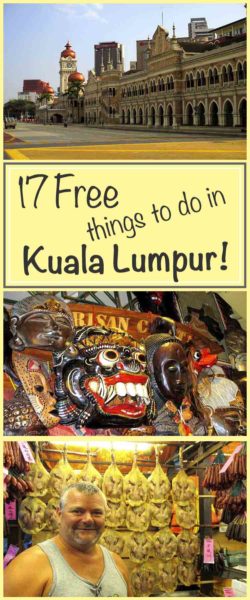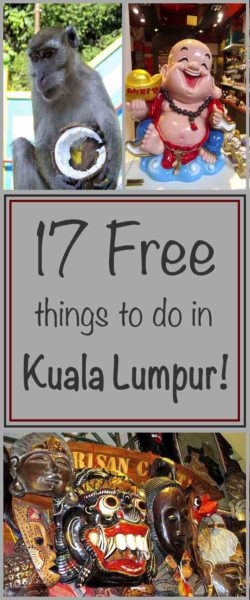 Hey there!
Don't miss a thing! Join the crew and we will send you free email updates. But don't worry, we promise not to bombard your inbox with too much awesome stuff!
Welcome board!
Something went wrong.