Sea Walls – Napier's Spectacular Street Art!
In March 2016, an international group of street artists descended on the seaside town of Napier as part of the "Artist for Oceans Festival." During the 10 day festival, 29 'Sea Walls' murals were painted on previously blank walls transforming them into stunning, thought-provoking displays that not only beautify Napier, but send an important message.
Organisers of the festival, PangeaSeed Foundation, an international nonprofit organisation, has a worthwhile agenda. In partnership with the Napier City Council, the PangeaSeed Foundation hopes to raise awareness with their festival – Sea Walls: Murals for the Oceans – about the plight of the world's oceans. Concerns focused on in the Sea Walls murals include, climate change, shark finning, pollution, over-fishing, and costal development.
When deciding on a New Zealand location for the Sea Walls Festival, Napier was chosen above the more obvious larger cities because of it's coastal location, National Aquarium and the high number of tourist that visit Napier annually. It seemed like the perfect place and perhaps it is, as the festival is returning this year to continue spreading the message!
Napier is located in Hawke's Bay on the eastern coast of the North Island of New Zealand. Though it has a reasonably small population of about 62,000, it does get a high concentration of tourists due to the multitude of cruise ships which dock at the port almost daily during the high season. Tourists also flock to Napier for the internationally renown Art Deco Festival and the world class wineries. The stunning street art in Napier including, but not limited to, the Sea Walls murals, is also becoming a major drawcard.
About PangeaSeed Foundation
PangeaSeed Foundation's mission is to generate awareness about environmental issues faced by the world's oceans. They are using an expression of creativity, which has in recent years become very popular, to voice concerns about one of the Earth's most important ecosystem.
Their aim is to encourage the local communities "to foster a sense of pride and ownership for the murals, and above all, for the health of their local marine ecosystems." To learn more about the issues which concern PangeaSeed read here! 
Mural on the National Aquarium of New Zealand: Marine Protected Areas – Interrelationship Between Species and Habits by Cinzah and Jason Botkin
Like this post? Please share with friends or Pinterest with the image below… Thank you!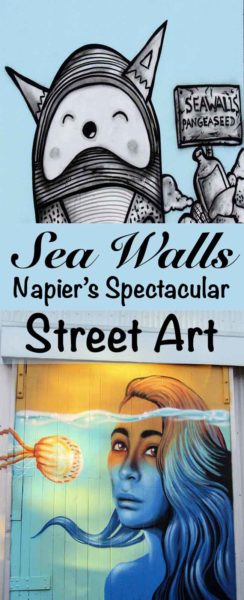 Hey there!
Don't miss a thing! Join the crew and we will send you free email updates. But don't worry, we promise not to bombard your inbox with too much awesome stuff!
Welcome board!
Something went wrong.