Unlikely Heroes get Tough with Trash in Paradise!
The idea for Trash Hero, Thailand, began on Koh Lipe when a few friends got together to clean up some of their favourite beaches. The idea blossomed and in December 2013 regular Monday clean ups at Koh Lipe began. The Trash Hero mission isn't only to clean up the beaches but also to reduce future waste by educating and inspiring behaviour change. This sounded like something I wanted to be part of! So I joined the Trash Heroes on one of their Monday clean ups to "do my part" and to find out more about this rapidly growing, and fundamentally important, activity.
Monday 26th December 2016 I, along with friends Anka, Martina, Luka, Nikola and Vito, joined the Trash Heroes for their weekly clean up. It was the 157th clean up since Dec 2013. All up 45 people participated in this clean up, collecting 105 bags of trash and a stack of monster rope!
We all met on Pattaya Beach and were then taken by long-tail boat out to Ao Out Song on Koh Lex. We were all given garbage bags and gloves, and then we set to work to make a difference… and make a difference we did! After about an hour the beach that, when we arrived, had been covered in trash was now clean! And we did it… all us trash heroes, and it felt good!
"Free boat, food, drink and good karma"
What sort of trash were we picking up? All sorts of garbage, but without a doubt the biggest offenders were styrofoam, plastic drink bottles and flip flops – thongs, slops, jandals – what ever you call them these things are the enemy! 
Drinking water was provided and after the clean up we ate some refreshing watermelon before loading the boat with all the collected trash. The trash then made its way along a human chain formed between the heap of trash filled bags and the long-tail boat. To see the boat rapidly fill with all the garbage bags was quite a sight. To realise that all that trash was now being removed from the beach and was soon to be disposed of properly, was quite gratifying.
Once the boat was loaded we all boarded our long-tail boats and headed back to Koh Lipe. Once back on Pattaya Beach we formed a couple of human chains between the boat and the trucks. We set about transferring the trash to the trucks, after which we went to have lunch. Lunch was provided to those who participate in the clean up and, as we dined, we chatted with Darius about the Trash Heroes and it's growing popularity.
"Together we can make a difference"
In our discussion with Darius we learnt that the Trash Hero movement is not focused solely on trash removal. Instead their mission includes creating community awareness, inspiration, education and sustainable practices. With the support of many local Koh Lipe businesses the Trash Heroes have organised residential garbage pickup, waste management and local school education. Furthermore they have introduced reusable water bottles and reusable bags. 
"Trash Hero is a non profit organization supported by various local businesses on Koh Lipe, who help by providing boats, trash bags, food and drinks each week for the team"
Without the support of  local businesses there could be no Trash Heroes… well not quite, we can all be trash heroes, but having the support of the local businesses allows the Trash Heroes to make a greater impact by providing long boats for transportation, lunch, garbage bags, trucks etc.  The continual support of these businesses, and the local community, is integral to the Trash Hero campaign. Darius sums it up perfectly when he says, "together we can make a difference."
"Anyone can be a Trash Hero, it's easy! A Trash Hero wastes as little as possible, reuses as much as possible, and works to preserve and improve the spaces they are in, wherever they may be."
There is no cost, no sign-up…  just show up! That's right, to be a Koh Lipe Trash Hero just show up on Pattaya Beach at the end of Walking Street at 10am. Here you will be given a seat in a long tail boat and taken to a destination that needs cleaning. You will be given garbage bags, a glove, drinking water and food!  After a few hours you will come away loaded up with good karma and the self satisfying feeling of doing something good!
Trash hero stainless steel re-usable bottle
Trash Hero stainless steel bottles are sold at many businesses on Koh Lipe for ฿200. These bottle can then be filled at the same locations with clean drinking water for free to anyone with a bottle. If you have spent anytime in Thailand you will know how much simply reusing a bottle, can reduce waste! Example…. you go into a 7/11 and by a bottle of water. Without being asked if you want a bag, that bottle of water will be put in a plastic bag along with a straw! EACH AND EVERY TIME! Be quick to say "no bag thank you!" – those unneeded bags and straws just end up in the bin outside the shop door or worse yet floating amongst the trash that washes up on the beach!
Trash Hero Facts
The idea was born in 2013. The first Monday clean up was on the 8th of Dec 13.

On the 4th Monday, 50 volunteers showed up to help. 

In less than a month 40 local businesses had already pledged their support.

In less than a year the Trash Heroes become the winner of

Thailand Green Excellence Award!

The reusable stainless steel bottle became available in Nov 2014.

After one year more "Trash Heroes" were being born across Thailand in Ao Nang, Bangsaphan, Koh Lanta, Hua Hin and Songkhla.

Then the movement spread worldwide!

There are now Trash Heroes in 21 Thailand destinations, 7 Indonesian, 2 Malaysian, one in Myanmar and the Philippines, as well as New York and Prague. Additionally, there have been many cleanups inspired by Trash Hero Thailand in places such as Switzerland, France, Poland, Philippines, Turkey, Nicaragua, and a lot more.
In 2015 we rescued a turtle that was trapped in a heap of garbage! Have a look at this short video!
If you enjoyed this read or want to help spread the word, please pin or share with friends!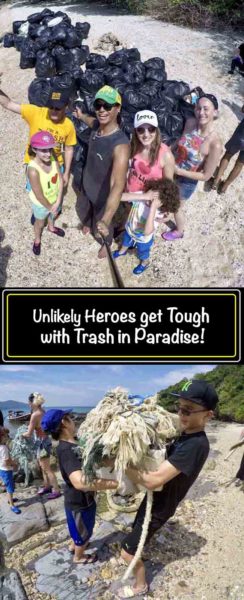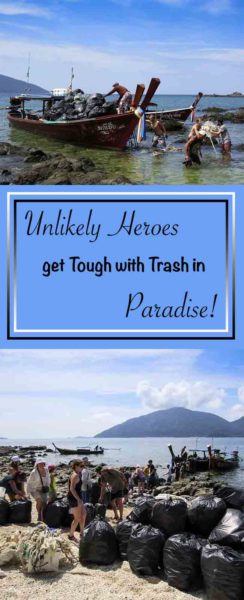 Hey there!
Don't miss a thing! Join the crew and we will send you free email updates. But don't worry, we promise not to bombard your inbox with too much awesome stuff!
Welcome board!
Something went wrong.