7 Extraordinarily Cheap Things to do Around Munduk, Bali
Your ads will be inserted here by
Easy Plugin for AdSense.
Please go to the plugin admin page to
Paste your ad code OR
Suppress this ad slot.
I was thrilled with our decision to visit Munduk in the mountains of Bali, and I was pleasantly surprised to find the village clean and tidy, and the local people very friendly. The mountainous countryside in which the village is located is lush and green, and the temperature is a little cooler than that of Bali at sea level.
We went to Munduk to visit the waterfalls. Basically I wanted a relaxing holiday with walks, swimming, nice food and time to chill out with my book… and that is exactly what I got.
We were in Munduk for 4 nights and here is my list of the ridiculously cheap things we did while there.
1. Visit the stunning waterfalls!
We visited seven waterfalls, three of which are in Munduk and four which were a short drive away. Click here for my full article on 7 Beautiful Bali Waterfalls Worth Visiting. All the waterfalls we visited were picturesque and we were able to swim in the cool refreshing water at most of them.
Cost – Rp 10,000 – Rp 20,000 = USD $0.74 – $1.48
2. Have fun snapping a few panoramic selfies!
I'm not really into selfies much myself, but for Rp 20,000 it was definitely worth having a bit of fun. There are many locations along the ridge overlooking Lake Buyan, where local entrepreneurs have built many fun props for panoramic photo opportunities. I think this is a great idea and hopefully it replaces animal selfies!
Cost – Rp 20,000  / person = AUD $1.95 / USD $1.48
3. 

Grab a juice at Warung Heaven and enjoy the view!
We stumbled across Warung Heaven as we rode around Munduk village. This little warung is perched on the mountain side and affords a gorgeous view of mountains and forest. We ordered a couple of fresh fruit juices and enjoyed the view. There are many warungs and restaurants in Munduk, and nearby, that offer a spectacular view. Do stop to enjoy the view and the fresh juices which are so delicious in Bali.
Cost – Rp 20,000 / juice = AUD $1.95 / USD $1.48
4. Photograph the rice paddies
You cannot visit the mountains of Bali without taking a photo of the beautiful rice paddies. I know, they are simply farms, farming rice, but you have to admit they are very photogenic farms! We passed some beautiful rice paddies on our way from Munduk to Gesing.
5. Sample the street food with a plate of delicious sate babi
Your ads will be inserted here by
Easy Plugin for AdSense.
Please go to the plugin admin page to
Paste your ad code OR
Suppress this ad slot.
On the ridge that overlooks Lake Buyan you will find many food carts and stalls. We couldn't pass by without having a plate of sate babi (pork satays). Served with lontong (rice cake), peanut and/or chilli sauce and kecap manis, these sate are absolutely delicious! Not only is the food great but you couldn't ask for a better view for your eating pleasure.
Cost – Rp 20,000 / per serve of sate = AUD $1.95 / USD $1.48
6. Have a hot soak at Banjar Hot Springs!
Banjar hot springs (Air Panas Banjar) is on the road from Munduk to Lovina in Bali's north. The bathing pools are constructed around the centuries-old hot water spring source. The pool area has been upgraded over time and now consists of several hot pools, restaurant, cafe, toilets, change rooms and lockers. At the entrance to the pools you will find a parking area, a ticket office and many market stalls selling clothes, paintings and jewellery. We really enjoyed having a soak in these pools before riding on to Lovina for lunch.
Cost – Rp 20,000  / person = AUD $1.95 / USD $1.48
7. And then there is The Giant Banyan Tree…
The banyan tree was on my list of cheap things to do during our stay in Munduk. It was a huge, sacred, banyan tree reputably over 700 years old. It was 85m high and measured 70 metres in diameter!… but wait! Why am I using the past tense "was"? That is because when we arrived in the nearby village of Gesing we were to find only the remains of this once magnificent tree. We were told it was chopped down about 3 months ago. I can only assume it was because it became dangerous. At present you can still get an idea of how huge the girth was as it is easy to see where it once stood… Sorry to be the bearer of bad news.
Travel Notes (2017)
Currency
IDR – Indonesian Rupiah written here as Rp
Motorbike Hire
We hired a 150cc scooter in Kuta for Rp480,000 for 6 days. That was Rp80,000 / day. Approximately AUD $7.80 or $USD $5.90 / day.
Accommodation
We book all our accommodation through Booking.com as it is easy and cheap, and we don't have to pay until we arrive at the accommodation, making it also convenient!
Cost – Rp300,000 / night (AUD$29.00)
Pros – Beautiful location with lovely views. Wonderful helpful staff. Good size room with comfortable bed, bedside tables, lamps and lots of pillows. Window opens, bed has mozzie net. No need for fan or A/C. Terrace with seating area. Breakfast served daily on the terrace. Breakfast limited to four choices, but delicious. My favourite was the Pisang Rai! Lots of storage space for luggage and clothes. Laundry service was convenient and very cheap ( Rp15,000 / kg – AUD$1.45 / kg)
Cons – We ran out of hot water in the shower once or twice.
Our Verdict – This accommodation doesn't include fridge, kettle, TV or A/C… but they were not really needed. The lovely staff made us tea and coffee when we needed it. It was a perfect place to use as a base for exploring the waterfalls, lakes and mountains – and quite wonderful for a relaxing get away.
Liked this post? Please pin or share on social media… thank you!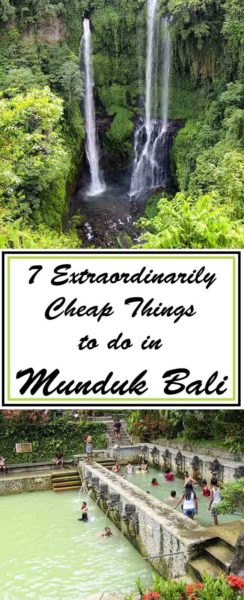 Hey there!
Don't miss a thing! Join the crew and we will send you free email updates. But don't worry, we promise not to bombard your inbox with too much awesome stuff!
Welcome board!
Something went wrong.