7 Beautiful Bali Waterfalls Worth Visiting!
Your ads will be inserted here by
Easy Plugin for AdSense.
Please go to the plugin admin page to
Paste your ad code OR
Suppress this ad slot.
We absolutely love Bali and have enjoyed holidaying there many times. We have stayed at Kuta, Legian, Seminyak, Medewi, Changgu, Jimbaran, Lovina and Ubud to name but a few. Kuta, Legian and Seminyak are becoming very modernised and if you want a beach holiday with fancy restaurants, brand names and roof top bars, this is the place to visit… but I wanted something different this time. I wanted to go somewhere we hadn't been before and do something different. So I looked at google maps and saw an inland area of Bali with a couple of lakes, and as I zoomed in on them I discovered there were waterfalls! Ok, this looked exactly like what I wanted to do… I just had to convince Dwayne he would survive a trip inland, away from the coastline and the ocean, for a few days.
Dwayne really had no choice on where we went, this time, as I do all the booking, and I had my heart set on exploring the mountains in Bali! Therefore, we spent three days/four nights in Munduk exploring the waterfalls. We both really enjoyed the walking, as well as swimming in the waterfalls and the cooler mountain nights. The mountains in Bali are really very picturesque with lush forest, clean villages and very friendly people.
Visiting the waterfalls in Bali? Don't forget…
Rivers flow best during, and immediately after, the wet season (Nov-Apr). During that time you will find the waterfalls are gushing and that the pools, at the bottom of the waterfalls, and in the streams nearby, are at their deepest.

Don't forget your swimwear! You can swim in most of the waterfalls or find a rock pool nearby to soak in.
Take drinking water. Even though most of the waterfalls in Bali are in the mountains, and therefore in a cooler climate, it still gets very hot and you will work up a sweat walking to them.
Wear walking shoes. Flip flops can become very slippery.
Most waterfalls in Bali have a small entrance fee.
Some waterfalls go by many different names. For example, Munduk Waterfall is also called Red Coral Waterfall.
This is my list of seven beautiful waterfalls worth visiting in Bali. This list is in no particular order (i.e. #3 Git Git was my least favourite).
This waterfall is said to be one of Bali's most scenic natural attractions and is well worth visiting. However, it certainly requires some effort. Starting off as a nice stroll along a path, through a village and gardens, the track soon turns to dirt and steep steps. Eventually you will get your first view of Sekumpul waterfall before you start down some steep stairs that lead to the base of the waterfall via a stream and rocks. 
Sekumpul is a spectacular waterfall consisting of seven small waterfalls up to 50 meters tall. On the day we visited there was plenty of water. So much in fact, that it kicked up quite a lot of wind and spray. We went for a swim in the cold, refreshing water which was wonderfully invigorating, before exploring further afield.
Useful Information
Parking fee – Rp2000 / motorbike
Entrance fee –  Rp20,000 /person
Guides are available and will often approach you in the carpark. We went without a guide and local people we saw, were happy to point the direction to the waterfall when we asked.
You will come across the ticket booth once you are almost through the village.
There are warungs through the village where you can purchase refreshments.
On the way back you may receive an offer of transport. This will be on a motorbike and cost Rp10,000 – 20,000 / person.
2 & 3. Aling Aling Waterfall & Kroya Waterfall
These beautiful waterfalls can be reached by walking through a lovely forested area. Not as strenuous to reach as Sekumpul, and with the additional attraction of waterfall jumping and a natural slide, these waterfalls are very popular. To enjoy the waterfall activities you will need to hire a guide.  You can hire a guide at the ticket booth. There are 3 places where you can leap off ranging from 5 meters to 15 meters.
If jumping off waterfalls is not your thing, you can pay the nominal fee of Rp20,000 to just walk to the waterfalls to view them. 
Useful Information
Parking fee – Rp2000 / motorbike
Entrance fee to view waterfall – Rp20,000 / person
Guide and waterfall activity package start from Rp125,000 / person
There are steps on the walk.
Refreshments can be purchased at the shop at the carpark.
Git Git waterfall cascades from the top of a 40 metre cliff into a rocky pool at its base. It is very picturesque but also the most commercialised waterfall I visited. It is a popular waterfall to visit because it is very easy to find, and also an easy walk along a path to the waterfall. On the walk to the waterfall you pass many market shops where people are selling clothing, paintings and other souvenirs.
Useful Information
Parking fee – Rp2000
Entrance fee – Rp20,000 / person
A path the entire way but also some steps.
Tour guides are available, but in my opinion not needed as it is a clear path to the waterfall. However, hiring a guide does help the local community.
Many shops for souvenirs and refreshments.
5. Golden Valley Waterfall
This beautiful waterfall is a short walk from the road. Although the walk is short it is very steep in places. The entrance is on the road that leads to Munduk and there is sign advertising the cafe and waterfall. The cafe, called Eco Cafe serves tea, coffee and food. There is a lovely view from the cafe and the friendly proprietors explained about their coffee, cocoa and fruit trees, as well as how they collect the luwak coffee to make a delicious (non-caged) luwak coffee.
Useful Information
We didn't need to pay an entrance fee ( perhaps we were there too early?)
The very steep track was slippery in areas.
Refreshments available at the cafe.
Your ads will be inserted here by
Easy Plugin for AdSense.
Please go to the plugin admin page to
Paste your ad code OR
Suppress this ad slot.
Munduk Waterfall is beautiful and the walk there was very enjoyable. We didn't swim at this waterfall but the spray from the waterfall had a lovely cooling effect. You can continue walking to Melanting Waterfall from here, however, as we were going to walk to Melanting Waterfall the following day, we just walked back the way we came. I have been told that the track to Melanting Falls from Munduk Waterfall has easy to follow signs.
Useful Information
Parking fee – Rp2000 / motorbike
Entrance fee – Rp20,000 / person
We walked to this waterfall from the main road of Munduk. There are no signs and it wasn't easy to find. We used Mapsme to find the path to start from and, after wandering off the wrong way a couple of times, we got correct directions from a gardener.
Melanting Waterfall is gorgeous and the walk was very pleasant…. once we were on the right track. The ticket booth for the entrance fee was closed when we were there. It was early morning, so perhaps once again we were just a little earlier than anyone expected.
Useful Information
Entrance fee – Rp10,000 / person
Ask the local people you see which way it is to the waterfall, so that you know you are going the right way!
Travel Notes (2017)
Currency
IDR – Indonesian Rupiah written here as Rp
Motorbike Hire
We hired a 150cc scooter for Rp480,000 for 6 days. That was Rp80,000 / day. Approximately AUD $7.80 or $USD $5.90 / day.
Accommodation
We book all our accommodation through Booking.com as it is easy and cheap, and we don't have to pay until we arrive at the accommodation, making it also convenient!
Munduk Accommodation
Cost – Rp300,000 / night (AUD$29.00)
Pros – Beautiful location with lovely views. Wonderful helpful staff. Good size room with comfortable bed, bedside tables, lamps and lots of pillows. Window opens, bed has mozzie net. No need for fan or A/C. Terrace with seating area. Breakfast served daily on the terrace. Breakfast limited to four choices, but delicious. My favourite was the Pisang Rai! Lots of storage space for luggage and clothes. Laundry service was convenient and very cheap.
Cons – We ran out of hot water in the shower once or twice.
Our Verdict – This accommodation doesn't include fridge, kettle, TV or A/C… but they were not really needed. The lovely staff made us tea and coffee when we needed it. It was a perfect place to use as a base for exploring the waterfalls, lakes and mountains – and quite wonderful for a relaxing get away.
Kuta Accommodation
Cost – Rp180,000 / night (AUD$17.50)
Pros – Close to airport, but too far for most to walk. Pool, breakfast available, wardrobe, A/C. Has restaurants nearby.
Cons – TV has poor reception and no English channels. Room, and bathroom in particular, very tired and worn.
Our Verdict – Close to airport and comfortable enough. Having since stayed at Chillin Kuta Homestay I would choose it over Anika next time.
Cost – Rp 210,000/ night (AUD$20.00)
Pros – Very close to airport. We walked to the airport for our 1am flight. Comfortable room with A/C, bedside tables, lamps and cushions.
Cons –  No fridge, kettle and no bathroom sink!
Our Verdict – Only suitable for a short stay. Extremely convenient for arriving from or going to the airport.
Like this post? Please pin or share on social media… thank you!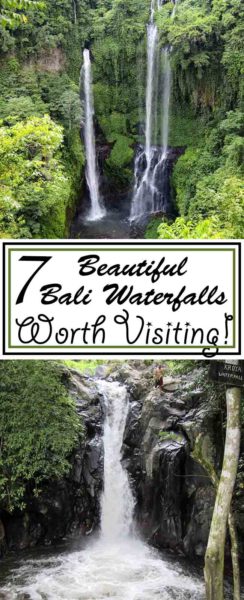 Hey there!
Don't miss a thing! Join the crew and we will send you free email updates. But don't worry, we promise not to bombard your inbox with too much awesome stuff!
Welcome board!
Something went wrong.