South Australian Maritime Museum – A Journey Back in Time!
As we entered the maritime museum, it was like stepping back in time. We were staring at a large ketch from the 1800's and hearing all the sounds of the daily action in the port. Seagulls squawked, bells tinkered, and sailors called back and forth to each other. The museum is displayed in what was once the Bonds and Free Stores, a heritage listed warehouse from 1857; it really did feel like we were getting the real experience!
The first of the displays we explored was the full size ketch called "Active II". It is a replica of the original "Active" that was built in 1873 and plied the South Australia coast until, in 1959, it was involved in a collision and was sunk. You can go aboard and explore the crew cabin, storage hold, captains quarters and tiny galley (kitchen). 
The gallery around this display holds an interesting history of the tough ketch trade. Memorabilia, figureheads and excellent interpretive signage.
Bound for South Australia
The next gallery we entered was a display about the arrival of people into South Australia in 1836 and thereafter. It has many interesting displays which will give you an insight into what the arduous journey to Adelaide entailed, including sleeping arrangements, what they ate, seasickness and how they passed their time. 
You can hear exerts, being read from journals, that tell of rough seas and seasickness, amongst many other daily trials and tribulations.
Also in this area there are three computer consoles which allow you to search for people who arrived on ships to Adelaide. You can search by boat name or by the name of the person.
A display of shipwrecks in South Australia. I was surprised to discover that over 850 shipwrecks line the coast of South Australia. The displays include stories of disaster, death, survival and great heroism, as well as artefacts from "Star of Greece" which sunk only 200 metres off the shore of Willunga.
There are displays of fishing rods, surf boards and swim wear from the past. The Semaphore Carnaval even gets a mention with a display of old arcade games. Fancy testing your skill on the laughing clown carnival game? Well you can at this museum. In fact there are many interactive activities for children… and big children also!
Just some of the interactive activities include the aforementioned clowns, junior archaeologist, computerised memory game, finding the declination (angle of the sun), finding longitude, exploring the ketch, listening to stories, watching videos.
There is a wonderful display about dolphins, particularly the Port River Dolphins. One of the displays indicates how to tell which dolphin you are seeing in the water by knowing the scars and notches on the fins.
There are many photos from the 1800's and early 1900's, as well as the South Australian jetties. It was interesting to learn that the jetties were built so that boats could tie up to them and unload. By the 1950's the jetties were no longer used for that purpose and are now solely for public appreciation, fishing and walking.
This museum is packed full of seafaring history, working at the port, war, discovery of Australia, play in the port – swim and sail racing, Proclamation Day, shark jaw, whaling, guns, and historic navigation equipment. There is Indigenous Australian information and displays, as well as displays of the flora and fauna of the area. I really have only just touched on the galleries this wonderful museum has for you. To tell you about, and show you everything, would take too long… and leave you with no reason to visit!
The Maritime Museum also has temporary exhibits. The day we visited was a few day shy of their new exhibit opening. Running from the 15th of December 2017 to the 2nd of September 2018 the exhibition currently on show at the museum is called, "Leviathan – An Astonishing History of Whales." These enormous creatures are fascinating and I have no doubt this exhibition will enthral all. It brings together a remarkable collection of artworks and whaling objects from Australia, as well as the Pacific and Asia.
There truly is a wealth of information at this museum. I would not hesitate to recommend the South Australian Maritime Museum for the maritime enthusiast, people interested in all things nautical and historic, tourists wanting to learn more about the area they are visiting and definitely families with children to entertain. This museum was really a lot of fun as well as very interesting. You could easily spend anywhere between 1 – 3 hours exploring all this museum has to offer.
Liked this post? Please pin and share on social media with family and friends… thank you!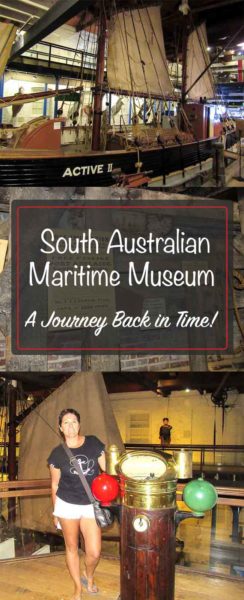 Disclaimer: No compensation was received for this review, however our visit to the South Australian Maritime Museum was complimentary.  Nonetheless, all opinions expressed in this review are entirely mine and Dwayne's uninfluenced view of this activity.
Hey there!
Don't miss a thing! Join the crew and we will send you free email updates. But don't worry, we promise not to bombard your inbox with too much awesome stuff!
Welcome board!
Something went wrong.