South Australian Aviation Museum – 100 Years of Aviation History!
I'm not going to froth up my intro with fancy jaw flapping narrative. This museum doesn't need it. When you walk into the museum's main hangar and see the aircraft you'll know what I mean. What a display! There is over 100 years of aviation history to explore and I think you'll love every minute of it! Whether you are an aviation enthusiast or historian; a child seeking to enjoy the day out with mum and dad…. or simply a parent attempting to entertain the kids, this museum is for you.
There are many aircraft to look at and some you can even enter for an inside look. However, it is not only aircraft such as the Fokker, Spitfire, Douglas and the F111, to name but a few, but there are also helicopters, motors, props, weapons, rockets, parachutes and gliders.
This museum is packed full of information about Australia's aviation history including Australia's participation in the wars, and famous aviators such as the Smith Brothers and Ray Marten. There is also good displays about the first RAAF women pilots, and Nancy Bird Walker who founded the Australian's Women Pilots Association.
There are good displays about Woomera's RAAF base and testing range, as well as military displays which include,"Women in Service", military uniforms, WWI and WWII. There is also a display about a RAAF Canberra bomber missing for 31 years (Vietnam). 
Currently there is a Cessna being put together inside the hangar. It is a replica of a Clyde Cessna design that was built in 1911. This replica was built in 1966 and has since been donated to the museum by the Gordon family. It is being rebuilt by volunteers. We chatted for a while with the friendly volunteer, Paul Daniels, who was more than happy to tell us all about this project, which he is part of…. he even showed us how tiny the fuel tank is!
This aircraft, a single engine military jet trainer, has flown over 6,797.5 hours and had 15,458 landings! At one stage in it's employment, it was part of the Roulettes Aerobatic Team.
This single engine light aircraft was designed by Clem Sheppard. The CS2 was designed in chalk on his parents lounge room floor, and built in his backyard and garage. There are so many more interesting facts about the history of this plane… in fact this is probably my favourite!
There are some planes you can look inside of. Children are invited to enter the Aero Commander Cockpit and 'play pilot' (I am a big kid at heart!) We were also able to have a look inside the Dakota A65-114, the DCH-4 Caribou RAAF A4-225 and Fokker F27-109.
Other interactive displays include a video about the F-111 A8-134 and a RAAF Aircrew Recruitment Tester…. which is a lot of fun! Also a AP-3C Orion A9-756 has arrived at the museum and is currently being assembled!
Interesting things we learnt!
WWI Bloody April 1917, Battle of Arras –  in the first 5 days 75 aircraft were lost in combat.
The first flight from England to Australia was in 1919. The 11,060 miles were completed by Ross Smith and his brother Keith Smith. It took 27 days and 20 hours!
The F-111 was fitted with a crew escape module instead of ejection seats!
The museum's first aircraft was an EF954.
Wayne Blackmore became a paraplegic while training in the RAAF as a pilot. He then took up hang gliding and became the President of the Hang Gliding Federation of Australia.
There really is so much history to explore at this museum… so much more than just aeroplanes! Hot air balloon, hang gliding, Royal Flying Doctor Service, Gypsy Moth, military target drone, anti-submarine missile, famous pilots and so much more. You really have to see it all to believe it. The South Australian Aviation Museum is absolutely seeped in SA's Aviation history! You could easily spend 1 – 3 hours exploring all this museum has to offer.
Other information
Cost – Adults $10, Concession cards $8, Children (under16) $5, Children (under 5) Free, Family (2 adults, 3 children) $25
Opening hours – Daily 10:30 – 16:30
Location – 66 Lipson St, Port Adelaide South Australia
facilities – Toilets, function hire, museum shop
Museum Shop – Heaps of aviation related merchandise such as, but not limited to, novelty items, books, models and kits.
Email – [email protected]
Website – http://www.saam.org.au/
Special Events
The Museum conducts special events on occasion, such as the Engine Run Days and the Open Cockpit Day, which are held each year. Click here for more information.
For more information click on the links below…
Links to Library  /  Function Hire  /  Group Tours  /  Private Tours  /  Member  /  Contact
The South Australian Aviation Museum Social Media Links…
Liked this post? Please pin or share on social media with family and friends…. thank you!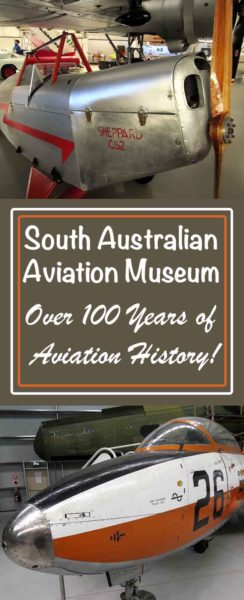 Disclaimer: No compensation was received for this review, however our visit to The South Australian Aviation Museum was complimentary.  Nonetheless, all opinions expressed in this review are entirely mine and Dwayne's uninfluenced view of this activity.
Disclosure: Some of the links below are affiliate links, meaning, at no additional cost to you, I will earn a commission if you click through and make a purchase.
Hey there!
Don't miss a thing! Join the crew and we will send you free email updates. But don't worry, we promise not to bombard your inbox with too much awesome stuff!
Welcome board!
Something went wrong.