10 Experiences to make your Lake Inle Trip Awesome!
There are so many unique experiences to be had in the township of Nyuang Shwe where Inle Lake is situated – both on the lake and around the lake. Inle Lake itself is the second largest lake in Myanmar. It is a shallow lake, approximately 22km long and 10km wide. The people of Inle Lake are called Intha and many live in floating villages (houses on stilts) and make a living from their floating gardens, weaving, hand rolling cigars or working with silver.
We really enjoyed this area. We stayed in the main township of Nyuang Shwe. It is a good size town (not too big) with plenty of accommodation, restaurants, bars and markets. Below are the 10 things we experienced at Nyuang Shwe and although there is more to do in the area we believe these 10 activities will make your stay all the more enjoyable.
1. Bamboo Delight Cooking School
We got lucky when we phoned Bamboo Delight Cooking School as the cooking class we had the following morning was a very informative, fun and rewarding experience. Great value for money, delicious recipes to learn and a veritable feast at the end, made this a very special day. To read all about this must-do activity click here!
2. Red Mountain Estate and Winery
As lovers of red wine, we can't pass up an opportunity to visit a winery. We didn't have great expectations for the wines of Myanmar and were surprised to find them really quite good. The late harvest white is nice drop for those with a sweet tooth, while their syrah (shiraz) was my firm favourite. With the stunning views, and good food, we actually returned there for an afternoon of wine and food while we waited until it was time to catch the bus.
We love exploring local markets! Whether it is night markets, selling all the best food for dinner, or the local produce markets, we never miss an opportunity to wander in and explore. Nyuang Shwe had both. On our first night we stumbled upon a night market with food stalls set up as well as a bar. We enjoyed a cocktail and some delicious meat skewers!
Visiting the local markets is alway fun. We love seeing the fresh fruit and vegetables, fish, meat and all the strange things you can come across at the markets in exotic places. We also visited the local markets as part of our cooking class and having an English speaking guide to explain some of the things we were seeing was really helpful.
The next 7 experiences we discovered on a boat tour of Inle Lake.
An interesting aspect of the lake tour is watching the fishermen using their unique technique of manoeuvring their boats. They use their paddle with one leg leaving both hands free to work the nets. Not long after leaving the estuary and entering the main lake we saw our first fisherman. Fully decked out in the traditional fishing garb and holding what I can only assume is a traditional fishing basket. I can tell a set up when I see one. Ok so l believe this 'fisherman' is here for tourist to get the perfect shot and I loved it!  I'm not sure how he makes his money though because our guide didn't take us over to him to tip.
Don't be put off with the staged fisherman because the technique is still being used everyday by the local fishermen. As we motored across the lake we saw many fishermen fishing with fish traps and nets. They still manoeuvred their boats with one leg leaving both hands free to work with… it was riveting!
We also saw the villagers collecting boat loads of lake weed. This weed is used to create their floating gardens. One thing we noted at this time was how clear the water was, and how shallow. It was very easy to see the mass of weed growing on the lake bottom.
Not long after watching the collection of lake weed we had reached the outskirts of a floating village. Soon we were negotiating narrow waterways between huge floating gardens. On either side of us we could see rows and rows of tomato plants and people in boats doing the gardening. It was fascinating.
Although most of the village is not floating on the water per se, it is constructed on stilts over the water of the lake and hence called a floating village. The people of the village get from house to house, shop, restaurant or work via a boat. Some of the houses looked quite simplistic but many are grand buildings! It is a very different way of life and although we have seen small fishing communities in other South East Asian countries living over the water, we have never seen a community quite this large or as complex.
Our first stop in the village was at the silversmiths. As we arrived we were met by a small floating market – local people in boats selling their wares. We didn't purchase anything from the floating market at this stage but went into the silversmith workshop/shop. Here we were met by a beautiful Burmese lady who explained to us the process of the silver starting from where it is mined in the mountains. I actually found it fascinating to listen to and watch the silversmiths working. There is then a shop you can browse – no hard sell here – we were allowed to browse and could have easily moved on without buying anything but I was wanting a little silver band and actually ended up making two small purchases that were very reasonably priced.
Next we were taken up the In Dein River to see the stupas of In Dien. We were absolutely stunned by what we found here. We thought we'd done the "pagoda thing" at Bagan, but here we were walking once again amongst the ruins of hundreds of stupas. The building of these stupas began in the 12th century, and it appears new ones are still being built here. But it was the old, ruined stupas, barely reclaimed from the jungle, that held our attention, and yes it felt a little Indiana Jones/Lara Croft as we explored!
There is a long corridor, leading to the central pagoda where you will see many souvenir stalls selling all sorts of paraphernalia. But it was the people we met at the markets that held our interest. At a stall at the far end of the corridor some women offered us some of the food they were eating when Dwayne showed an interest. It was a delicious tea leaf salad. Then we came across a cigar toting weathered woman who was more than happy to pose for us.
This stop was fascinating! It is here I first saw lotus weaving! Myanmar is the only place that makes lotus fabric. We were shown how they retrieve the fibre from the lotus and how it was made into beautiful cloth. It is extraordinary and very beautiful to the touch. We also had a tour of the cotton and silk weaving before we were taken to the weaving shop. There was no hard sell, and again I felt I could have easily thanked them for their time and moved on without making a purchase. However, I bought a scarf because it was so cheap and scarfs come in handy!
Neither Dwayne or I smoke (anymore) but we enjoyed this stop. At the cigar shop we watched the girls hand-roll normal and sweet cigars and we were given a sweet cigar to try… and we really enjoyed it (sorry lungs!). The sweet ones are so smooth. Honestly, if I knew smoking wouldn't kill me, and it was actually good for me, I would have bought out their entire stock of sweet cigars! Again we felt no hard-sell tactics but we did purchase a couple of cigars to give to the boatman.
Travel Notes (2017)
Currency
MMK – Burmese Kyat written here as K
You will sometimes be quoted in USD and it is easy enough for them to convert to Kyat (pronounced chat). In my opinion I think it is better to have the Kyat as everyone takes that. If you have USD they need to be in perfect condition. TIP – change or use all your Kyat before you leave Myanmar because it is not easy to get it changed once you leave. We have had no luck changing it in Thailand or Malaysia so far.
Inle Zone Entrance
Cost – K12,000 (for 5 years and above)
Valid – 5 days from date of issue
We paid this on our way from the bus to the hotel… the taxi driver just stopped at where we had to pay.
Cost – K20,000 per person (less than AUD $20.00)
Class Hours – Morning class (includes market trip) 09:00 – 13:00 / Evening class 17:00 – 20:00
Phone – 081-209375, 09 41010433, 09 428345261
Email – [email protected]
Website – https://bamboodelight.wordpress.com/cooking-class/
Red Mountain Estate and Winery
Cost – K5000 per person for tasting. Tasting includes four wines (2 x white, 2 x red) & a bowl of peanuts
Open hours – daily 09:00 – 18:00
Location – Taung Chay Village Group, Nyaungshwe Township, Southern Shan State
Phone – +95-01-664970, +95-01-652662 +95 81 209 366
Getting there – we hire bicycles for about K2000 (less than $2.00 AUD)
Restaurant – Glasses of wine K2500 – K4000. Example of food prices – French fries K2000, pork ribs K3500, tea leaf salad K2500, Thai basil beef K3000.
Boat Trip on Lake
Cost – K25,000 for the two of us in one boat. (less than $25.00 AUD – we have heard people pay a lot more – it was off-season).
Location – The boatman approached us as we were leaving our hotel for a walk. We agreed on a price and he met us at the hotel the next day and took us to the boat.
Our boatman supplied life jackets, umbrellas and rain jackets.
Accommodation
We stayed at the Royal Nyaung Shwe Hotel which we booked through booking.com at a great price!
Cost – $25 USD
Pros – New hotel, A/C, fridge, good size room, large bathroom, extra pillows, desk, bedside tables, kettle, good range of toiletries, two English movie channels, lift/elevator, wifi ok and friendly helpful staff.
Cons –No pool yet, but I think they said they are going to be doing one – on the roof maybe?
Verdict–The room was a good size and really nice.  Breakfast was included – we could order what we wanted tea/coffee/juice/fruit/eggs/toast/cereal/noodles/rice etc. I would stay there again.
Transport
Getting there – Bus from Bagan to Nyaung Shwe (Inle lake)
Cost – K11000 / per person (less than $11.00 AUD)
Company – Rainbow Express
Departed – 08:00 (We got picked up at 07:30)
Comfort – Not good. We ended up getting picked up by a minivan. We thought the van would be taking us to the bus because we said we wanted VIP/Express. It didn't. We picked up more people along the way until the minivan was full. We had many unexplained stops and didn't arrive until about 5pm at Nyaung Shwe. It was a long day. We chose to go by day bus, because we were told it was only a 6 hour trip and apparently we would be dropped at Nyaung Shwe in the middle of the night (on the night bus). I would not do this trip again by day bus.
Moving on – Overnight bus from Nyaung Shwe to Mandalay
Cost – K16,000 per person (less than $16.00 AUD)
Company – Shan Thit Sar Express
Departed – 19:30 (we were picked up from our hotel at 19:00)
Comfort – Very good, A/C, blanket. Arrived in Mandalay at 03:30 (the hotel let us in our room!)
Myanmar Travel/Visa
It is now very easy to apply for a visa to travel to Myanmar. You simply apply for an eVisa online before you travel. Your tourist eVisa will be valid for 90 days from the date of issue and you may stay in Myanmar for up to 28 days from the date of arrival.
How to apply – Simply visit https://evisa.moip.gov.mm/ and fill in an on-line form. You will need to attach copies of your passport and also a passport photo. To attach our copies we simply took photos and uploaded them. When applying you need to tell them where you plan on entering Myanmar, your accommodation details (we simply put down where our first night accommodation was) and you will need a credit card for payment.
You should receive confirmation of your visa application via email within one hour. Within three days you should receive your approval letter. You need to print out the letter and take it with you. You will be expected to present it on arrival in Myanmar.
Wifi/Sim

Card
We found that the wifi wasn't always good in the hotels. Having said that we did get lucky in a couple of places and had very good wifi. We each bought a sim card for our phone/iPad at the airport in Yangon when we flew in. I had read somewhere that ooredoo was good and I was not disappointed with my connection. We paid K22,500 for 14Gb and 30mins calls. I think 6Gb and 30min calls was K11,500.
Liked this post! Why not share it with your friends and family….. thank you!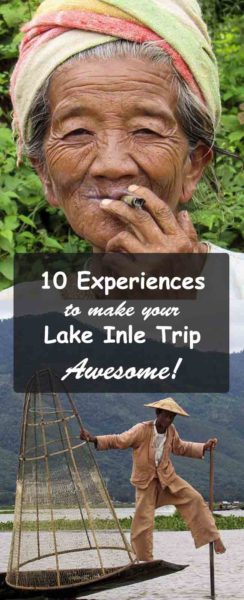 Hey there!
Don't miss a thing! Join the crew and we will send you free email updates. But don't worry, we promise not to bombard your inbox with too much awesome stuff!
Welcome board!
Something went wrong.