A Comprehensive Guide to Myanmar
We travelled to Myanmar in July before the latest crisis.
We spent two weeks travelling Myanmar in off-season. We easily could have spent more time there, as there is so much more we would have liked to do. In this post I will briefly tell you about the destinations we visited and give you links to the full post on each. I will also include the accommodation we stayed in and the transport we chose, as well as visa and currency information, and cultural information including food and tips on visiting pagodas.
MMK – Burmese Kyat written here as K
You will sometimes be quoted in USD and it is easy enough for them to convert to Kyat (pronounced chat). In my opinion I think it is better to have the Kyat as everyone takes that. If you have USD they need to be in perfect condition. TIP – change or use all your Kyat before you leave Myanmar because it is not easy to get it changed once you leave. We have had no luck changing it in Thailand or Malaysia so far.
Currently (Sept 2017) K1000 is equal to $0.90 AUD and $0.72 USD
It is now very easy to apply for a visa to travel to Myanmar. You simply apply for an eVisa online before you travel. Your tourist eVisa will be valid for 90 days from the date of issue and you may stay in Myanmar for up to 28 days from the date of arrival.
How to apply – Simply visit https://evisa.moip.gov.mm/ and fill in an on-line form. You will need to attach copies of your passport and also a passport photo. To attach our copies we simply took photos and uploaded them. When applying you need to tell them where you plan on entering Myanmar, your accommodation details (we simply put down where our first night accommodation was) and you will need a credit card for payment.
You should receive confirmation of your visa application via email within one hour. Within three days you should receive your approval letter. You need to print out the letter and take it with you. You will be expected to present it on arrival in Myanmar.
We flew into Yangon and spent about three days there. Highlights include a visit to Dala Island and high tea at The Strand. Other sights to see and things to do include Shwedagon Pagoda, markets and lake. Click here to read more…
Shwedadon Pagoda 
Cost – K8000 entrance fee (camera fee K500) (video fee K500)
Open hours – 04:00-22:00
The Strand
Cost – Classic High Tea – $20 USD and Myanmar High Tea – $18 USD + service charge & gov tax = $43.70 USD
Trip to Dala Island
Ferry – cost K4000 return trip
Open hours – ferries run every 20 minutes between 0500 – 2100
Pedal powered rickshaw – K8000 / hour (you may be able to barter not sure.)
Guide – Chozin Thway Phone +95  9967969145
We caught an overnight bus to Bagan. Once there we hired eBikes to explore the pagodas. Bagan is a must-do if you visit Myanmar. Thousands of temples and stupas, a museum, markets and more. Click here to read more…
Bagan Archaeological Area
Cost – $25 USD for a permit
Bagan Archaeological Museum
Cost – K5000 (less than $5 AUD)
Open hours – daily from 0800 -1600 (CLOSED MONDAYS)  Burmese Martyrs' Day may effect opening hours.
We took a day bus to Nyaung Shwe. This is another must-do when visiting Myanmar. The lake tour is fabulous – silversmiths, weavers, hand-rolled cigars and ancient pagodas. Also in the area – an awesome cooking class and wine tasting at Red Mountain Estate Winery. Click here to read more…
Inle Zone Entrance
Cost – K12,000 (for 5 years and above)
Valid – 5 days from date of issue
Cost – K20,000 (less than AUD $20.00)
Class Hours – Morning class (includes market trip) 09:00 – 13:00 / Evening class 17:00 – 20:00
Phone – 081-209375, 09 41010433, 09 428345261
Red Mountain Estate and Winery
Cost – K5000 per person for taste of four wines (2 x white, 2 x red) & a bowl of peanuts
Open hours – daily 09:00 – 18:00
Boat Trip on Inle Lake
Cost – K25,000 for the two of us in one boat.
We took the overnight bus to Mandalay. We had a great time in Mandalay thanks to our wonderful taxi driver and guide Zaw Zaw. We visited a monastery, a school, temples and then spent the afternoon cooling down at a waterfall. The next day we were invited us to Zaw Zaw home for lunch! What a treat! Click here to read more…
City Tour – K20,000
3 Cities Tour – K35,000
Phone – +95 9 793 764900
Maharani Temple
Cost – camera fees for all areas K1000/person
Yangon to Bagan
Overnight bus
Cost – K19,000/ person (approximately $19.00 AUD)
Company – sorry I can't remember the bus company, but we did book it through the accommodation (30th Corner Hostel)
Departed – 21:00 – (get to depot by 20:30). We got a taxi from town at 19:00 and only just made it.
Arrived at destination – about 05:00
Comfort – very good, blanket and neck pillow provided, water, soft drink, snack and refresher pack (wet wipe, tooth brush, tooth paste)
Bagan to Nyaung Shwe (Inle lake)
Day bus
Cost – K11000 / person (less than $11 AUD)
Company – Rainbow Express
Departed – 08:00 (We got picked up from hotel at 07:30)
Arrived at destination – about 17:00
Comfort – Not good. We ended up getting picked up by a minivan. We though it would be taking us to the bus because we said we wanted VIP/Express. It didn't. We picked up more people along the way until the minivan was full. We had many unexplained stops and didn't arrive until about 5pm at Nyaung Shwe. It was a long day. We chose to do day because we were told the trip was only 6 hours.
Nyaung Shwe to Mandalay
Overnight bus
Cost – K16,000 / person
Company – Shan Thit Sar Express
Departed – 19:30 (we were picked up from our hotel at 19:00)
Arrived at destination – 03:30 (the hotel let us in our room!)
Comfort – Very good, A/C, blanket.
Getting Around
Yangon
We did a lot of walking.
Taxi – from airport to city accommodation K10,000.
Ferry – Dala Island K4000 return trip.
Pedal powered rickshaw – on Dala Island – K8000 / per hour.
Bagan
eBikes  – we hired eBikes (electric scooters) to visit the pagodas. Cost range from K5000 – K9000 per day. Some places supplied helmets.
Nyaung Shwe (Inle Lake)
We did a lot of walking.
Bicycle hire – K2000
Boat – for Inle Lake tour K25,000
Mandalay
Taxi – we used – Zaw Zaw Taxi Service
Taxi 3 Cities Tour – K35,000
Taxi from city to airport – K15,000
We booked all our accommodation through booking.com at a great price!
Yangon
30th Corner Boutique Hotel
Cost – $18 USD/night for double room with A/C
Pros – A/C, fridge, deck, drawer and cupboard, good size room, great wifi (we did have dongle thinggy outside our door – room 30i), shared amenities – clean, soap in bathroom, TP in toilets. Friendly helpful staff who allowed us a very late check out and organised our transport to Bagan.
Cons – TV – one channel no english. No tea and coffee making facilities. No lift / elevator.
Verdict– although this room had a TV it was useless. Shared bathrooms, but at least they were clean and the toilets and showers were separate and divided into gents and ladies sections. Noise level – during the day the noise from traffic is quiet loud as they blare their horns all day long. When I went to sleep (fairly early sometime between 9-10 there was still a lot of noise not just traffic but there was banging above us and in the area behind our bed. I fell asleep easy and when I woke at 02:30 it was dead quiet. Traffic didn't start again until around 06:00 and was not that noisy to begin with.
Bagan
Royal Bagan Hotel
Cost – $28 USD
Pros – pool, extra pillows, A/C, fridge, good size room, large bathroom, lots of storage space, desk, bedside tables, kettle and coffee, good range of toiletries, English movie channel, good wifi and friendly helpful staff.
Cons – no pool towels, not sure if they had a lift/elevator, no tea supplied in the room.
Verdict–The room was a good size and really nice. Had an english speaking movie channel – lotus. Buffett breakfast was included. Eggs cooked anyway you like and then a choice of rice, noodle, potato, sausage, soup, fruit, bread etc. I would stay here again.
Nyaung Shwe (Inle Lake)
Royal Nyaung Shwe Hotel 
Cost – $25 USD
Pros – New hotel, A/C, fridge, good size room, large bathroom, extra pillows, desk, bedside tables, kettle, good range of toiletries, two English movie channels, lift/elevator, wifi ok and friendly helpful staff.
Cons –No pool yet, but I think they said they are going to be doing one – on the roof maybe?
Verdict–The room was a good size and really nice.  Breakfast was included – we could order what we wanted tea/coffee/juice/fruit/eggs/toast/cereal/noodles/rice etc. I would stay here again.
Mandalay
Royal Yarudabaron 
Cost – $15 USD ($19 AUD)
Pros – A/C, desk, wardrobe, fridge, TV with English movie channel, kettle, coffee and green tea supplied, elevator/lift, good range of toiletries and extra pillows.
Cons – Small room, no bedside tables, wifi no good, also mosquitos at the end of the hallway near our door. However, they did have some fly spray we could use.
Verdict– Good value, very friendly staff and they let us in the room very early in the morning (about 04:30 – 05:00). Breakfast included was buffet style and good. However, I missed having a bedside table in the room to put my cuppa on.  
We found that the wifi wasn't always good in the hotels. Having said that we did get lucky in a couple of places and had very good wifi. We each bought a sim card for our phone/iPad at the airport in Yangon when we flew in. I had read somewhere that ooredoo was good and I was not disappointed with my connection. We paid K22,500 for 14Gb and 30mins calls. I think 6Gb and 30min calls was K11,500.
Religion
The Burmese are predominately buddhist in the form of Theravada Buddhism which includes a mixture of astrology and numerology.  Buddhist monks and nuns depend on the community for their material needs. This includes their clothing and daily donations of food.
Tips for visiting Pagodas
You cannot wear shoes into the temple. Wearing flip-flops, thongs, jandals or other slip on shoes will make it easier to remove your shoes at each temple.
Men and women must have there shoulders and knees covered. You will not be able to enter if you are not in the appropriate attire. If you are wearing shorts take along a sarong to wrap around and cover your knees, likewise if your shoulders are not covered by your shirt, take a scarf to drape across your shoulders.
If you would like to take a photo of a monk you should respectfully ask monks if they're willing to have their photo taken. If you are posing with the monk do not touch him or her.
Dress
Both men and women wear a longyi, a type of sarong. You will find that the Burmese people will dress with their knees and shoulders covered at all times. I found I was more comfortable dressing in 3/4 pants or a long wrap-around skirt with a t-shirt that covered my shoulders, rather than my usual shorts and t-shirt. Myanmar is not the sort of place you will walk around in your skimpy shorts and bikini top.
Thanaka
Thanaka is a creamy white cosmetic made from the bark of a tree. The bark is ground into a paste on a wet stone and then applied to the face and sometimes arms. It is used as a sunscreen and has a cooling effect on the skin. It is also used as a cosmetic in place of common make up, with women applying thanaka to their faces in attractive patterns. It has been used in Myanmar for over 2000 years, and the use of thanaka has now spread to neighbouring countries such as Thailand and Cambodia, where I first noticed thanaka being used.
Chewing betel nut is one of the most popular traditions in Myanmar. You will see betel nut stalls everywhere and the reddish brown spit on the pavement. But what is it? In Myanmar it is called kunya. Kunya is basically made up of areca nut (betel nut) wrapped in a green leaf with slaked lime (which is calcium hydroxide used in mortars and plasters), tobacco and other selected ingredients including clove, cardamon and other spices.
Chewing betel nut is an addictive habit which male and female, both young and old, have enjoyed for thousands of years. However, it is now known that stained and rotten teeth, are not the only side effects of chewing betel nut… it is also a carcinogenic. It is known to dramatically increase the risk of oral cancer, as well as cancer of the oesophagus, liver, pancreas, larynx, and lungs. It is such a concern that the Myanmar Government has issued new guidance for reducing betel nut chewing which include a ban on chewing, spitting or selling betel nuts in, or near, government offices, schools and hospitals.
Food
Burmese cuisine has been influenced by Indian, Chinese and Thai. However, there are many dishes that reflect the Burmese cuisine such as my favourite – the tea leaf salad! Food at the markets, and most little eateries, is very cheap. Cheapest meal I had was an omelette for 300k ($0.30 AUD) and I doubt we would have spent over $10 for a meal for the two of us at any stage! 
Meal in Bagan – chicken & veg K2500, chicken dry chilli K2000, tea leaf salad K1000 + 1 steam rice and litre of water. TOTAL K6000 (less than $6 AUD or less than $5 USD)
Meal in Mandalay – fried meat and veg – K1000, pork stew – K1500, omelette – K1000, rice x 2 – K600 (K300 each), large water K300. TOTAL – K4400 (about $4.00 AUD)
Myanmar does not yet have the popular fast food chains such as Mc D's but I did see a KFC getting built in Mandalay – so it is only a matter of time before fast food outlets are everywhere.
For the full articles on each destination please read – 
Liked this article? Please pin or share on social media… thank you!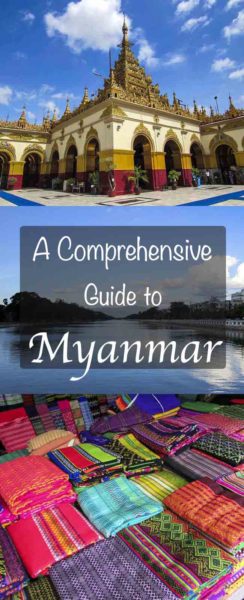 Hey there!
Don't miss a thing! Join the crew and we will send you free email updates. But don't worry, we promise not to bombard your inbox with too much awesome stuff!
Welcome board!
Something went wrong.