What Made Mandalay So Special For Us?
We arrived in Mandalay on an overnight bus at 03:30. We were very fortunate to get Zaw Zaw as our taxi driver and he told us much of Mandalay's history as he drove us through the quiet streets of the sleeping city. We were surprised, and very pleased, when the hotel gave us our room so early in the morning.
We slept until 10:00 before wandering around Mandalay on foot. Mandalay is the second largest city in Myanmar and the last royal capital of Myanmar. The royal family lost their throne many years ago when the last king was shipped off to India by the invading British in 1885. The palace is now a tourist attraction and is rated 3.5 stars out of 5 on TripAdvisor (12th of 69 things to do in Mandalay). We didn't go in to the palace for a look, but we did walk past the huge palace which is set behind four huge walls each 2km long, which is then surrounded my a moat.
We had organised with our taxi driver Zaw Zaw to be picked up the following day for the "3 cities tour". Once Zaw Zaw picked us up we headed first to Mahamuni Temple which is a major pilgrimage site. Zaw Zaw speaks very good English and was able to tell us about the places we visited.
Legend has it that when the Gautama Buddha visited the king and Queen they were deeply moved by his teachings and the King insisted that he leave his image for his people to worship. The Mahamuni Buddha image (literal meaning: The Great Sage) is revered in this temple.
Our second stop was at Mahagandaryon Monastery at Amarapura. Established in 1914, it is one of the largest teaching monasteries in Myanmar, and home to up to 2000 monks. A trip to this monastery is on just about every Burmese travel agents schedule. Here you can experience a little of monastery life. 
We arrived to see the last of the resident monks silently lined up for their lunch, which is their last meal of the day, after which clean up was conducted. After watching the monks clean up the area, moving huge pots of steamed rice, Zaw Zaw explained to us about the donations to the monastery and that the plaques seen around the property were the names of donators. Poor children also visit the monastery to receive left over rice….  even the squirrels get their share of rice!
Zaw Zaw took us to see the kitchen where the preparations for the next days meals were underway. I found this fascinating! The pots of curries, cooking on open fires, were huge. Note: Buddhist monks in Myanmar can eat anything, including meat. We saw them preparing the chickens and stirring huge pots of pork curry.
Sitagu International Buddhist Academy
We visited the Sitagu International Buddhist Academy. It is a huge sprawling campus. We only had a look at the main pagoda – a huge, patterned, squat shaped pagoda which was a little different to what we had, until now, been seeing.
Our next stop was at a school that taught both novice monks and nuns. The children were very friendly and curious. There were a couple of volunteers from America there at the time helping with the very infectious sores the children get. 
We visited a few pagodas on Sagaing Hill including SoonOoPoneNyaShin Pagoda and U Min Thonze Caves. One of which was very high on a hill and it was a bit of a climb to get to. My walk all the way back up the stairs to collect our flip flops, from where we had left them, wasn't as much fun! TIP: don't forget to put your shoes back on!
Thone Htet Waterfall wasn't on the 3 Cities itinerary. However, at lunch time we stopped down by the river, where we were supposed to catch a ferry over to Ava Island for a tour via horse and cart. We invited Zaw Zaw to eat with us and Dwayne approached the subject of going go to a waterfall instead of a tour of the island. We were a little "templed out" by this stage. Zaw Zaw had mentioned waterfalls the day before and that they would cost K20,000 more. This wasn't a problem for us as it was going to cost us more than that to go to the island and hire the cart.
Zaw Zaw said there was a waterfall another hours drive away and after lunch we hit the road. With a quick stop to see the Jade temple we finally reached our destination -Thone Htet Waterfall. There was a bit of a climb to the waterfall. Once there however, we were gazing upon beautiful blue/green water (coloured from the calcium that leaches from the limestone). The water was so refreshing; we spent a couple of hours soaking in it and having fun.
It was just what we needed! Before we left the area we walked over to spend sometime in the other waterfall nearby. This one was shallower but very picturesque. We walked back down to the car and collapsed in a heap ready for the long ride back. 
When Zaw Zaw dropped us off at our hotel, we made arrangements with him to take us to the airport the next day. We told him we would phone him in the morning to let him know what time to pick us up. When Dwayne phoned Zaw Zaw, he invited us to his house for lunch on the way out to the airport. What a lovely surprise. Zaw Zaw and his wife, Thandar Ooo and their little boy live in a small hut with Thanday Ooo's sister, her husband and daughter.
When we arrived lunch was laid out on a table and we were invited to eat. Zaw Zaw said he and his family had already eaten (it was well after 1pm by this stage so I am sure they had) so we ate while we sat and chatted with the family (we have gotten used to being asked to eat without the hosts eating in places such as S E Asia and also Fiji). The food was delicious. All freshly bought at the markets that morning and cooked by Thandar Ooo. They were surprised by the amount of chilli we eat!
Thandar Ooo then showed me how to make the Thanaka paste by grinding the bark on a wet stone. I smeared some on my face and felt the cooling effect of it. I certainly wasn't able to make the nice patterns that the Burmese women do on their faces. Before Zaw Zaw took us to the airport I was given a gift of some ready made Thanaka Powder.
Seeing Mandalay with such a friendly local was fabulous… but what made our time in Mandalay so special? Lunch at Zaw Zaw's house with his family. It was definitely one of the highlights of our trip to Myanmar! We were very grateful for the opportunity to visit his home and family. It gave us a brief insight into family life in Myanmar and we got to have some delicious "real home cooked" Burmese food. 
Travel Notes (2017)
Currency
MMK – Burmese Kyat written here as K
You will sometimes be quoted in USD and it is easy enough for them to convert to Kyat (pronounced chat). In my opinion I think it is better to have the Kyat as everyone takes that. If you have USD they need to be in perfect condition. TIP – change or use all your Kyat before you leave Myanmar because it is not easy to get it changed once you leave. We have had no luck changing it in Thailand or Malaysia so far.
Zaw zaw's Taxi service
Phone – +95 9 793 764900
Business Facebook Page – Zaw Zaw Taxi Service
Comfort – Comfortable car with good air-con
Cost
City Tour – K20,000 (less than $20.00 AUD)
3 Cities Tour – K35,000
From city to airport – K15,000
Temple Fees
Maharani Temple camera fees for all areas K1000/person (less than $1.00 AUD)
Food
Food is so cheap in Myanmar. We found some great local places to eat that were very cheap. One of my favourites was Ngwe Paung Kha Eating-House.
What we had –
Fried meat and veg – K1000
Pork stew – K1500 (less than $1.50 AUD)
Omelette – K1000
Rice x 2 – K600 (K300 each)
Large water K300
Total – K4400 (about $4.00 AUD)
Accommodation
We stayed at the Royal Yadanarbon which we booked through booking.com at a great price!
Cost – $15 USD ($19 AUD)
Pros – A/C, desk, wardrobe, fridge, TV with English movie channel, kettle, coffee and green tea supplied, elevator/lift, good range of toiletries and extra pillows.
Cons – Small room, no bedside tables, wifi no good, also mosquitos at the end of the hallway near our door. However, they did have some fly spray we could use.
Verdict– Good value, very friendly staff and they let us in the room very early in the morning (about 04:30 – 05:00). Breakfast included was buffet style and good. However, I missed having a bedside table in the room to put my cuppa on.  
Transport
Getting there – Overnight bus from Nyaung Shwe to Mandalay
Cost – K16,000 (less than $15.00 AUD)
Company – Shan Thit Sar Express
Departed – 19:30 (we were picked up from our hotel at 19;00)
Comfort – Very good, A/C, blanket. Arrived in Mandalay at 03:30 (the hotel let us in our room!)
Myanmar Travel/Visa
It is now very easy to apply for a visa to travel to Myanmar. You simply apply for an eVisa online before you travel. Your tourist eVisa will be valid for 90 days from the date of issue and you may stay in Myanmar for up to 28 days from the date of arrival.
How to apply – Simply visit https://evisa.moip.gov.mm/ and fill in an on-line form. You will need to attach copies of your passport and also a passport photo. To attach our copies we simply took photos and uploaded them. When applying you need to tell them where you plan on entering Myanmar, your accommodation details (we simply put down where our first night accommodation was) and you will need a credit card for payment.
You should receive confirmation of your visa application via email within one hour. Within three days you should receive your approval letter. You need to print out the letter and take it with you. You will be expected to present it on arrival in Myanmar.
Wifi/Sim Card
We found that the wifi wasn't always good in the hotels. Having said that we did get lucky in a couple of places and had very good wifi. We each bought a sim card for our phone/iPad at the airport in Yangon when we flew in. I had read somewhere that ooredoo was good and I was not disappointed with my connection. We paid K22,500 for 14Gb and 30mins calls. I think 6Gb and 30min calls was K11,500.
Like this post? Please pin or share on social media… thank you!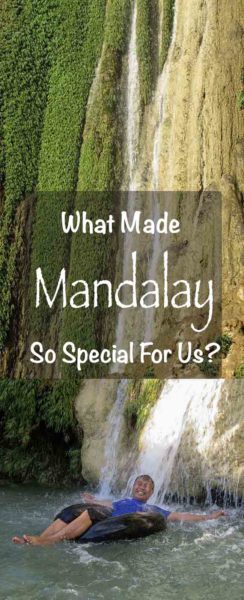 Hey there!
Don't miss a thing! Join the crew and we will send you free email updates. But don't worry, we promise not to bombard your inbox with too much awesome stuff!
Welcome board!
Something went wrong.